Seeking a manual grinder & polisher that seamlessly integrates both coarse and fine grinding, while adeptly handling metallographic specimen polishing? Additionally, do you prioritize flexibility with speed adjustments? Consider your search complete. Introducing the GenGrind N Series from NextGen Material Testing Inc., a modern machine designed with modern lab operations as a priority. In this blog, we will provide a comprehensive overview of the features and benefits that position the GenGrind N Series as a leading choice for labs worldwide.
How a Grinder & Polisher Works
Understanding the inner workings of advanced laboratory equipment such as the GenGrind N Series requires an in-depth knowledge of its functionalities. The purpose of this is to truly appreciate its efficiency and sophistication. Let's examine how grinders and polishers work.
The Grinding Process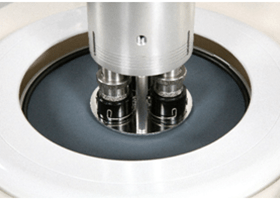 Material Removal:

Essentially, grinding is about removing excess material from a specimen. This is done through abrasive discs, which, when set at the appropriate speed, methodically remove layers from the specimen.

Cooling Mechanism:

The grinding process generates heat. Hence, a proficient grinder will be equipped with a water inlet and outlet system to keep specimens cool. This will minimize heat damage and ensure a smooth finish.
Polishing Process
Smoothing and Finishing:

After grinding, the specimen's surface might have micro-scratches or other irregularities. Polishing smooths these, often resulting in a mirror-like finish. Various polishing cloths, tailored for different materials, help achieve this finish.

Pressure and Precision:

A consistent and uniform pressure during polishing is vital. Machines often employ mechanisms to hold the specimen steady, ensuring even pressure application and consistent finish.
User Interface Interaction
Intuitive Operations:

Advanced models come with touchscreens or interfaces allowing users to set parameters like duration, speed, and more, enhancing the overall user experience.

Versatile Speeds:

A significant feature of modern polishers is the ability to adjust speeds, enabling users to find the ideal setting for each specimen and the desired outcome.
Quality and Compliance
Durable Construction:

Top-tier machines will be built using corrosion-resistant stainless steel and sturdy shells.

Adherence to Standards:

Equipment must align with industry benchmarks. This ensures safety, reliability, and consistency in results.
Customer Support 
It's not just about the initial purchase. With the GenGrind N Series, you're investing in a partnership. The company assures you of stocked consumables and spares, ensuring minimal downtime. Trusted after-sales technical support proves the brand's commitment to its customers. And, if you ever find yourself unsure or in need of guidance, the lifetime product support advantage means you're never alone in your N Series experience.
Introducing the GenGrind N Series
Meet the GenGrind N Series, the highest level of advanced metallographic grinders and polishers. Available in a range of diameters and accommodating both single and dual-wheel setups, these machines are a testament to modern engineering and design. With a distinct emphasis on user experience, they come integrated with a touchscreen interface, ensuring an intuitive navigation experience for users of all proficiency levels.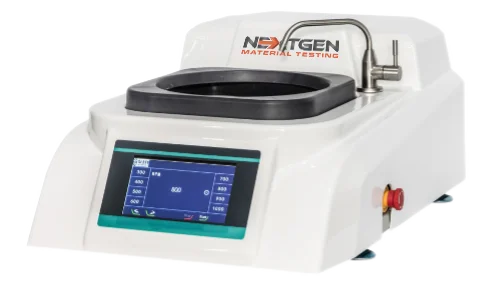 Whether you're handling coarse grinding, fine grinding, or polishing tasks, these machines are ready to deliver, and all within the same unit. Furthermore, they offer unparalleled speed adjustment flexibility, ensuring precise and diverse operational settings.
An optional manual magnetic anti-sticking disc replacement facilitates diverse grinding and polishing processes, further enhancing their adaptability. Regardless of your desired rotating direction, the GenGrind N Series has you covered. The option to transition seamlessly between grinding and polishing tasks, because of their wheel disc setups, further enhances operational efficiency.
GenGrind N Series is outstanding in performance. They operate with minimal noise, ensuring a quiet work environment, and feature stable performance that speaks to their quality.
GenGrind N Series Features
Advanced Touchscreen Interface
The 7″ touchscreen is the primary feature of the GenGrind N Series. This isn't just an ordinary display; it's designed with user experience at its core. The intuitive menu structure ensures seamless operation, allowing technicians to adjust settings and monitor the grinding or polishing process with ease like no other.
Unprecedented Versatility
The GenGrind N Series embodies adaptability. Whether the task demands coarse grinding, fine grinding, or both variants of polishing on metallographic specimens, this machine delivers. Such versatility ensures reduced setup times and increases operational efficiency in labs.
Stepless Speeds & Simplified Settings
Modern metallographic operations require precision. With a speed range from 50 to 1000rpm, labs can fine-tune their processes to the minutest detail. Furthermore, the 8-speed constant design simplifies configuration, providing consistent results every time.
Magnetic Anti-sticking Disc Replacement
An optional feature that's a boon for labs handling diverse specimens. This manual magnetic disc system ensures that the machine can swiftly transition between different grinding and polishing processes, further adding to its versatility.
Bidirectional Rotation
Different specimens and processes may require varying rotation directions. With support for both counterclockwise and clockwise rotations, the GenGrind N Series ensures all needs are catered for without additional hassle.
Seamless Transitions with Wheel Disc Setup
Workflows in laboratories are all about efficiency. With options for a single or dual-wheel disc setup, transitioning between grinding and polishing tasks has never been smoother.
Performance & Aesthetics Combined
Beyond functionality, the GenGrind N Series promises performance. The machine operates with minimal noise, ensuring a conducive work environment.Its superior engineering contributes to its stability when grinding and polishing tasks are being performed.
Superior Build Quality
The durability of lab equipment is one of the highest importance. The GenGrind N Series features corrosion-resistant stainless steel 304 for its faucet, ensuring longevity. Additionally, the high-end ABS shell isn't just about its looks. It's a rugged design element that promises durability while adding elegance.
Statistics indicate that lab efficiency can increase by up to 30% when using machines that reduce setup times and offer versatile operations, such as the GenGrind N Series. Furthermore, user-friendly features such as intuitive touchscreens can significantly reduce operator errors.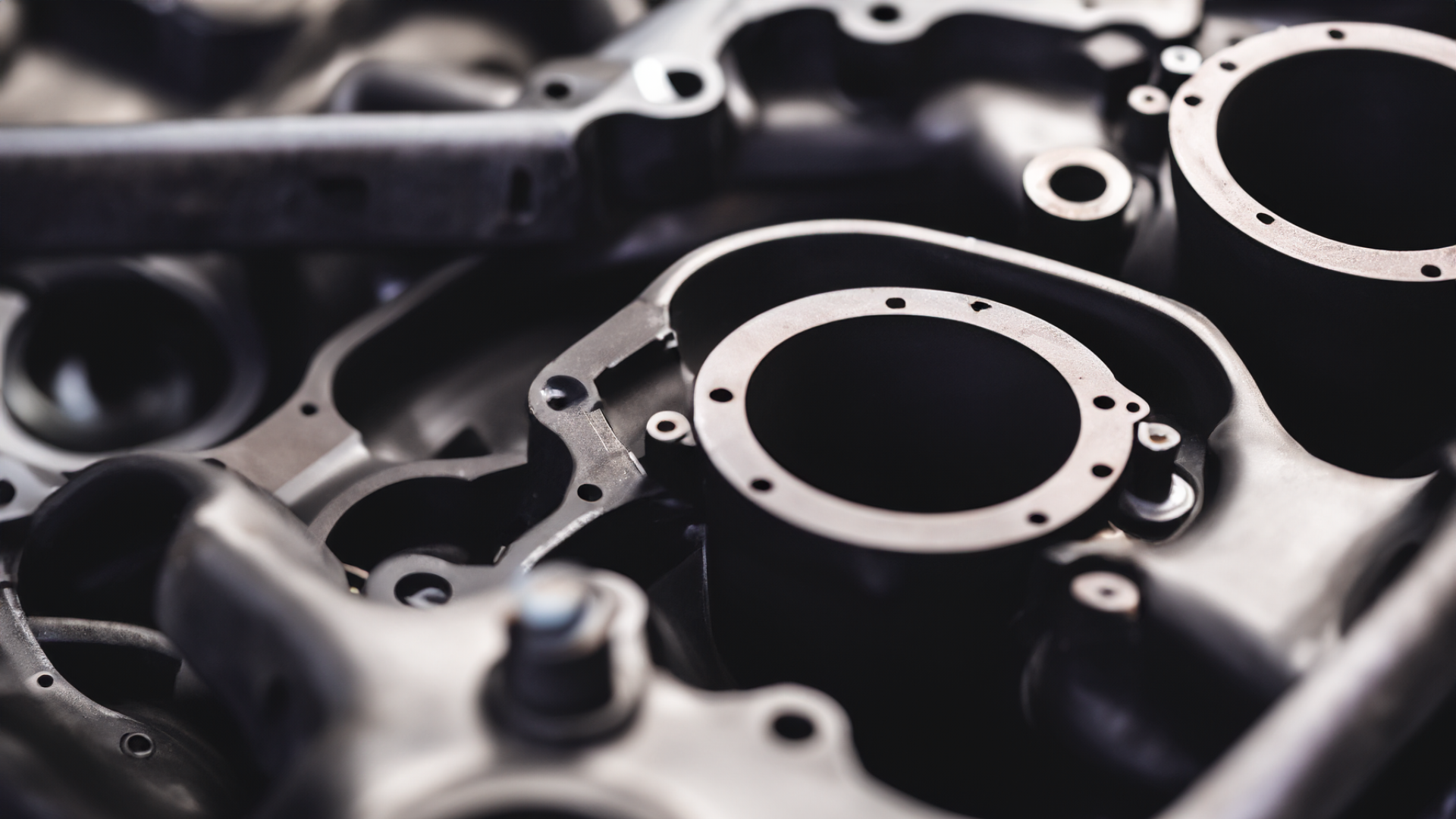 Standard Configuration of the GenGrind N Series
GenGrind N Series Grinder & Polisher:

At the heart of the package is the Single Wheel Manual Grinder and Polisher, designed with precision and user-friendliness in mind.

Pressure Ring:

Ensuring the specimens are perfectly positioned and held steady during grinding or polishing, the pressure ring is essential for optimal results.

Abrasive Papers (assorted):

For varying levels of grinding intensity and to suit different specimen materials, the machine comes equipped with a diverse set of abrasive papers.

Polishing Cloths (assorted):

Different materials require different polishing touches. The inclusion of assorted polishing cloths ensures you have the right tool for every specimen.

Water Inlet and Outlet Hoses:

For efficient cooling and waste disposal, the machine is furnished with a 0.75" water inlet hose and a 32mm water outlet hose, designed to handle continuous operations.

Power Line and Operational Manual:

A complete power setup is provided to get you started immediately. And for any queries or operational guidance, the comprehensive operational manual is your go-to resource.
Technical Specification of the GenGrind N Series
This model, specifically the Single Wheel variant, encapsulates the essence of modern engineering combined with functionality. Here, we explore the intricate details that make this machine a game-changer.
Model and Configuration
In the GenGrind N Series design, the following principles are at the core:
Disc Diameter:

With a standard 254mm (10") magnetic disc, users already have a substantial surface area for grinding and polishing. Adaptability is key, hence optional sizes:
Performance Metrics: One of the most critical aspects of any grinder and polisher is its speed and versatility. There is no disappointment with GenGrind:
Speed of Working Plate:

From the subtle touch-ups at 50r/min to the intense grind at 1000r/min, the stepless speed option ensures every need is catered for. But for those who prefer specific constants, there are:

300r/min, 400r/min, and sequentially up to 1000r/min.
Operational Flexibility: No two specimens are identical, and adaptability is paramount.
Rotation Direction:

Whether it's clockwise or counter-clockwise, users can switch based on specimen requirements, ensuring comprehensive coverage.
User Interface and Experience: A machine is only as good as its ease of use.
Display:

The 7″ touch screen is not just about visual appeal. It's an interactive hub, a bridge between the user and the machine, making operations streamlined and intuitive.
Power and Efficiency: Behind the sophisticated GenGrind exterior lies a powerhouse.
Motor Specifications:

With a 0.25kW motor, the machine guarantees consistent and efficient operation.

Power Supply:

Designed for global adaptability, it operates at 110V, 50/60Hz, ensuring smooth functionality across varied power infrastructures.
Size and Portability: When working in a laboratory, there is always a lack of space. GenGrind is aware of this issue and acknowledges it as follows:
Dimensions:

With a compact footprint of 430 x 730 x 320mm, it's both space-efficient and functional.

Weight:

At 35kg (or 77 lbs), it's sturdy, ensuring stability during operations, yet manageable enough for relocation.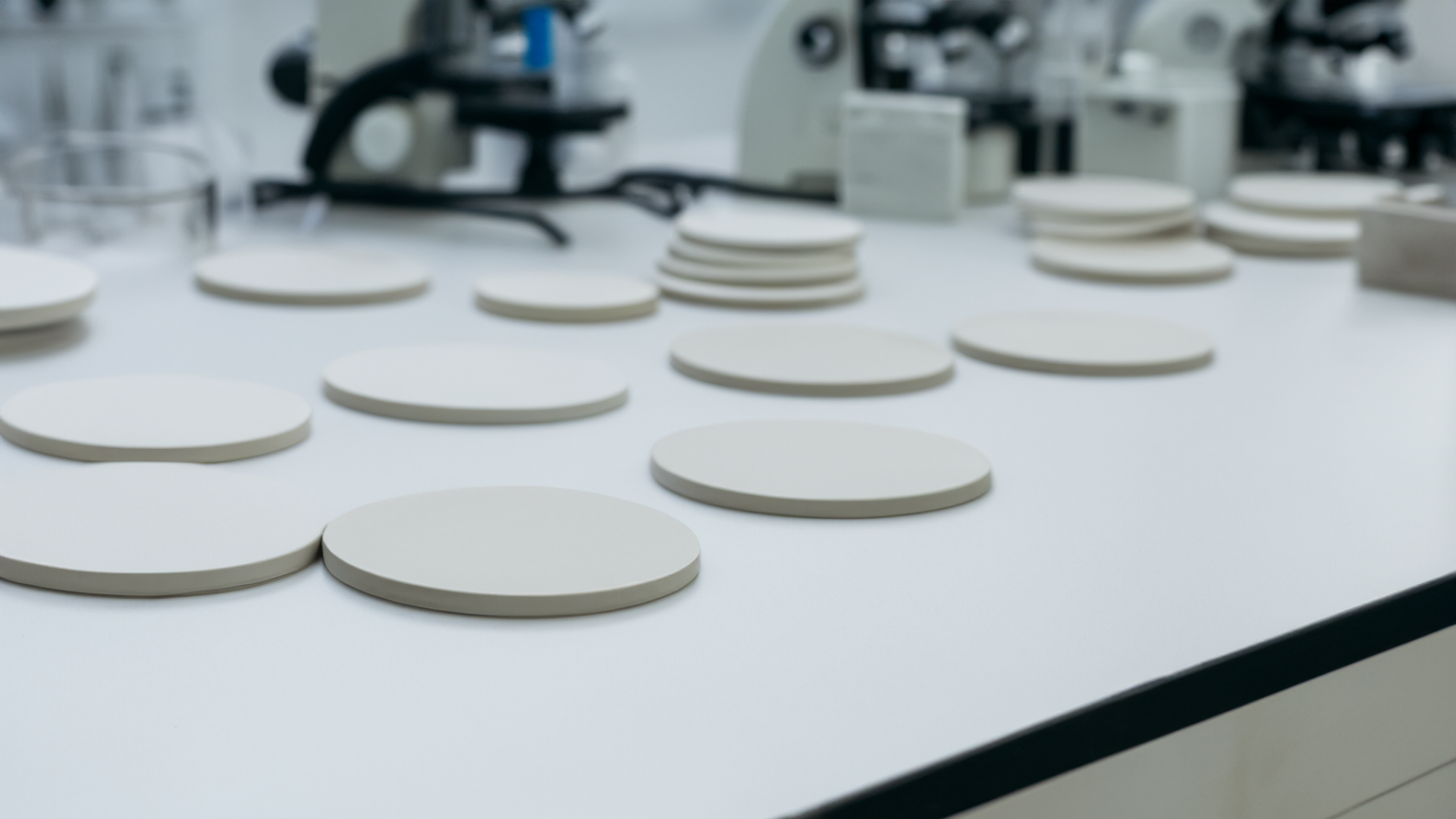 Another Great Choice: Semi-Automatic Grinders & Polishers – The GenGrind SA Series
There is another innovative grinder & polisher series – the GenGrind SA. Known for its semi-automatic prowess, this series stands apart by providing a wide range of force control options. As metallurgical sample preparation evolves, so do the tools associated with it, and the GenGrind SA series stands testament to this progression. Let's explore two of the leading products from this innovative lineup.
GenGrind SA-I 250S with Individual Force Control
Engineered with a broad 10" Ø (254mmØ) wheel, the GenGrind SA-I 250S. offers automatic bi-directional control combined with an expansive variable speed spectrum. Its user-centric touch screen, fortified by state-of-the-art programming, paves the way for hassle-free and efficient operation.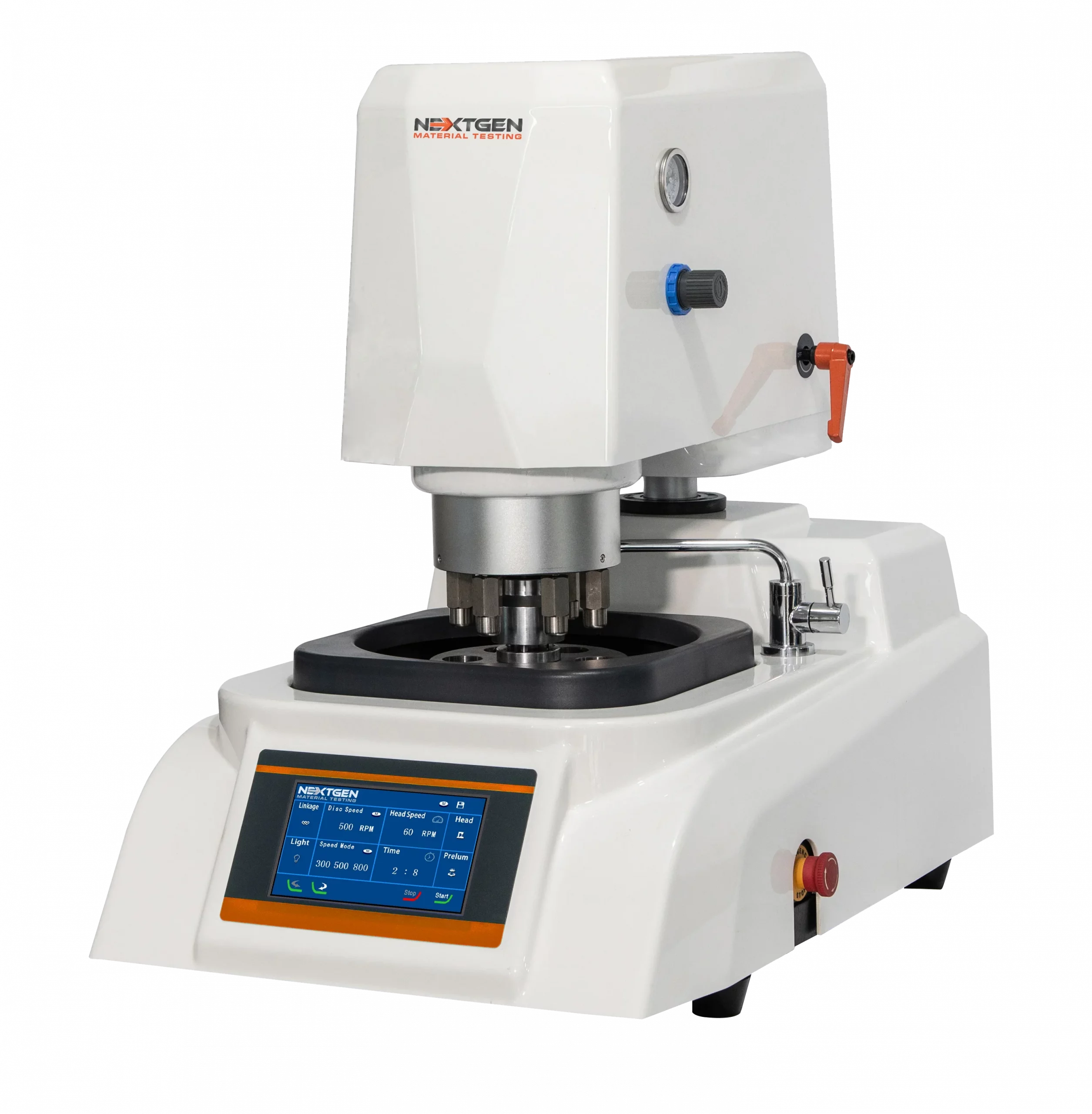 Key Features: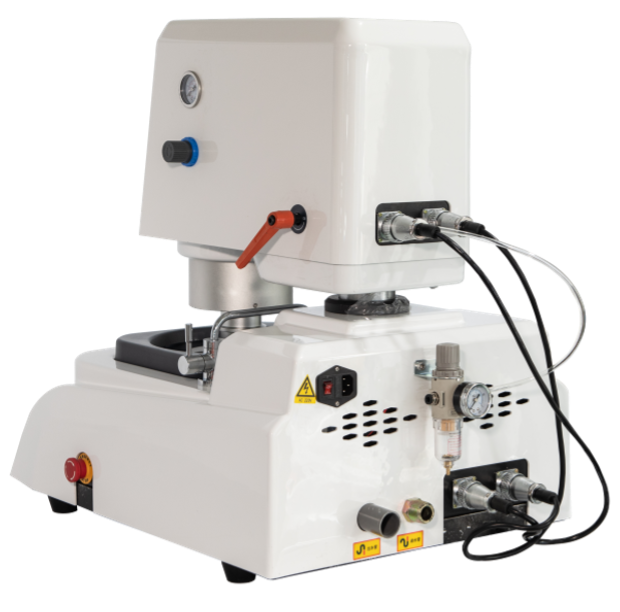 Achieve unparalleled cost-effectiveness combined with versatile functionalities, adeptly customizable to fit a variety of user needs.

Immaculately crafted from a single aluminum alloy piece, the machine assures lightweight attributes, superior shock resistance, and stalwart anti-corrosion capabilities.

A standard 10" diameter to cater to comprehensive grinding and polishing requirements.

Capability to handle up to 6 samples of 30mm diameter concurrently.

A sophisticated ABS shell design that adds aesthetic elegance without compromising functionality.

An integrated nozzle coupled with a waste collection tank simplifies the cleaning process.

An intuitive touchscreen interface ensures user-friendly interaction at every step.

Rich storage that allows up to 100 different grinding and polishing programs for instant access.

A blend of a silent three-phase and stepping motor, optimizing stability, minimizing noise, and extending operational life.
GenGrind SA-C 250S with Central Force Power System
The GenGrind SA-C 250S is furnished with an ample 10" Ø (254mmØ) wheel and promises automatic two-directional control. The seamless blend of variable speed and an interactive touchscreen offers an exceptional sample preparation experience.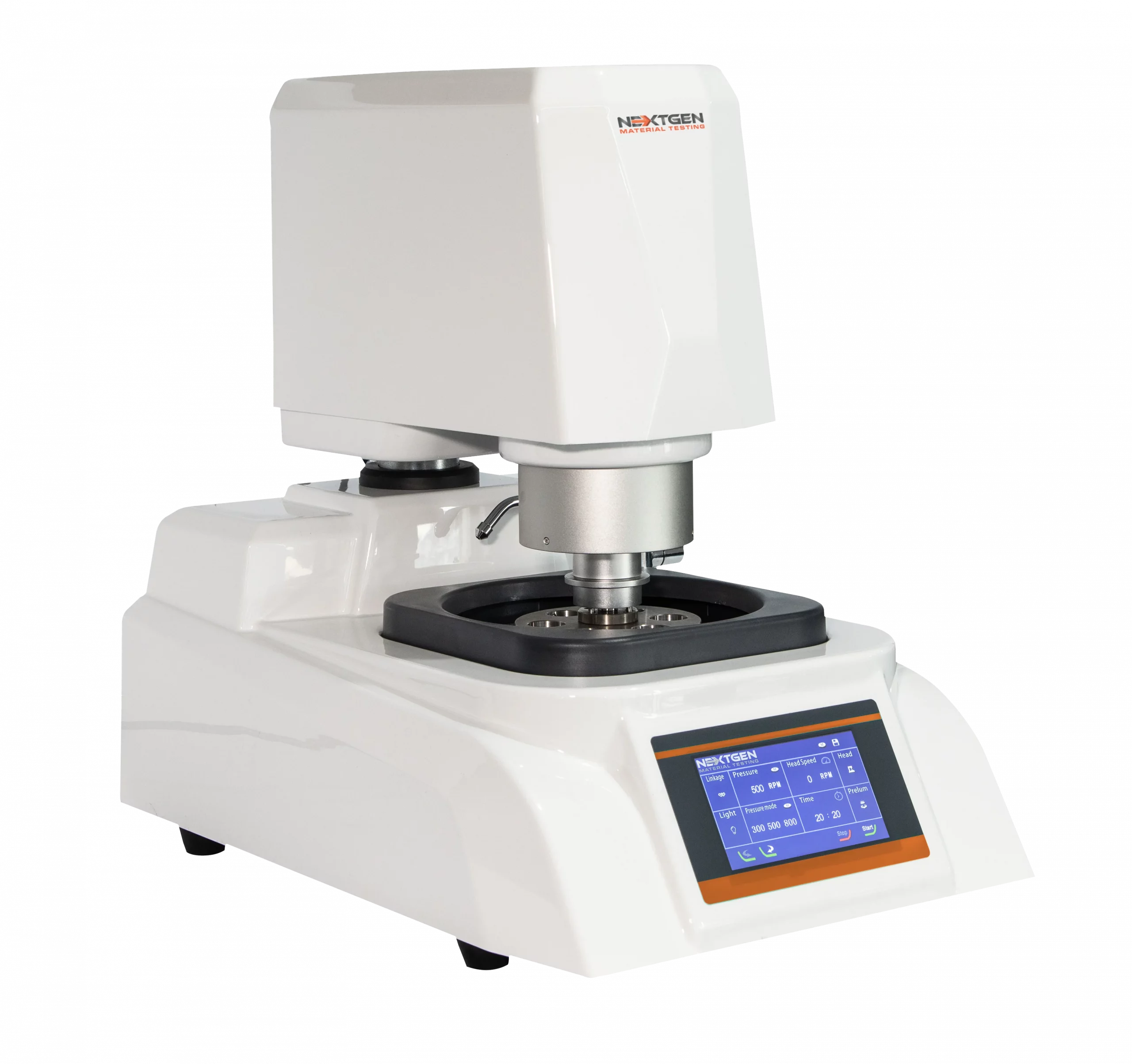 Key Features: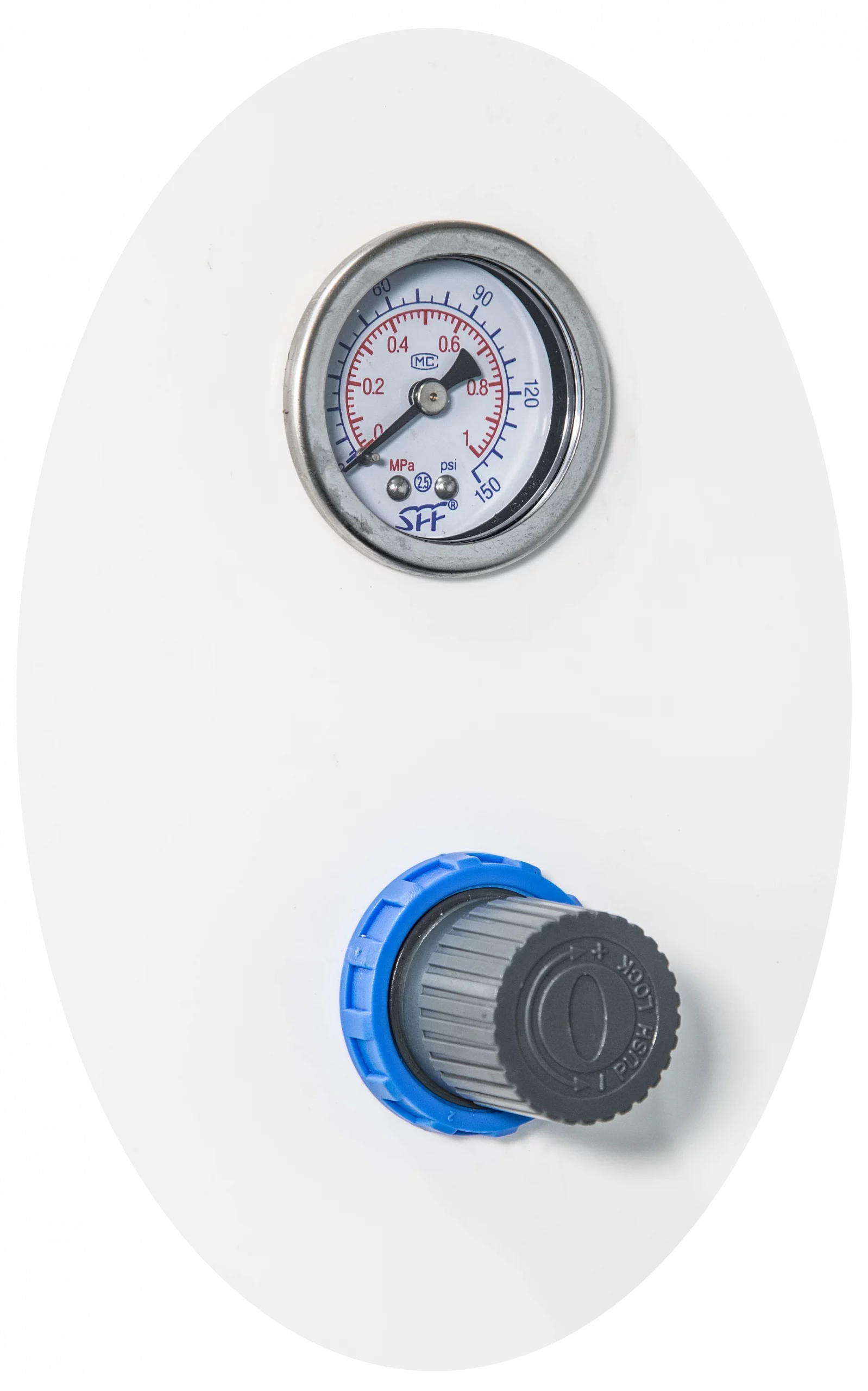 Equipped with an automatic central pressure head, it guarantees precision with each operation.

The aluminum alloy base embodies lightweight properties, shock absorbency, and formidable corrosion resistance.

Designed to polish up to 6 samples of 30mm diameter in a single session efficiently.

Featuring a durable and chic ABS shell that's as resilient as it is stylish.

Equipped with a built-in nozzle and waste collection tank, facilitating effortless automatic cleaning.

A clear touch color screen crafted for user-friendly and intuitive operation.

A vast storage capacity to store and retrieve up to 100 grinding and polishing programs.

A harmonious blend of a silent three-phase motor and a stepping motor, ensures tranquility and longevity in operation.
Both the GenGrind SA-I 250S and GenGrind SA-C 250S are characterized by precision, efficiency, and a user-centric approach, making them indispensable assets for any modern metallurgical laboratory.
Why a Grinder & Polisher in One System is Vital for Labs
In materials science, understanding the microscopic intricacies of various specimens isn't just a task—it's an art and science combined. Here's where a two-in-one grinder and polisher system comes into play, becoming an indispensable tool for laboratories. But what makes such a dual system necessary?
Modern labs are often bustling centers of activity, where every square inch counts. Space efficiency becomes a primary concern, and that's one of the many areas where combined systems shine. A unified system like the GenGrind N Series integrates all of these functions seamlessly rather than switching between separate machines and taking up valuable lab space.
Yet it's not just about saving space. The true value lies in workflow efficiency. Consider the time it takes to switch from a grinding machine to a polisher. This back and forth, repeated multiple times, can lead to significant hours lost. A combined system cuts this down dramatically, making processes leaner and more efficient.
As a matter of fact, consistency is the key component of efficiency in the laboratory. Operating on the same system, like the intuitive GenGrind N Series interface, means less variability is introduced into the process. As a result of this homogeneity, the results are accurate and consistent over a long period of time.
Lastly, from an economic perspective, it's often more cost-effective to invest in a unified grinder and polisher system. The initial investment might seem more expensive, but when considering maintenance, space, and operational efficiencies, the combined system stands out as a smart choice.
It is not just a trend that lab equipment is becoming more integrated – it is in response to the real needs of professionals. In this field, the GenGrind N Series is proof of how innovation meets practicality.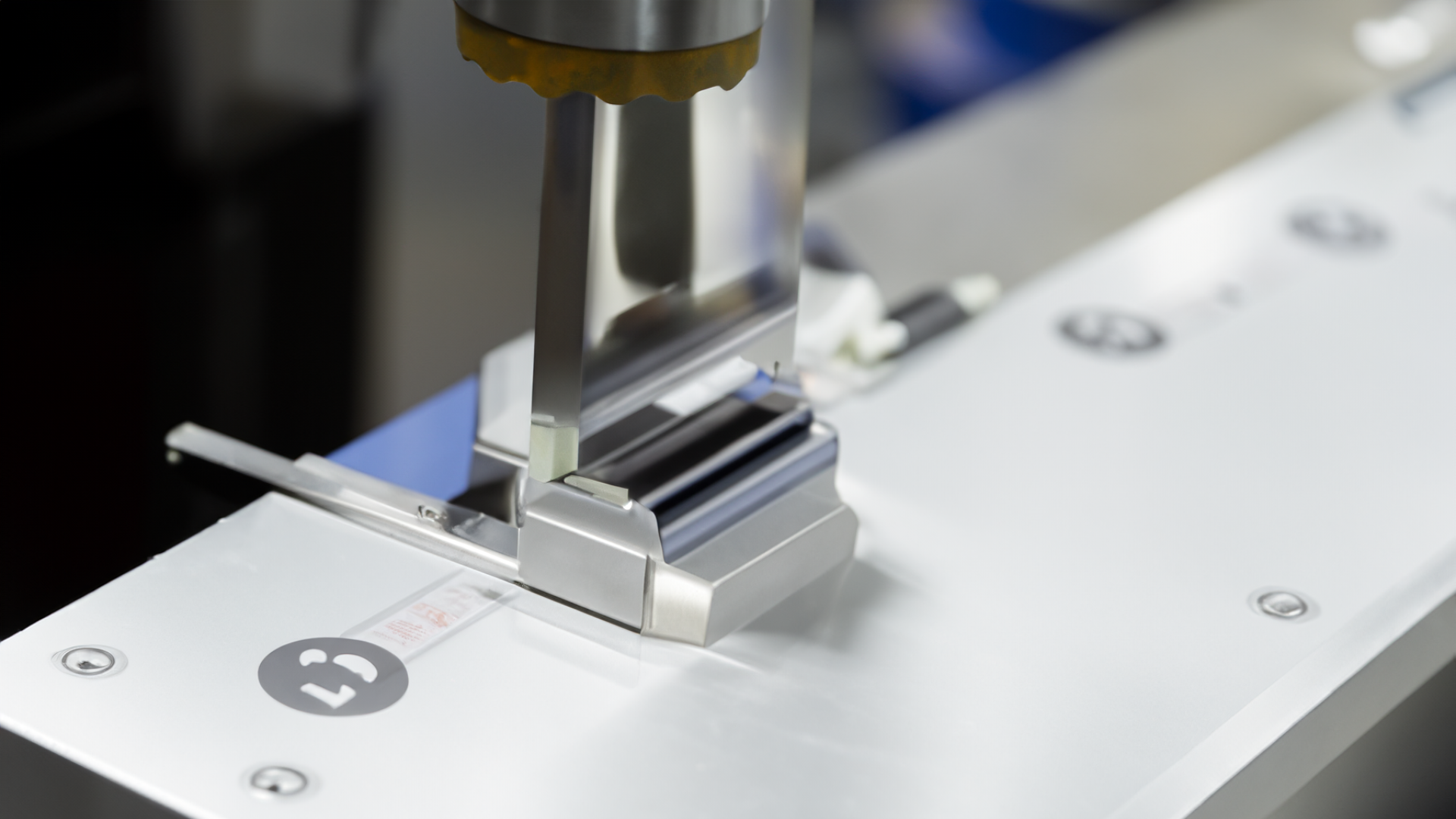 The GenGrind N Series: An Example of High-Level Equipment
The GenGrind N Series from NextGen Material Testing Inc. stands out as a leading example of innovation in metallurgical specimen preparation. Reflecting on its distinctive features, we've noted its success in combining style and function:
The cutting-edge 7-inch touchscreen interface offers an unmatched blend of aesthetics and efficiency.

Its ability to deftly handle both coarse and fine grinding tasks highlights its versatility, making it indispensable for modern labs.

With stepless speed adjustments, laboratories can achieve unmatched precision and adaptability.

The machine's bidirectional rotation feature ensures comprehensive coverage for varied specimen needs.

The machine doesn't just cater to immediate needs. Its design speaks volumes about its longevity, with corrosion-resistant materials and an elegant ABS shell promising both durability and style.
It is important to note that the description of the GenGrind N Series does not stop there. NextGen Material Testing Inc. understands that robust customer support is essential to continued operational efficiency. With a comprehensive inventory of consumables and spares, your lab operations will run smoothly. For the inevitable technical hiccup or challenge, rely on their trusted after-sales technical support, ensuring your queries and concerns are addressed effectively.
Thinking long-term? NextGen extends its commitment with lifetime product assistance, ensuring assistance not just today, but for the life of your equipment. This level of dedication reiterates their mission to form lasting partnerships with their clients.
For those interested in the GenGrind N Series' proposition, taking the next step is straightforward. Engage with NextGen Material Testing Inc. directly. Request a detailed quote. Explore the details that catch your attention.