Throughout many industries, the refinement and finishing of materials are essential. A grinder and polisher are the two main tools required in this case. Grinders are robust mechanical tools that reduce metal, stone, or ceramic into smaller granules. Their primary function is to ensure that materials meet demanding criteria of strength, purity, and efficiency. In contrast, polishers lend that fine touch, bringing out a smooth and refined finish to enhance both the aesthetic and tactile quality of any surface.
Automotive, jewelry, and electronics frequently use these devices, defining the difference between a good product and a great one. However, the best results are obtained when grinders and polishers are integrated into one system. This combination allows for precision in refining materials while simultaneously achieving a perfect finish. This offers benefits like time-saving, superior product quality, and longevity.
Speaking of combined capabilities, this blog will focus on the GenGrind SA Series from NextGen Material Testing Inc, specifically the Single Wheel Semi Automatic Grinder & Polisher models: GenGrind SA-C 250S and GenGrind SA-I 250S. As we explore further, we will review the distinctive features and benefits of these innovative models in material processing.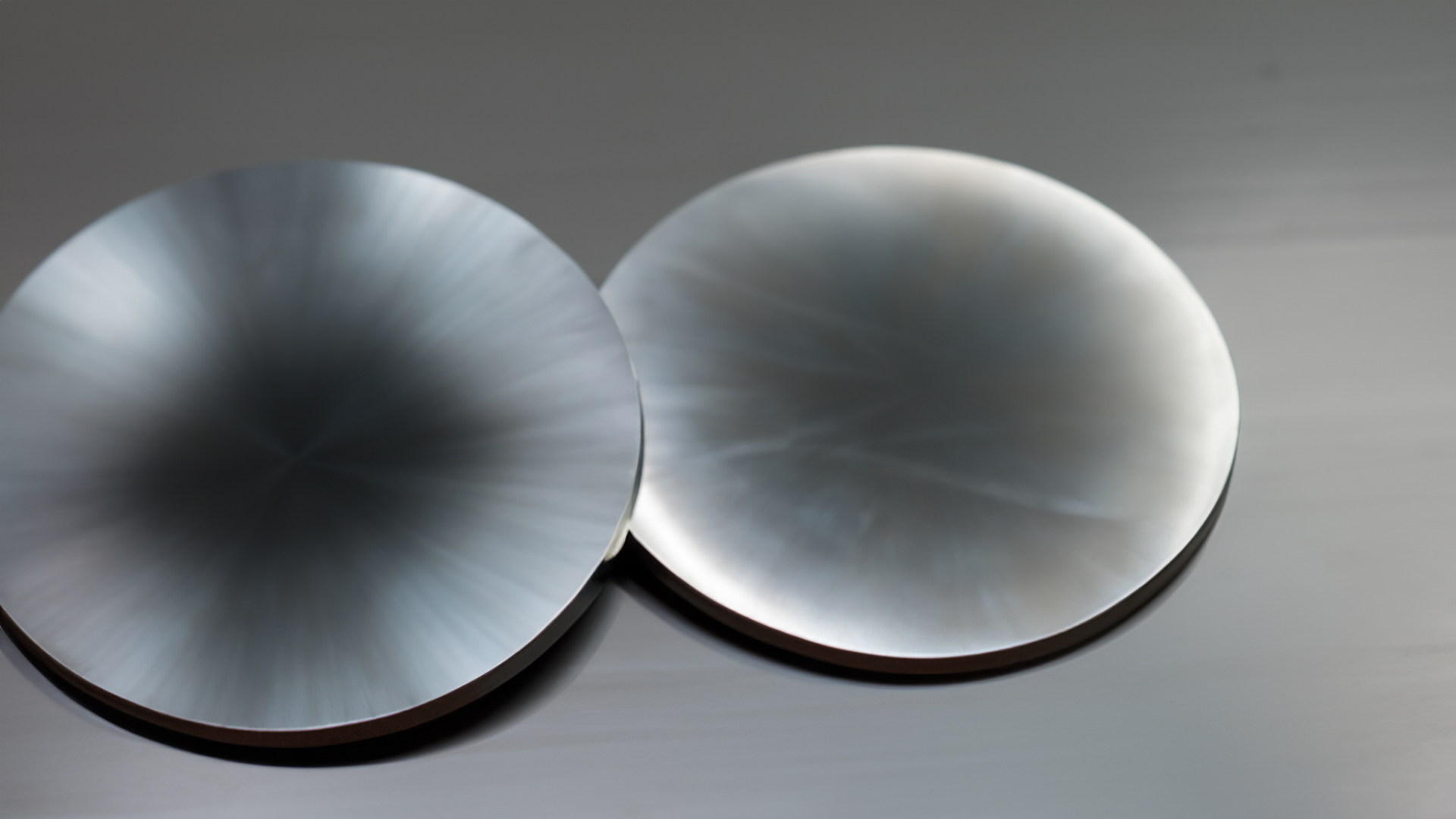 The Benefits of Combining Grinders and Polishers
The integration of a grinder and polisher into one device provides many advantages. Based on industry observations and records, the following are the primary benefits:
Cost Efficiency
When considering financial aspects, a combined system significantly reduces costs. Purchasing a single machine that serves dual purposes is often more economical than acquiring two separate machines. An industry report highlighted that integrated systems could cut initial investment costs by up to 30%.
Space Conservation
Industrial settings require space. A combined grinder and polisher can save up to 40% of space compared to individual units, enhancing workflow and allowing for other crucial operations.
Operational Efficiency
With a single machine handling both grinding and polishing, transfer time is reduced between separate devices. Transitioning from grinding to polishing becomes seamless, leading to faster production times. Integrated systems can speed up processing times.
Uniformity and Consistency
Using one device ensures that treatments are consistent across the board. The grinder and polisher's synchronization can result in a more uniform result, which is important in industries where precision is essential, such as aerospace or biomedical devices.
Reduced Training Time
For industries investing in modernized equipment, training becomes crucial. A combined system means a singular learning curve for operators. This reduces training time and minimizes operational errors.
Energy Savings
Energy consumption is a significant concern for industries aiming for sustainable operations. Integrated systems tend to be designed with the latest energy-saving technologies. Reports suggest that such combined devices can offer up to 15% energy savings compared to their single-device alternatives.
Incorporating both grinding and polishing functionalities into one device, like the GenGrind SA Series models, embodies these advantages. Utilizing combined operations synergies can increase precision, reduce costs, and optimize production processes. It's a testament to innovation in addressing the practical needs of modern manufacturing and processing sectors.
GenGrind SA-C 250S – Grinder and Polisher with Central Force Control
We will begin our review with the GenGrind SA-C 250S, which is one of the latest additions to the grinding and polishing market, aiming to offer users enhanced control and efficiency in their tasks. At its core, the machine is equipped with an automatic two-direction control mechanism. Its 10" wheel (254mmØ) is notable for its size and stepless variable speed function, which allows users to adjust the speed according to each specimen's requirements.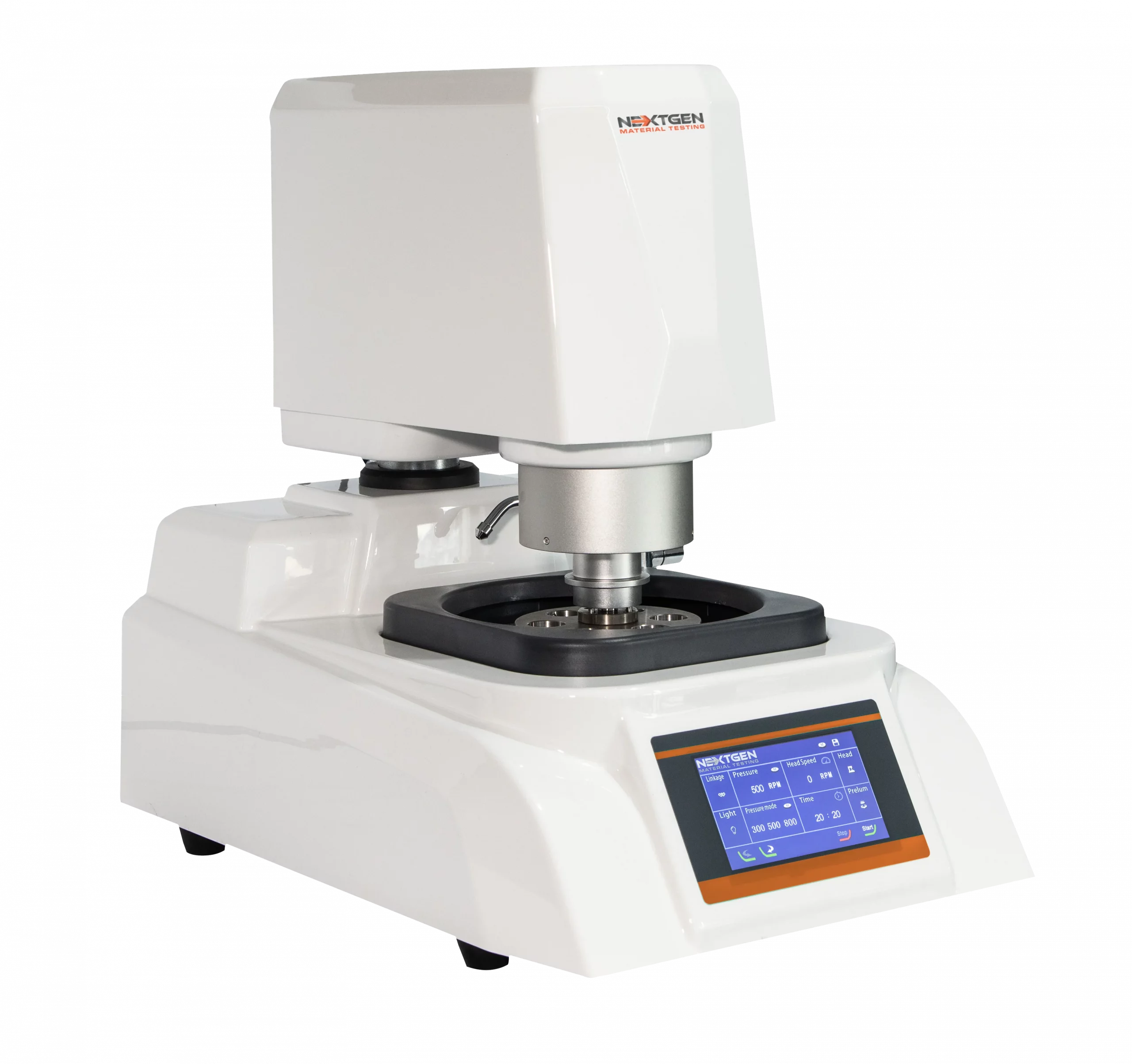 GenGrind SA-C 250S comes with touchscreen controls. While many machines now incorporate touch interfaces, the one on the GenGrind SA-C 250S stands out for its intuitive design, making complex tasks more manageable. This is further aided by modern programming and parameter storage technology, which means users can easily access and modify their preferred settings.
In terms of performance, the GenGrind SA-C 250S is built with a central-pressure head, designed to offer consistent and precise grinding or polishing. This head has a clockwise rotation, and users have the flexibility to adjust both its speed and pressure. As a result, this machine can cater to diverse sample preparation needs and is a noteworthy option for those in search of reliable grinding and polishing equipment.
GenGrind SA-C 250S – Features
Size often defines capacity, and in this context, the GenGrind SA-C 250S has a lot to offer. Its single working plate spans a generous 254mm, making it about half the size of most conventional machines. This design facilitates the simultaneous polishing of up to six 30mm diameter samples, optimizing efficiency.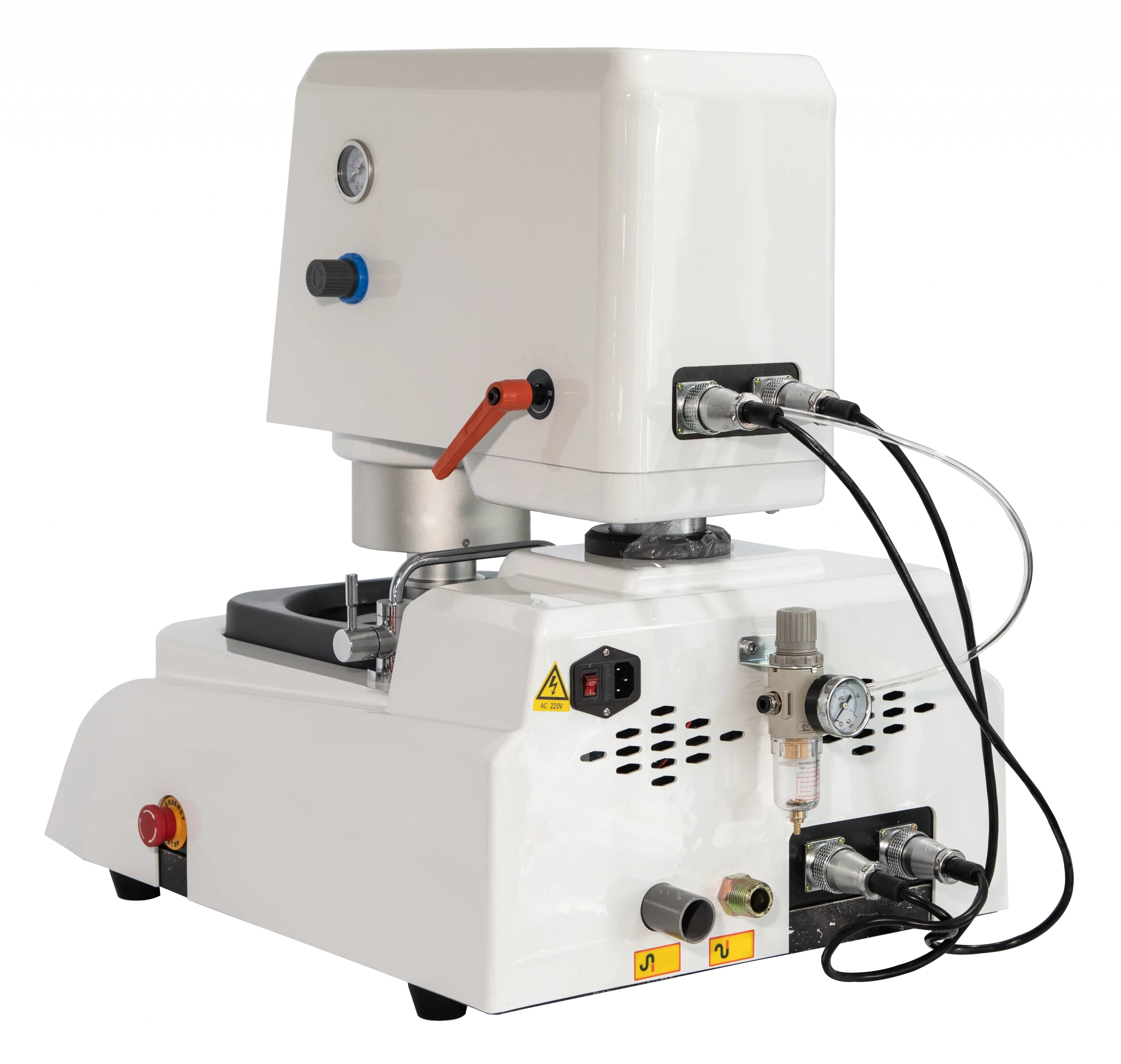 There is no comparison when it comes to user experience. The front panel features a crystal clear touch color screen display, allowing the way for an intuitive operation that even novices can navigate. Adjustments to testing times, rotating speeds, and pressures become hassle-free endeavors. Furthermore, this machine stands out for its memory function. It can remember up to 100 distinct grinding and polishing programs, an asset for repetitive tasks. An added convenience, though optional, is the electromagnetic clutch that locks the grinding head, making operations even smoother.
Performance is often the make-or-break of such machines, and the GenGrind SA-C 250S ensures it delivers in this department. It offers users stepless speed regulation, allowing speeds from 100-1000r/min. For those who prefer predictability, there's an option to lock in one of four constant speeds, specifically designed to cater to a wide range of material and finishing requirements.
Thoughtful design extends to maintenance and utility. An integrated wastewater collection tank takes the grunt out of cleaning, automating the process. Changing sandpaper and polishing cloths is no longer an inconvenience, thanks to the innovative magnetic disc design. The device also boasts a free-rotating sample chuck, which, when paired with the internal lighting system, dramatically simplifies sample handling.
At its heart, the machine is powered by a three-phase silent motor and stepping motor, ensuring operations remain quiet while delivering consistent and enduring performance. Rounding off its features, automatic centering capability is a subtle yet vital tool, adeptly preventing multi-faceted grinding and polishing.
Technical Specification of the GenGrind SA-C 250S
Model and Disc
The unit is branded as the GenGrind SA-C 250S and comes equipped with a 250mm (10″) disc that incorporates a magnetic disc feature. This ensures that the materials being worked on remain firmly in place, enhancing accuracy during operations.
Machine operational dynamics are defined by their speed and flexibility. The working plate's speed can be adjusted steplessly from 100 to 1000 rpm, allowing for extensive versatility based on the task at hand. Moreover, this model doesn't restrict you to one rotational direction; it supports both clockwise and counterclockwise rotations. For those seeking consistent speeds, there are four constant levels:
V1 at 300rpm

V2 at 500rpm

V3 at 800rpm

V4 at 1000rpm Interestingly, each of these can be set anywhere from 100-1400rpm, ensuring the ideal speed for every task.
Grinding Head Dynamics
The grinding head operates at 0-120rpm. It's powered by a 0.2kW motor that rotates clockwise. The grinding head lock mode can be manually activated, though an automatic electronic option is available for those who prefer it.
Pressure is essential in grinding, and the GenGrind SA-C 250S performs well in this regard. The sample pressure can vary from 0-0.5MPa, though most users operate between 0.1-0.3MPa. The working wheel draws its strength from a 1.1kW motor that supports both rotation directions.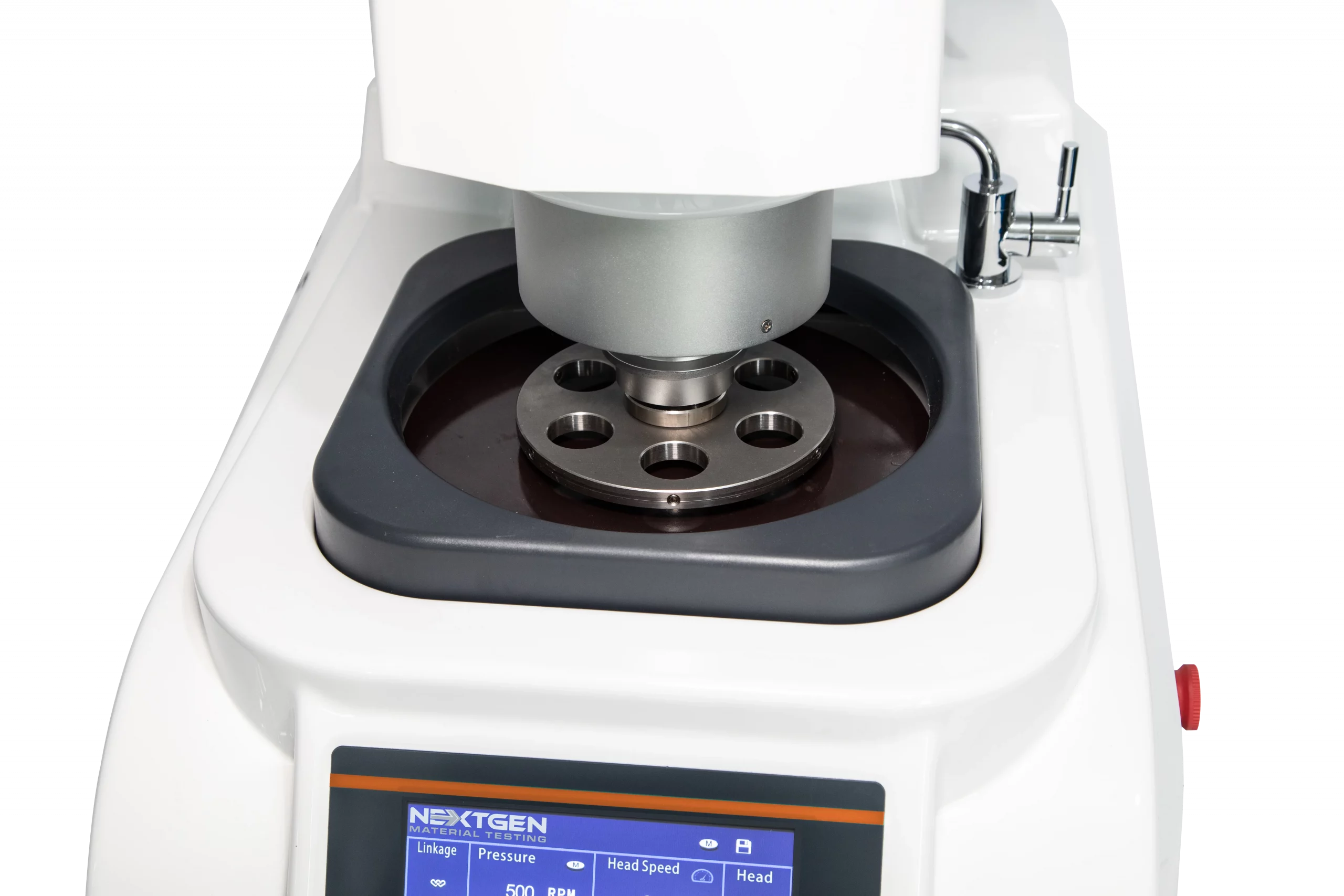 The sample holder has a standard capacity for 6 samples, each 30mm diameter. Customization enthusiasts will appreciate the option to adjust this holder to fit sizes ranging from Φ25mm to Φ40mm or even 1", 1.25", and 1.5".
GenGrind employs a pneumatic central pressure system for pressure application. Adjustments are manual, ensuring users can fine-tune pressure to their exact requirements. Additionally, a built-in timing function lets users set the duration anywhere between 0 and 99 minutes.
Powered by a 110V 50/60Hz supply, the unit consumes 1.8kW. It's compact, measuring 500 x 770 x 700mm and weighing 80kg (or 19.7" x 30.3" x 27.6"; 176 lbs for imperial measurements).
Standard Configuration – GenGrind SA-C 250S
Included Components
Grinding Plate:

This comes in a standard size of 254mm, which provides ample space for handling diverse grinding tasks.

Polishing Cloth with PSA:

Four pieces of these 250mm cloths are provided, facilitating a clear and smooth polish.

Grinding Papers:

To cater to various grinding needs, sets of 4 are included for each of the 400#, 800#, and 1200# grinding paper grits.
Machine Essentials
Waterproofing Ring:

Pre-installed on the machine, this ensures no unintended water spillage during operation.

Paper Disc and Magnetic Disc:

Vital components for machine operation, ensuring efficient grinding and paper attachment.
Utility Components
Water Inlet Hose:

With a 0.75" diameter, this hose guarantees steady water flow into the machine.

Water Outlet Hose:

This 32mm hose efficiently drains water from the unit.
Guidance & Operation:

The package includes a power line for connecting the unit to a power source and a comprehensive operational manual, guiding users through setup, usage, and maintenance processes.
GenGrind SA-I 250S – Grinder and Polisher with Individual Force Control
The GenGrind SA-I 250S is the second offering in the renowned GenGrind SA series, setting the standard for precise grinding and polishing tasks. At its core lies a 10"Ø wheel (254mmØ) equipped with automatic bi-directional control and a variable speed mechanism.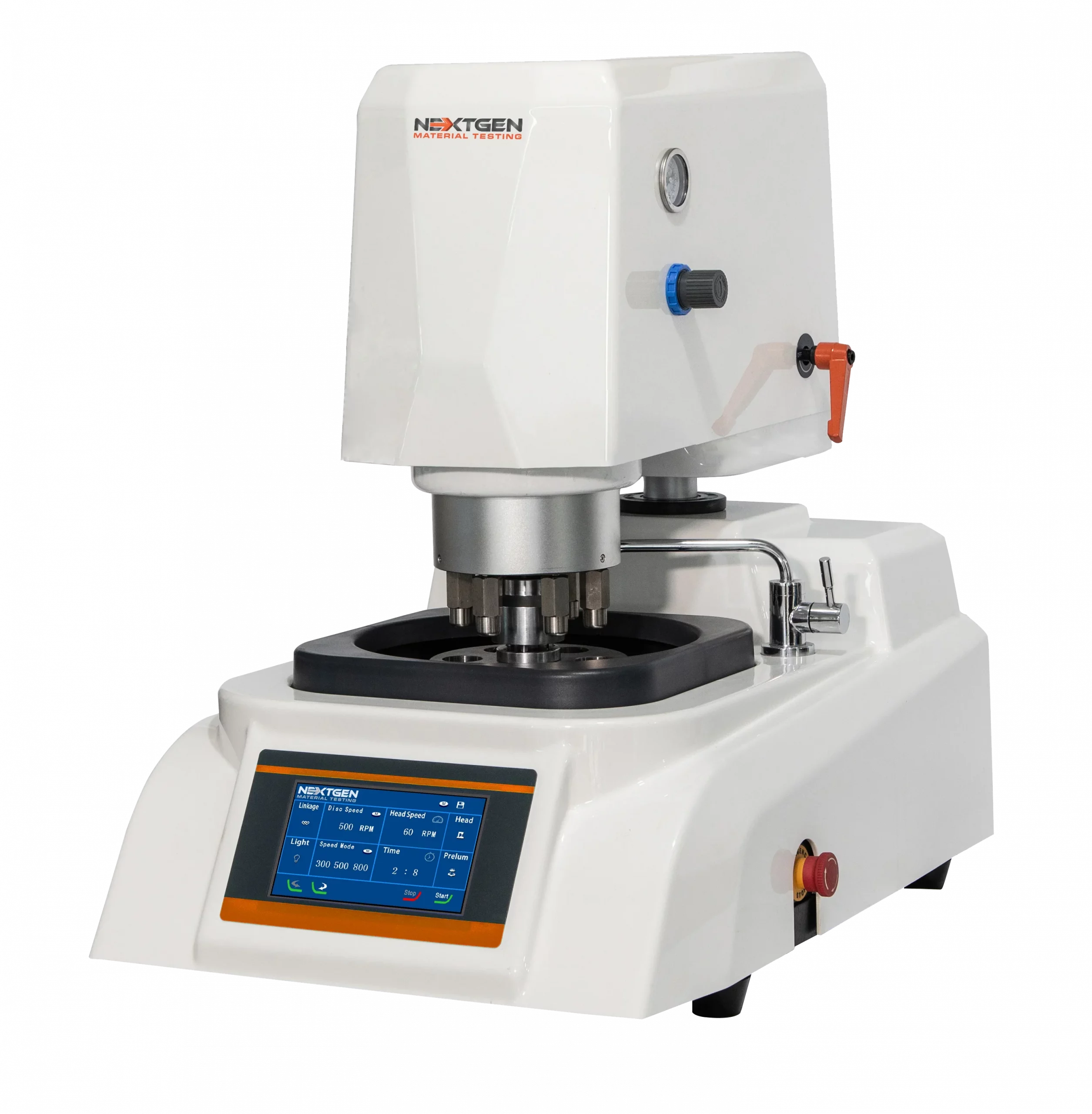 In addition to its distinctive design, the GenGrind SA-I 250S is characterized by its individual pressure head. This feature, a hallmark of its design, allows for precise adjustments to speed, rotation direction, and, importantly, force. This unique emphasis on individual force control establishes the machine as an excellent choice for tasks that demand exact pressure specifications. Further improving its operational capability is an intuitive touchscreen interface enriched with advanced programming capabilities and a comprehensive parameter storage system.
Features of the GenGrind SA-I 250S 
At its foundation, the GenGrind SA-I 250S boasts a remarkable cost-to-performance ratio. It offers consistent quality and versatile features. These features can be easily modified to meet the unique requirements of a wide range of customers.
One of its unique features is its construction. Built from a single piece of aluminum alloy, the GenGrind SA-I 250S's machine base offers a tri-fold advantage: it's incredibly lightweight, adept at shock absorption, and resistant to corrosion. This foundation supports a large single working plate, measuring 10 inches across. Such a large surface allows professionals to efficiently polish up to six samples of 30mm diameter simultaneously. In addition, it accommodates other sizes based on specific needs.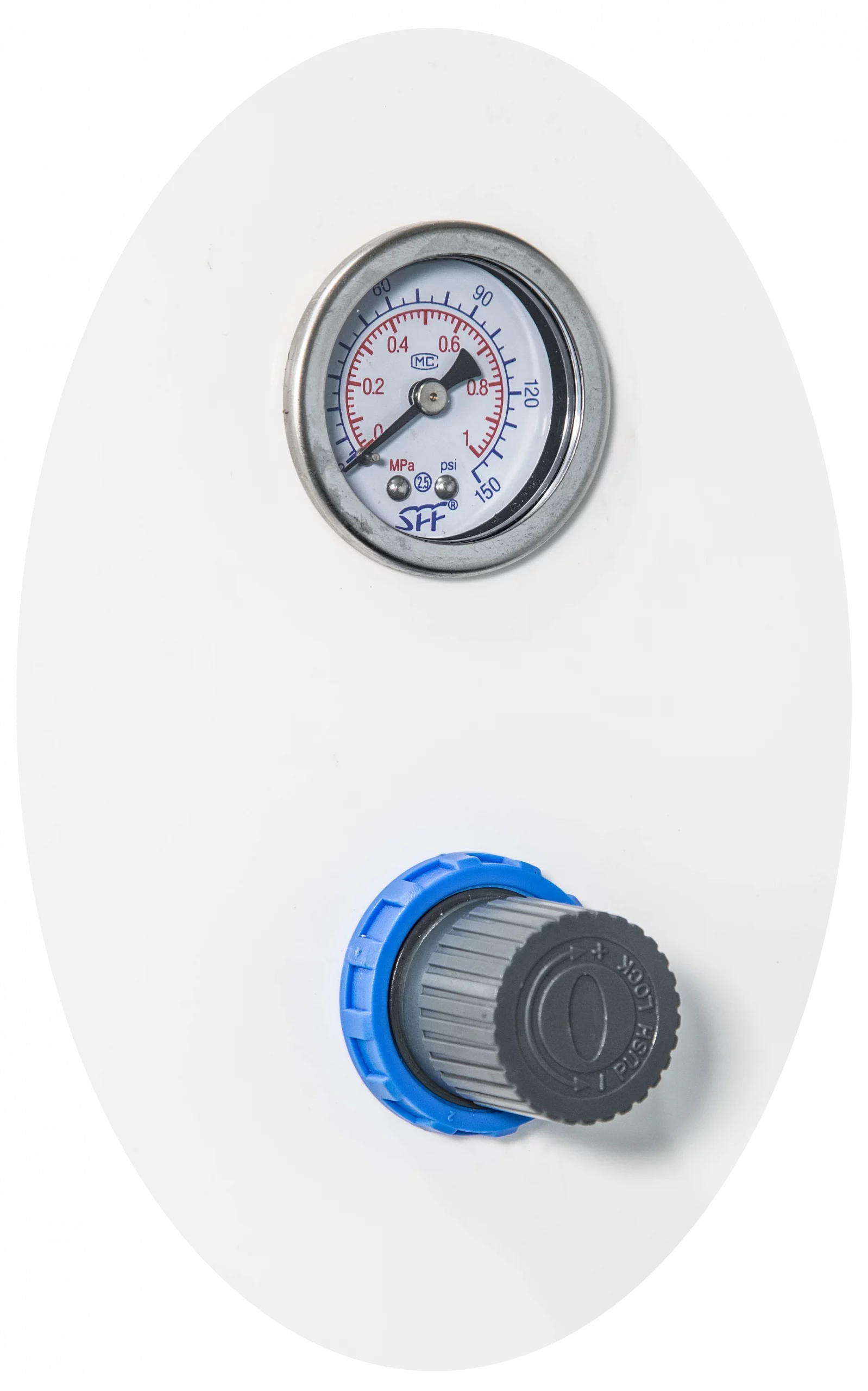 The machine exudes elegance. This is largely attributed to its sleek ABS shell, which lends contemporary elegance to its overall design. However, beneath its exterior, the machine is equipped with practical features designed for efficiency and precision. Notably, the built-in nozzle is paired with a waste collection tank, ensuring automatic cleaning processes are both thorough and efficient.
User experience is undoubtedly at the forefront of its design. The machine is equipped with an intuitive touchscreen display, making interactions simple and straightforward. This simplicity extends to operational aspects, allowing users to easily set parameters for testing time, rotation speed, and pressure, making the machine malleable to varying project needs. For those seeking expedited operations, there's an optional electromagnetic clutch available for the grinding head, ensuring both convenience and speed.
It is possible to regulate the GenGrind SA-I 250S speed in a variety of ways. Users can opt for stepless speed regulation ranging from 100 to 1000 rpm or choose among four preset speeds. This, combined with the ability to define three common speeds for varied sample preparation stages, underscores the machine's adaptability.
Professionals handling multiple projects will be able to store up to 100 grinding and polishing programs on the machine, similar to the SA-C 250S, making transitions between tasks seamless. Additionally, the magnetic disc design ensures efficient changes between sandpaper and polishing cloths, reducing downtime.
Handling samples is hassle-free. The free-rotating sample chuck design, enhanced with an internal lighting system, ensures samples are easily placed and retrieved. This smooth operation is powered by a combined three-phase silent motor and stepping motor, ensuring stability, minimal operational noise, and longevity.
Lastly, with its automatic centering feature, the GenGrind SA-I 250S guarantees samples are free from multi-faceted grinding and polishing, resulting in accurate results every time.
Technical Specification – GenGrind SA-I 250S 
Model and Disc
This machine features a 254mm (10″) magnetic disc. This design choice ensures materials remain securely adhered, maximizing precision throughout grinding or polishing.
The working plate's rotational speed ranges from a versatile 100 to 1000 rpm, granting users a broad spectrum of speed selections suitable for numerous applications. In addition, the GenGrind SA-I 250S offers both clockwise and counter-clockwise rotational directions, catering to diverse user preferences. For tasks demanding consistent velocities, there are four preset levels:
V1 at 300rpm

V2 at 500rpm

V3 at 800rpm

V4 at 1000rpm
Remarkably, these speeds can be adjusted within the 100-1400rpm parameter, ensuring optimal performance regardless of the specific task.
Grinding Head Mechanics
The grinding head operates within the 0-120rpm domain. Its driving force is a 0.2kW motor rotating clockwise. Locking the grinding head can be achieved manually, but for those leaning towards automation, an electronic alternative is available.
Pressure plays an integral role in grinding. With the GenGrind SA-I 250S, users can apply pressures ranging from 0-0.5MPa, though typical operations fall between 0.2-0.3MPa. Powering the working wheel is a robust 1.1kW motor capable of both clockwise and counter-clockwise rotations.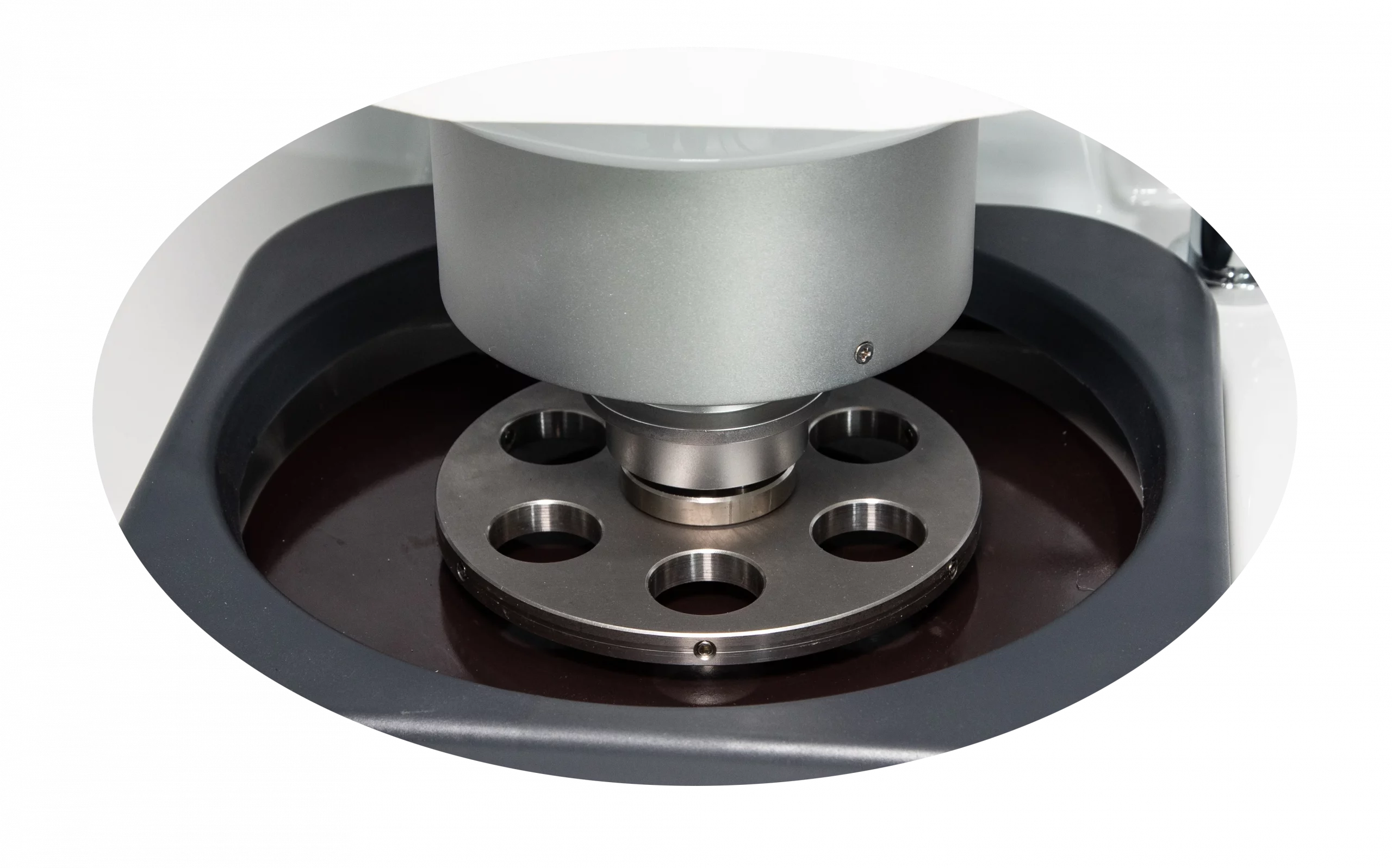 The sample holder, standardized for 6 pieces at 30mm diameter, can be adapted for other dimensions—ranging from Φ25mm to Φ40mm or equivalently 1", 1.25", and 1.5".
The unit adopts a single point pneumatic pressure mechanism for pressure delivery, allowing precision adjustments. Additionally, an integrated timing function lets users define operational spans anywhere between 0 and 99 minutes.
For the purpose of energy, the machine relies on a 110V 50/60Hz power source and has a consumption footprint of 1.8kW. Dimensionally, it's compact with measurements at 500 x 770 x 700mm and tips the scales at 80kg (alternatively, for those using imperial units, 19.7" x 30.3" x 27.6" and weighs 176 lbs).
Standard Configuration – GenGrind SA-I 250S
Included Components
Grinding Plate:

A standard 254mm plate is provided, which is enough for a multitude of grinding and polishing assignments.

Polishing Cloth with PSA:

Four 250mm cloths are included in the configuration, ensuring materials achieve a smooth finish.

Grinding Papers:

To accommodate a wide range of grinding requirements, there are sets of four for each of the 400#, 800#, and 1200# paper grits.
Machine Essentials
Waterproofing Ring:

Fitted directly onto the machine, it safeguards against accidental water leakage during operations.

Paper Disc and Magnetic Disc:

These are crucial to the grinder's functioning, guaranteeing optimized grinding efficacy and easy paper mounting.
Utility Components
Water Inlet Hose:

With its 0.75″ diameter, this hose ensures consistent water inflow, vital for grinding.

Water Outlet Hose:

Designed at 32mm, this component channels out water, preventing internal accumulation.

Guidance & Operation:

Each unit is complemented by a power line, facilitating seamless connection to electrical outlets. Additionally, a comprehensive operational manual is provided, offering users step-by-step insights into setup, functionality, and upkeep.
The GenGrind FA-IC Dual Wheel Grinder and Polisher – A Great Alternative
There's another line of grinders & polishers that deserves attention – the FA-IC series. Among this series, the GenGrind FA-IC Dual Wheel Fully Automatic emerges as a notable product, serving as an excellent alternative for those in the know.
Built with a robust ABS shell, the GenGrind FA-IC Dual Wheel boasts aesthetic appeal and corrosion resistance. Its design allows seamless speed adjustments and rotation in both directions, catering to diverse operational needs. The grinding head is versatile, supporting both individual and central pressure grinding. With the GenGrind FA-IC Dual Wheel, manual grinding and polishing become a thing of the past, reducing labor while optimizing sample preparation quality and efficiency – a fitting choice for metallographic endeavors.
Core Features
Single-Chip Microcomputer Control

: The GenGrind FA-IC integrates advanced computerized control, enhancing precision in grinding and polishing operations.

Material and Design

: The durable ABS material shell offers a sleek appearance and resists corrosion.

Operational Dynamics

: With stepless speed control and reversible rotational direction, the machine offers maximum flexibility in its operation.

Grinding Head Diversity

: The machine caters to both individual and central pressure methods. This flexibility ensures that different materials and sample requirements can be accommodated.

Automation

: One of the machine's strongest suits is its ability to automate manual processes, which reduces labor demands and boosts efficiency in sample preparation.
Technical Insights
Display and Control

: A high-definition LCD touchscreen facilitates easy operation, with a clear and user-friendly display.

Self-Adaptive Design

: The unique design of the grinding disc ensures a snug fit with the sample, tackling various issues and guaranteeing uniform grinding surfaces.

Memory Capabilities

: A built-in feature allows users to store up to ten different grinding and polishing procedures. This function simplifies the process for users who deal with varied samples.

Specifications for GenGrind FA-IC 250/300 Dual

: These models are designed to cater for different disc diameters. Both versions employ brushless DC motors, providing longevity and efficient performance. Furthermore, their safety measures include an emergency stop button.
Accessories and Configuration
The GenGrind FA-IC Dual comes with several key components including an automatic power head, splash cover, and an assortment of grinding papers and abrasive polishing cloths. Its accessories further enhance its versatility and make sure users have everything they need to get started right away.
For metallography professionals, understanding their equipment capabilities and features is crucial. The Dual Wheel GenGrind FA-IC, with its impressive specifications and advanced features, is a valuable addition to any lab or testing facility.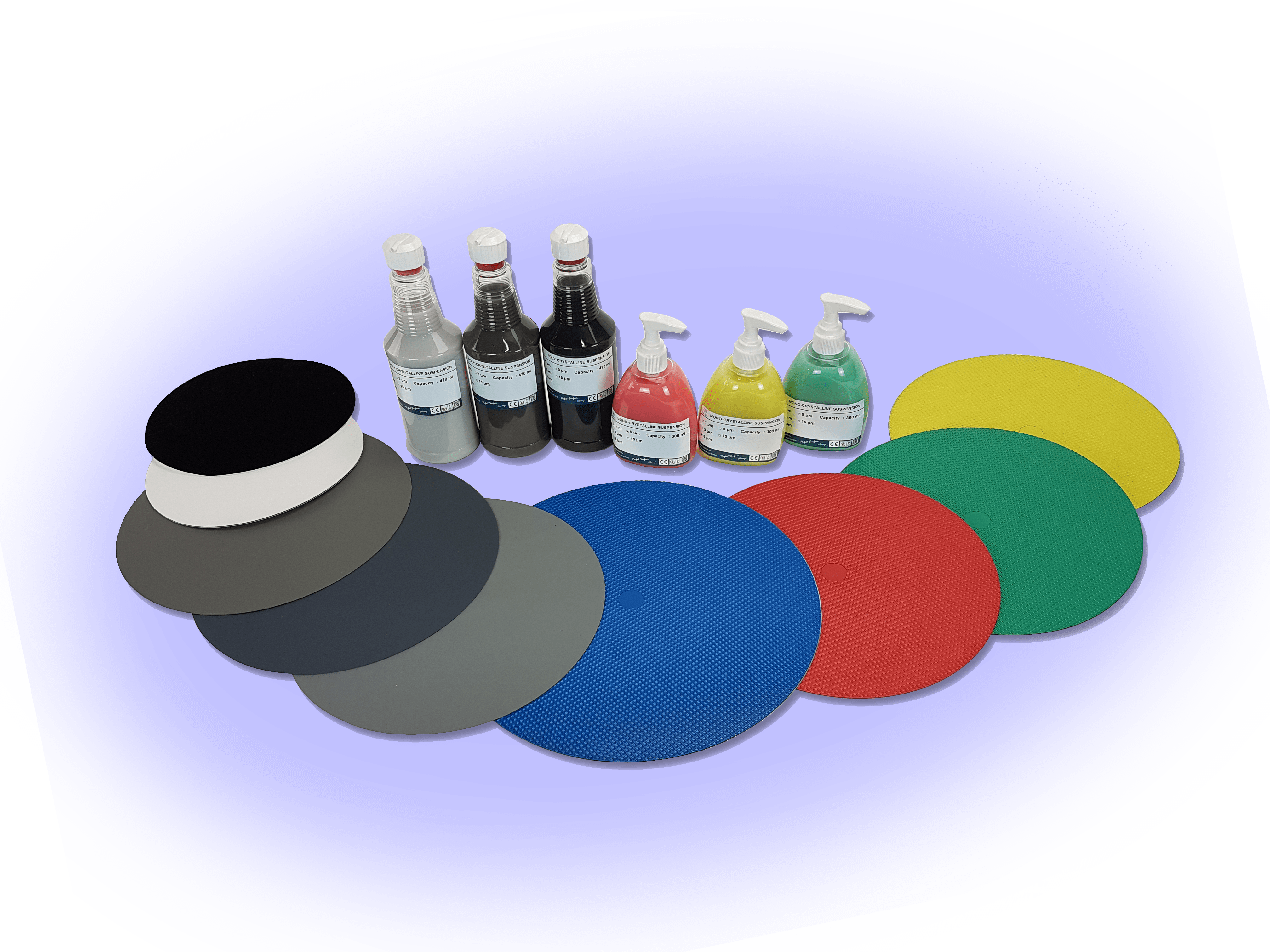 Enhancing Lab Efficiency with NextGen's Grinders and Polishers
The GenGrind SA series – your all-in-one grinding and polishing solution. With automatic bi-directional control and seamless variable speed, these machines deliver outstanding performance. Thanks to the advantages of each device, they become the ideal instruments for achieving desired outcomes.
Beginning with the SA-C 250S, its dual working plate architecture proves its adaptability. It caters to labs dealing with varied samples, ensuring simultaneous preparations without a hitch. The consistency in output quality it guarantees is unparalleled, making it an asset for any lab aiming for excellence.
The SA-I 250S, on the other hand, represents careful attention to detail. Each pressure head in this system addresses niche requirements. This precision, combined with its robust yet lightweight aluminum alloy build, offers longevity and resilience in a streamlined, space-efficient design.
Both machines come equipped with features that streamline operations and maintenance. These features include water inlet and outlet hoses ensuring consistent flow and drainage, and a comprehensive operational manual designed to guide users through every step.
Yet, what truly underscores their value is their versatility. Whether your laboratory operations are routine or specialized, these machines are engineered to handle each unique requirement. Every feature, from the variable speed mechanisms, bi-directional controls, to the expansive parameter storage systems, has been integrated with a singular objective: to provide solutions that are customized to individual needs.
Recognizing that laboratories might have varying needs, NextGen Material Testing Inc. offers a personalized approach. If there's a specific requirement or customization you seek, request a quote. The team at NextGen is committed to ensuring that every individual specification is addressed, offering a bespoke solution tailored to optimize your lab's operations.
In addition, partnering with NextGen Material Testing Inc. extends beyond just acquiring a machine. Our portfolio of offerings, including NIST-certified consumables, stocked spares, and a lifetime of product support, ensures that your investment today is guaranteed by reliable support tomorrow and beyond.