The HPE III Shore digital durometer is the latest digital handheld hardness tester from the renowned German company, Bareiss. Along with the hardness value for your test specimen, the Bareiss Shore durometer also shows the sample's temperature and the ambient temperature and humidity.
NextGen Material Testing is a proud North American partner to Bareiss who is able to assist with the acquisition of Shore, IRHD and other plastic and rubber testing systems locally.
Bareiss' history of shore hardness testing systems
The edifice of science not only requires material, but also a plan. Without the material, the plan alone is but a castle in the air-a mere possibility; whilst the material without a plan is but useless matter. Dmitry Ivanovich Mendeleev
The German Material Testing company Bareiss released their first hardness test product in 1961 and built a system that has been nearly unchanged from the time the company started in 1954. Its HP series of hardness testers remains to be highly accurate the way it was 65 years ago.
Bareiss hardness testers are sold worldwide, with over 100,000 hardness tester units sold to date. Because of their high level of accuracy, repeatability, and reproducibility, Bareiss hardness testers have become the world's most frequently utilized hardness testing devices.
If you're looking for a lightweight hardness tester that you can easily carry for fieldwork, the HP hardness tester is one of your best options. The entire body framework of this device is made of lightweight aluminum. Yet, with its lightweight construction, it is surprising that it is one of the most durable hardness testers we have around.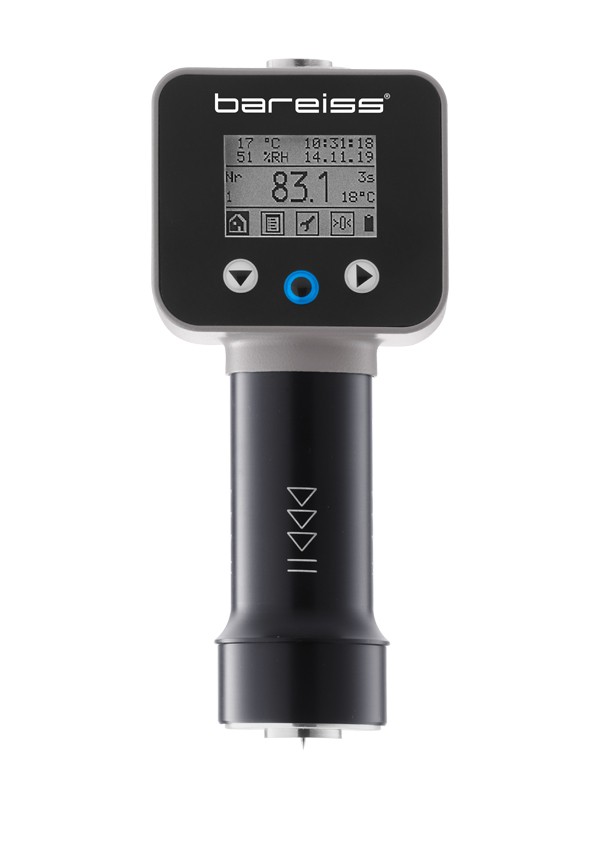 It is also one of the most accurate hardness testers. The HP uses ball bearings of different sizes to avoid friction when the indenter is traveling.
Finally, HP hardness testers can be used in 11 types of hardness testing – A, B, C, D, E, 0, 00, 000, 000S, A0, and D0. The Bareiss HP hardness tester series is designed for Shore and non-Shore testing applications to meet various needs and requirements.
You can also buy a custom presser foot with the Bareiss HP if that will suit your requirements better.
The Bareiss hardness tester is certified by different material testing standards, including:
HPE III durometer – Main unit
The HPE III system offers up-to-date features above and beyond its predecessor, the HPE II model. The system can give the hardness value of a specimen, while measuring its temperature and the temperature and humidity of the environment.
Coming with an intuitive interface, this HPE model is equipped with an aluminum casing, providing the user with a lightweight unit combined with a robust structure.
This state-of-the-art unit is operated with only one hand, allowing the user to move toward the specimen at a 90-degree angle, thereby reducing the possibility of incorrect angling. Such a perpendicular approach also ensures that the correct force is applied.
The Bareiss HPE III unit also has a large LCD display with a backlight using 102 x 64 pixels. Selectable information can be displayed, including:
Sample temperature
Ambient temperature and humidity
Date and time of testing – Historical hardness values can be shown together with the date and time of measurements
300 pieces of test data
This HPE unit now comes with an RS232 USB connection used for battery charging and joining with a BSA stand.
Bareiss HPE III durometer specs and features
This durometer model comes with the following upgrades, specs, and features:
Memory for 300 measurements
Hardness values from 1 to 100 at 0.1 increments
Measuring time according to Standards
Constant pressure force according to Standards
Storage case
Test rings for Shore 20, 40, 60, and 80
Displays peak value
Weight: 320 g
Height, width, and depth: 150 mm, 68 mm, 43 mm
Foot size – 18 mm
Indentation – 2.5 mm
The HPE III tests mainly in two methods – Method A and Method D. Method A uses 1 kg of load, 30-degree indenter angling, and a spring force of 8050 mN. Method D, on the other hand, uses a spring force of 4450 mN, 35-degree indenter angling, and a load of 5 kg.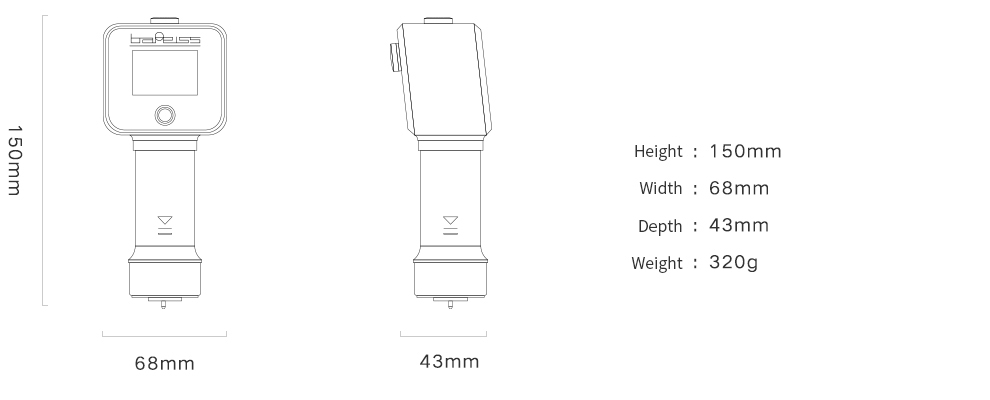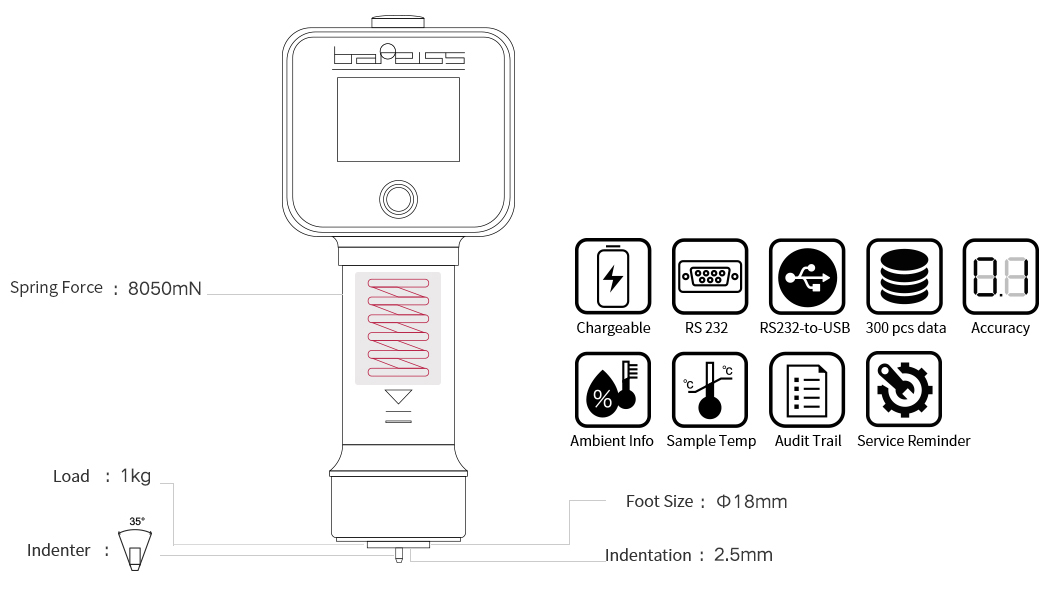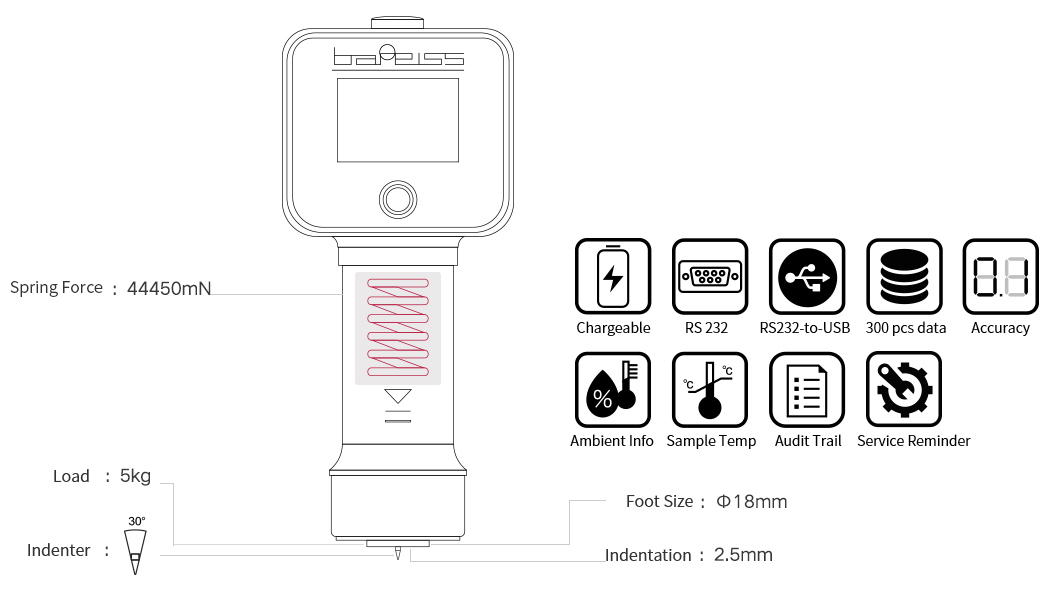 Bareiss HPE III durometer – Test stand options
A test stand for a durometer is specially designed to help make material test measurements more accurate and repeatable. It also eliminates the measurement errors that usually come with operating hardness testers manually.
The lever of the stand allows for placing a unified load and adjustment durometer to the appropriate height based on the thickness of the testing sample.
For the Bareiss HPE III, there are two test stand options:
BS 61 mechanical test stand – best for accurate angling
BSA automatic test stand – This automatic test stand guarantees the standard indenter lowering requirements and the 90-degree support of the HPE III hardness tester.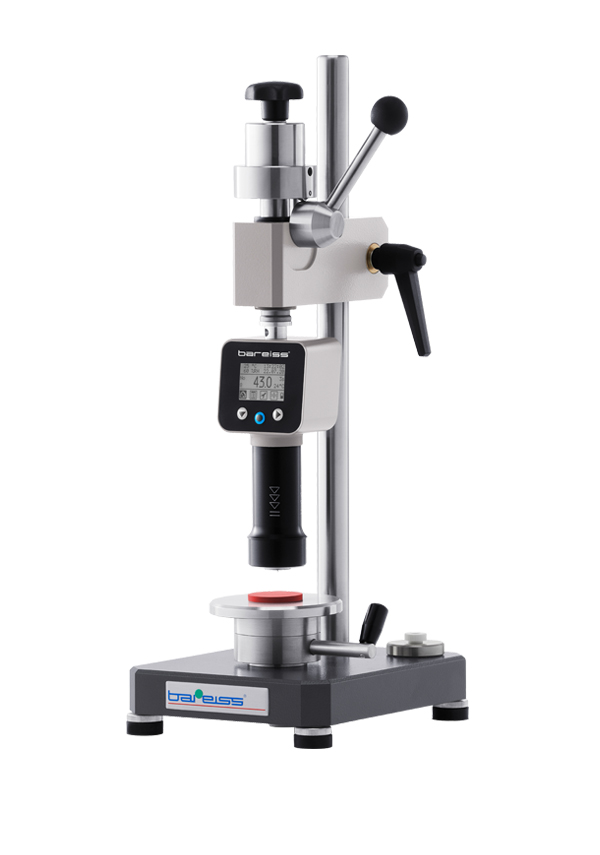 These two options are available at NextGen Material Testing. You can call NextGen to discuss with them your requirements or the best option for your application.
The advantage of the automatic test stand BSA option is that its descending speed is the standard 3.2 mm/s. Also, it automatically applies the force or load.
Your other option is the BS 61, categorized as a hardness tester mechanical test stand. It is a lever-operated test stand that always ensures correct angling.
Thus, you choose either of these two options, depending on your application. Your business might even benefit from using these two types of test stands, depending on the kind of products and materials that you are using for manufacturing.

Also, when purchasing devices from NextGen (or simply asking for expert advice), ensure to ask for a complete material testing solution applicable to your manufacturing business.
The specialists from NextGen will also advise you on correct test performance to ensure your tests and results conform with the strict requirements of standards applicable to your field.
Further, they train their clients how to use devices correctly, so your tests proceed smoothly and guarantee high-precision results.
The NextGen people will guide you and your team from consultation to the actual use of their material testing machines.
9 excellent reasons to buy the Bareiss HPE III digital shore durometer and upgrade with the BSA automatic test stand
Here are reasons why you should pick the Bareiss HPE III for your plastic and rubber applications:
Manufactured in Germany
Since Bareiss is a German company, there is no doubt that they produce only high-quality devices and products. High-quality products are trademarks of German manufacturing companies. When it comes to selling products at the international level, the label "made in Germany" evokes a perception of trust, efficiency, and quality.
In fact, when people say "a product is German-manufactured," the immediate conclusion is that the product is high quality.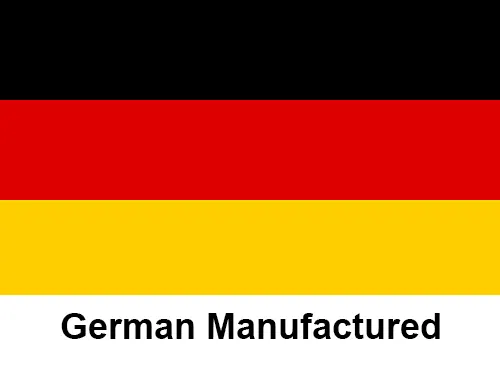 Germans are people who are very obsessive when it comes to quality control. Thus, they make their products undergo multiple quality-control tests. Imagine how rigid these people can be with more valuable items, such as tools, cars, laboratory equipment, etc.
German products may not be the cheapest ones on the planet, but these people always make sure that their buyers get the best bang for the money.
That's a compelling reason why you will be getting a good return for your money if you settle with the hardness testers of Bareiss. On top of that, Bareiss is the first company in Germany that has received the ISO 17025 certification.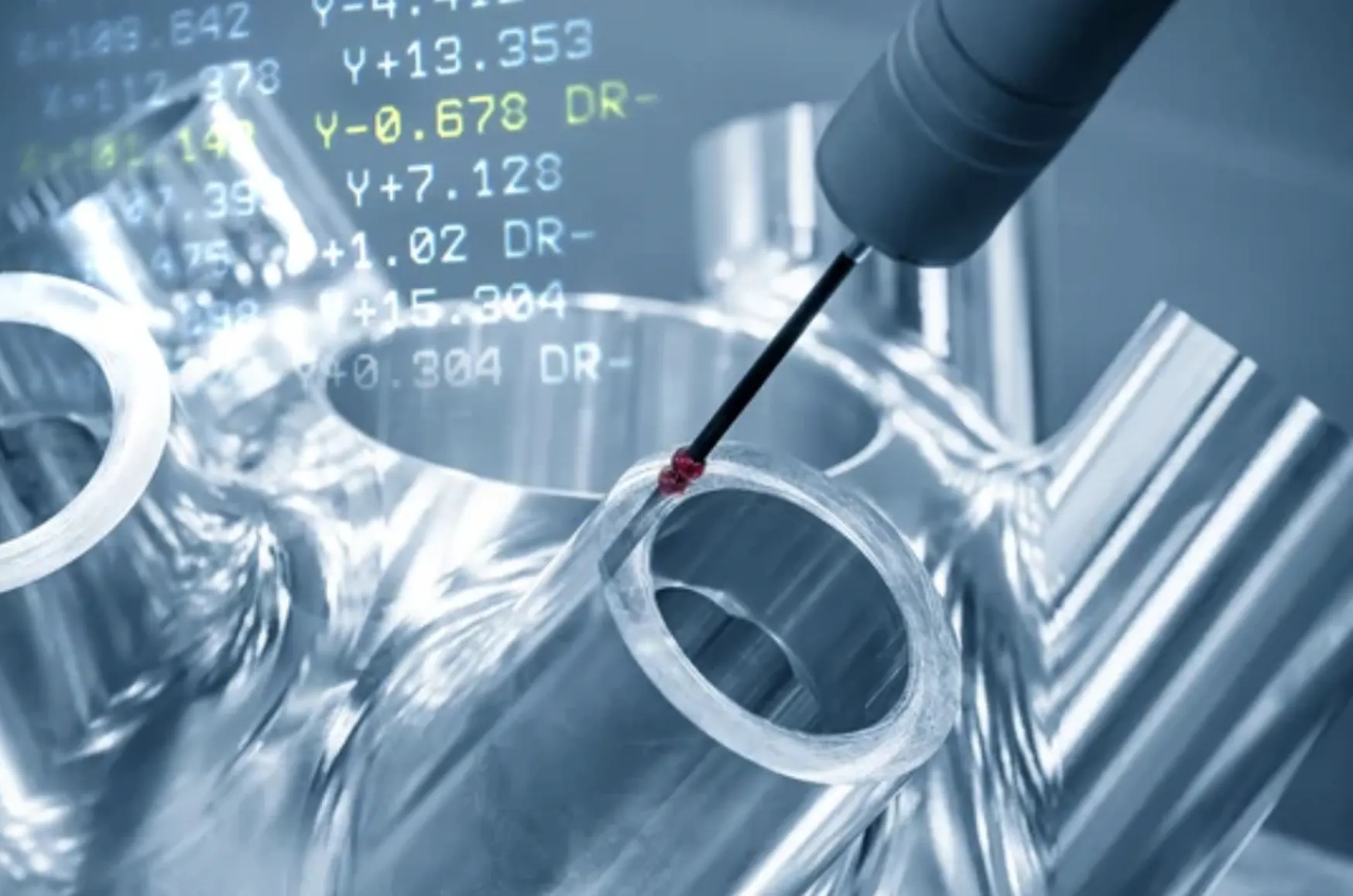 High accuracy and repeatability
The HPE III highlights high levels of accuracy and repeatability. The machine can give accurate readings and results of your tests and repeat the same result consistently.
Repeatability is the machine's capacity to achieve identical results across multiple tests.
Concerning accuracy, the HPE III achieves 0.5 units of Shore compared with the industry standard of 1.0 tolerable allowance.
Industry certified
The Bareiss HPE III is industry certified, which means it is accredited and conforms to a set of recognized standards in the material testing industry. This hardness tester model has received the DIN ISO 7619, DIN EN ISO 868, and ASTMD 2240 accreditation.
Accredited certification makes all the difference, because it lets people know that a product is reliable and safe. For Bareiss, product certifications show its commitment to safety and quality.
In addition, CSA / UL / CE compliances are maintained in the manufacturing process of the units.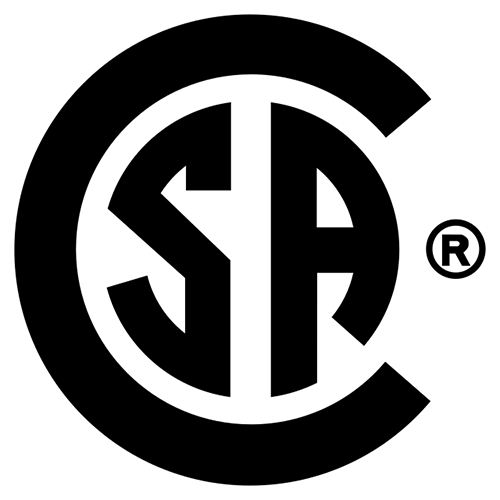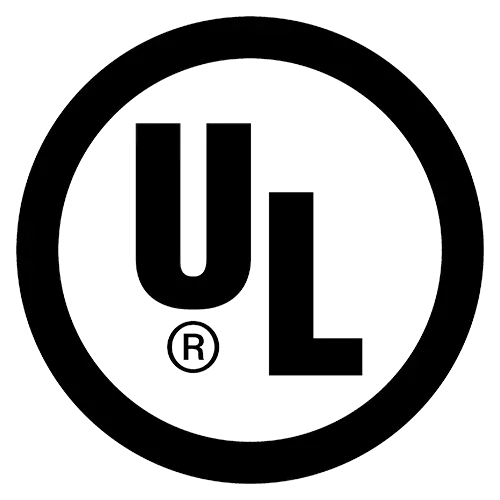 Complete calibration solution
The HPE III hardness tester provides users with a complete calibration solution that makes sure users have complete certainty that their hardness value readings are completely reliable.
In fact, Bareiss and its partners like NextGen are officially authorized to perform calibration services on all hardness testers and even issue certificates for specified standards.
It is necessary that a testing machine is 100% reliable in relation to calibration integrity. Without this certainty, measurements may be unreliable and lead to low-quality or risky products.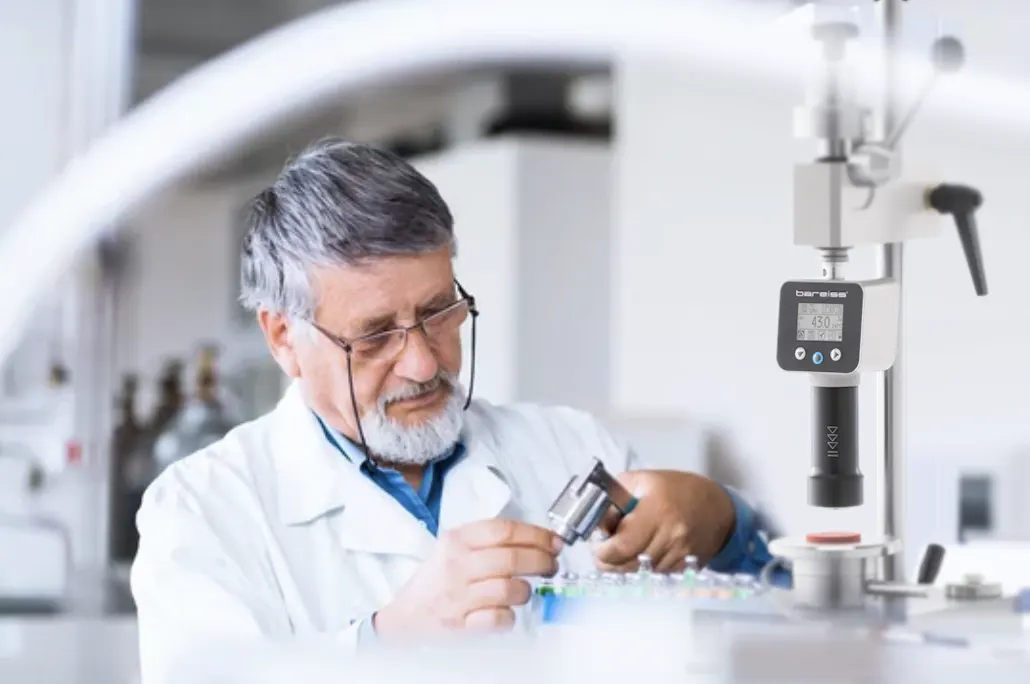 Custom turnkey solution
Bareiss hardness testers offer a custom turnkey solution. For customers and users, it means that they have a system they can easily tweak to suit a current business process.
A turnkey solution for your hardness testing needs offers a way for your business to save money and time looking for a new solution to apply. You simply "turn the key" to solve a specific issue or adjust the system to suit new hardness testing requirements.
The HPE III highlights high levels of accuracy and repeatability. The machine can give accurate readings and results of your tests and repeat the same result consistently.

Proof of concept
Bareiss offers a range of physical tests on specimens for their clients. This is meant to assist clients in choosing the right equipment that best suits their needs.
NextGen is Bareiss' trusted partner in the North American market who can assist you with all Bareiss manufactured products. Their sample preparation service allows customers to send their specimens to the NextGen facility to confirm that the device's functionality and accuracy are perfectly in line with the customer's needs.
This offer is available not only to HPE III customers but also to those who want to buy and use other NextGen supplied products.
Ease of use
The HPE III is a machine that is very easy to use. It comes with an easy-to-read user manual and easy-to-understand instructions. If you are not sure how to begin using it or the machine is not functioning as expected, do not hesitate to contact NextGen, and we will gladly assist in checking and solving the issue. Additionally, you can request training on how to use the device correctly.
Flexibility
Pick a hardness tester that is useful for many of your existing applications, and as shown later in this blog, think of the changing needs that the future may bring to your field.
As of the present, the HPE III is capable of testing the hardness of at least ten plastic and rubber types of materials. The challenge for the material testing industry is for companies to make sure that they keep up with the changing requirements in the industries that they serve.
The HPE durometer system has proven itself to be competitive even in highly-challenging environments in the aerospace and automotive industries.
For instance, there will be a need for hardness testers that can accommodate the changing needs or the new challenges in the aerospace and defense industries.
Bareiss is making sure they keep their lead and stay ahead in all the industries they serve.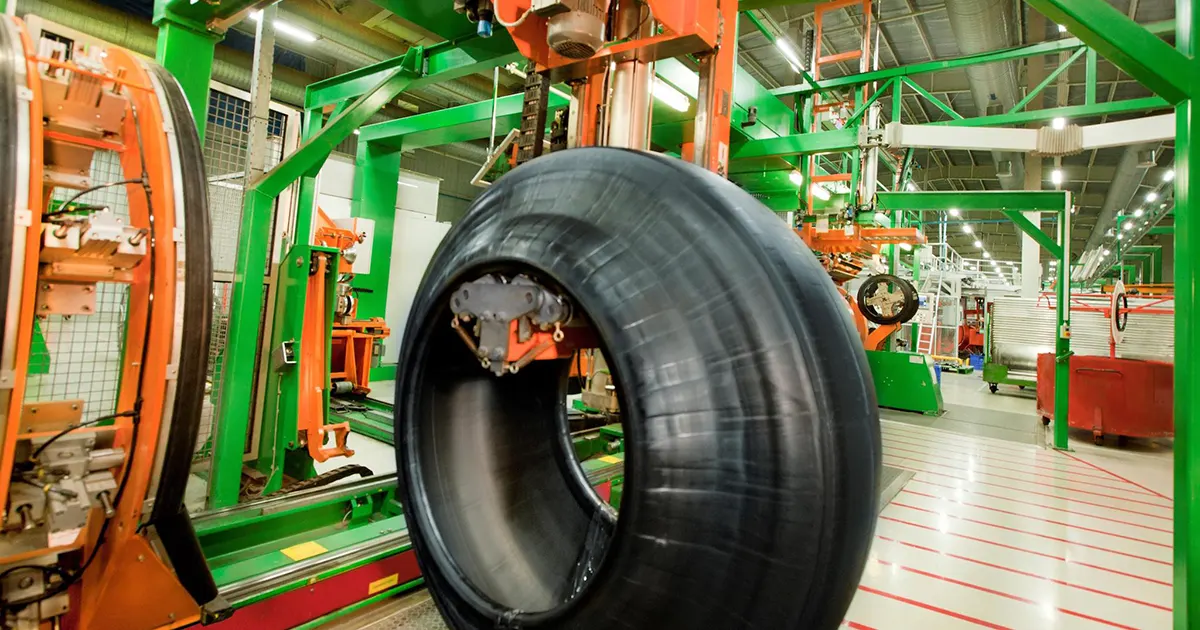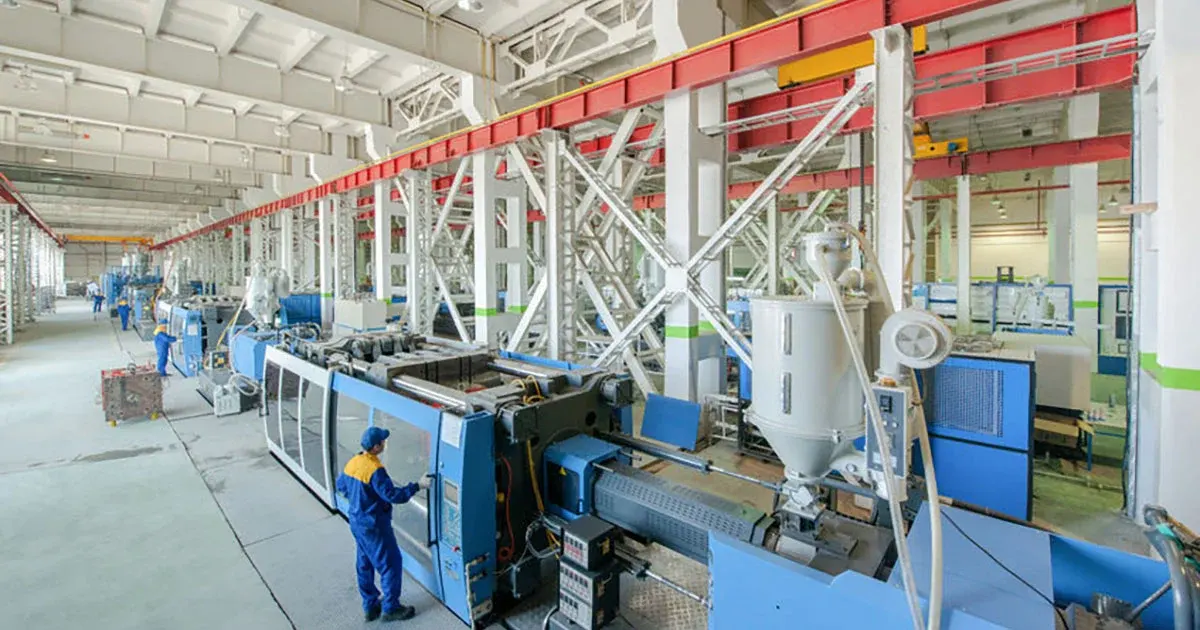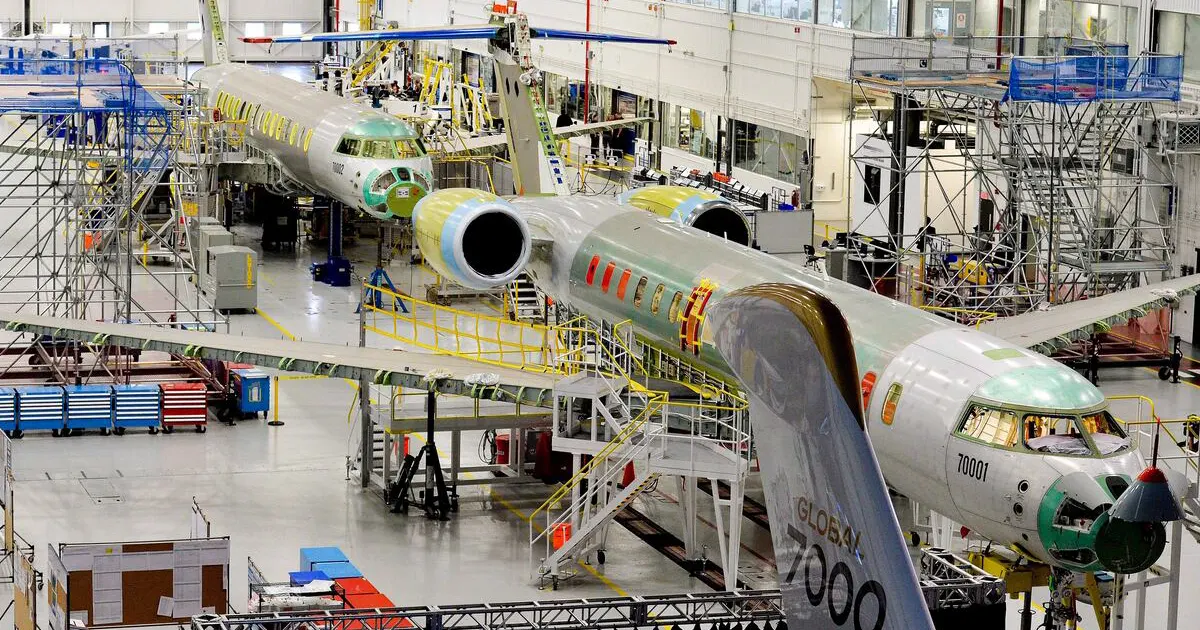 High-quality automatic test stand
The HPE III durometer can be paired with the Bareiss automatic stand for hardness testing your plastic and rubber specimen. The automatic operations mean that all the tests are guaranteed to apply force perpendicularly or at a 90-degree angle.
This test stand, used in conjunction with the HPE III, eliminates operator errors. It also features a load weight appropriate for testing, as noted in ASTM D2240.
This BSA test stand also features an adjustable height setting for different testing requirements.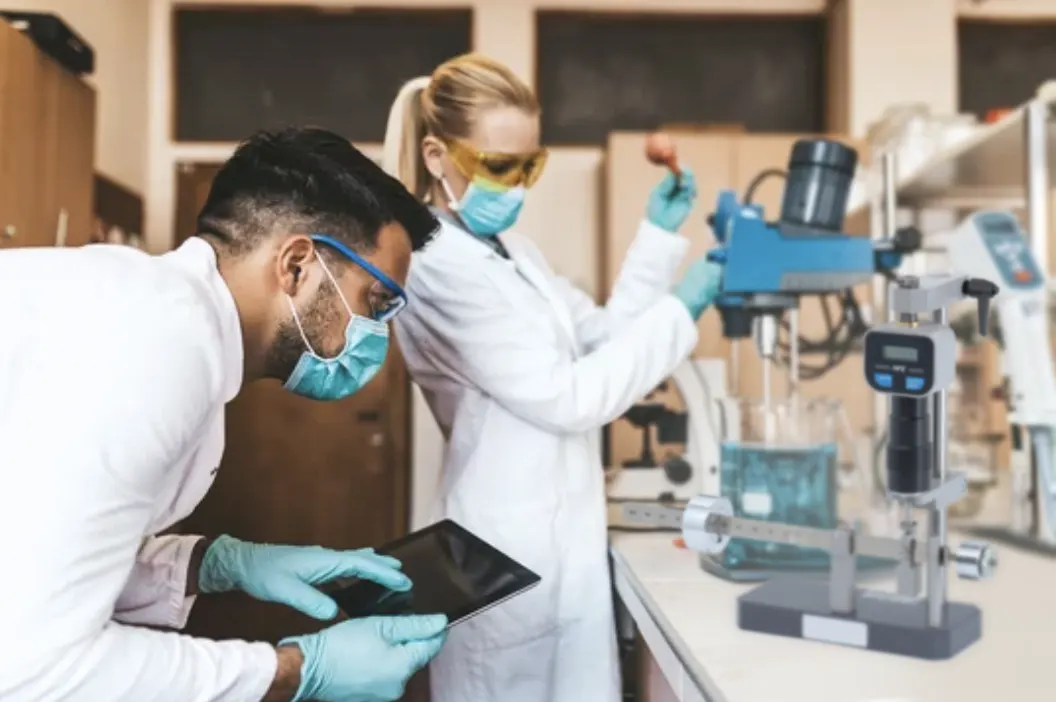 HPE III for the defense and aerospace industry
Bareiss is aware of the need for individual solutions for many companies in the defense and aerospace industry, driven by differing individual requirements.
That is why it continues to implement upgrades to its hardness testing devices and makes sure different clients with different needs can be accommodated and can benefit from HPE hardness testers.
Some of the challenges to be addressed by material testing in the defense and aerospace industry include:
Improving the efficiency of air fasteners
Developing techniques to analyze the microstructures of specialized components
Introducing new ways to analyze polymer matrix composites
Improving accuracy and reliability of results by working with quality control laboratories
Bareiss continues to study to develop principles that will allow them to improve the effectiveness of their devices and consumables and meet the challenges in the defense and aerospace industry.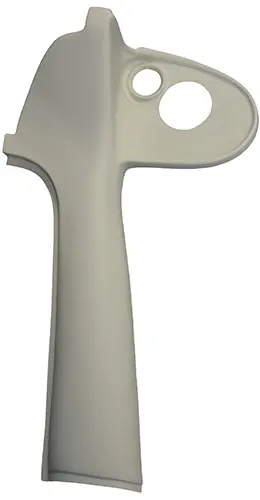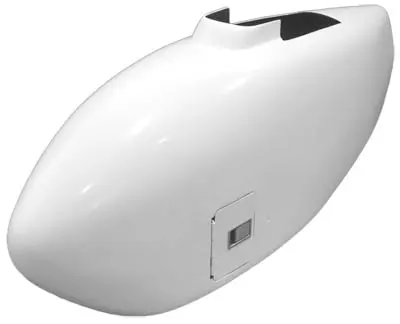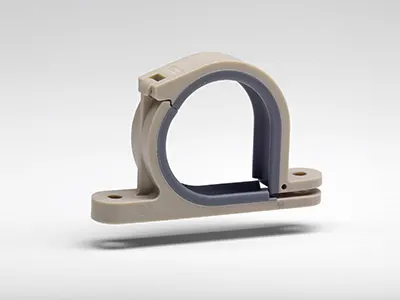 HPE III for the automotive industry
Hardness testing is mostly needed in the automotive industry, spanning applications in the hardening plants, component manufacturing, and the actual manufacturing of vehicles.
This industry has the following requirements:
Hardness testing for a wide variety of applications
Diverse needs for appropriate hardness testing machines
These requirements have to be met because the automotive industry needs to produce a lot of components and test a lot of different raw materials. Hardness testing is needed in making so many automotive parts, such as small screws, door panels, transmission parts, wheels, and engine components.
With this high level of demand in this industry, there is a need to create hardness testing machines that can automate the process. Bareiss is the first to provide such a solution with their automatic test stand.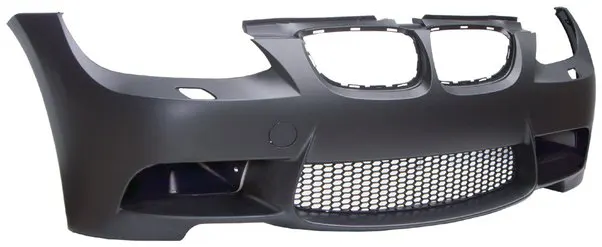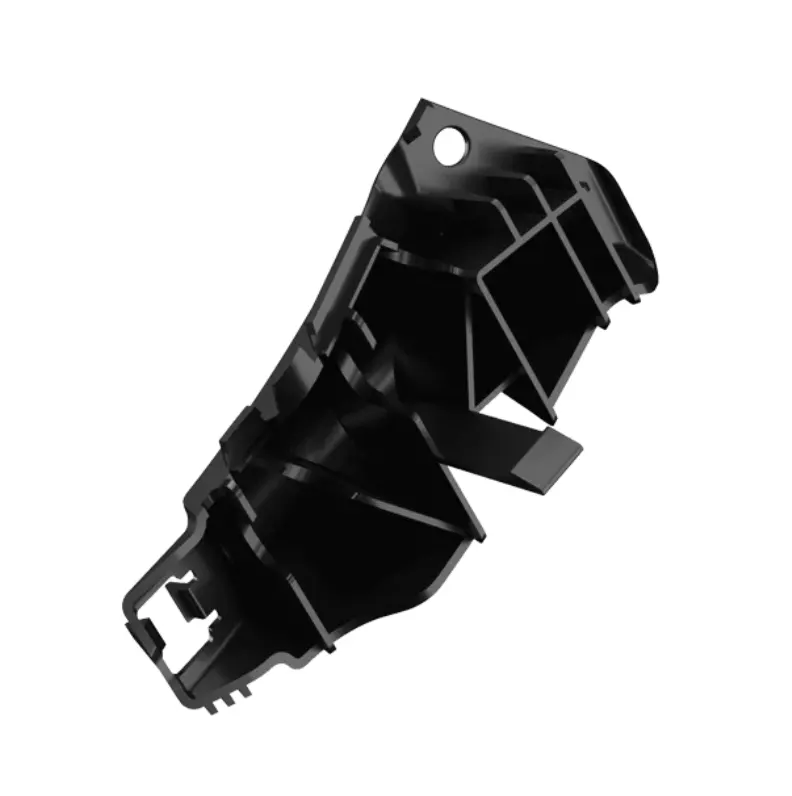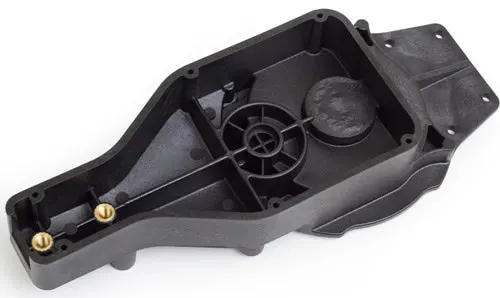 HPE III for the plastic and rubber industry
The Bareiss HPE III durometer is designed to measure the hardness of different samples of plastic and rubber materials with test types Shore A and Shore D.
It is very important to measure the hardness of plastic or rubber because, without such knowledge, you cannot ensure the quality of your product and may fail the expectations of your customers.
It is also very important to use a high-quality device for measuring the hardness of your plastic or rubber material. That is, use a machine that applies only the correct load required, and use the right type of indentation device, such as the Bareiss HPE III.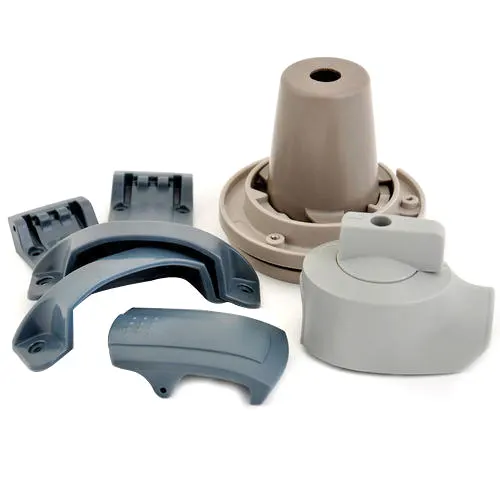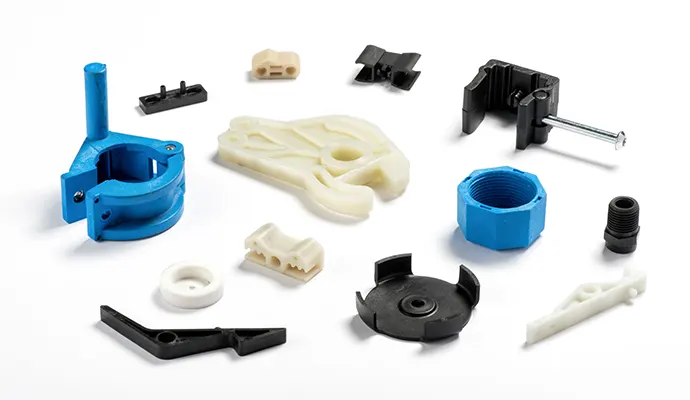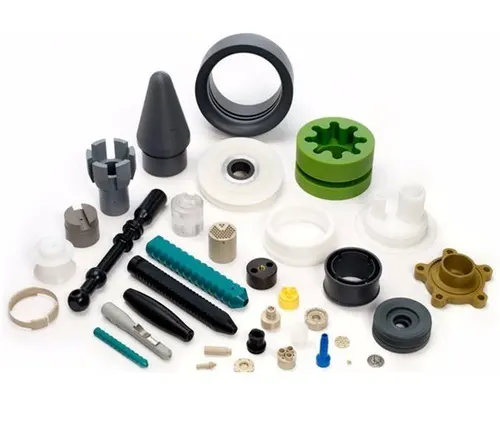 Choose a hardness tester with high reliability, accuracy, and repeatability so that your workflow can run smoothly and you can quickly create new products to sell in the market.
If you are not 100% sure about your hardness testing needs, and you need expert advice. Contact NextGen and talk with our specialists to make sure you pick the right product for your application.