Metal exploration from a microscopic perspective has the potential to lead to groundbreaking discoveries and technological advancements. This analysis is centered on the preparation of metal samples, a process requiring the highest degree of accuracy and reliability. Automatic Precision Metallographic Cutters serve as the foundation for accurate metallographic analysis providing accurate cuts on various types of materials.
Automatic cutters are characterized by finesse. They operate at different speeds, carefully sectioning samples with accuracy indispensable for soft or heterogeneous materials. Automated machines enhance precision and significantly reduce preparation time during this process. Moreover, the automation of these machines ensures a constant quality of sample preparation, crucial to the accuracy of the analysis carried out on these samples.
This blog provides insight into the GenCut GL Series innovation features. Previously, we reviewed the GenCut GL Series Metallographic Sample Cutting Machines and the many possibilities they provide in the metallography field. An in-depth examination of the recently released line of Automatic Precision Cutters from NextGen Material Testing will be the focus of this article, in which they will be highlighted as key elements of precision within the ever-evolving field of metallography. These cutters are engineered to meet the stringent standards of modern metallography labs, ensuring each cut is precise, regardless of the material's composition, enabling a more reliable analysis.
Automatic Precision Metallographic Cutters: What Are They?
Unlike the manual operation involved in systems like cut-off saws, automatic precision metallographic cutters are often featured with automated functionalities that significantly reduce the possibility of human error. The GenCut GL100E and GenCut GL200E are prime examples of the technical capabilities that automatic precision cutters offer, specifically designed for the fabrication of metallographic products. Let's look at the industries in which they are used, and examples of their main features.
Applications of Automatic Precision Cutters Across Industries
Among the various industries in which metallographic automatic precision cutters find application are the following:
Research and Development Labs
These cutters are indispensable in R&D labs as they prepare samples for microscopic examination, enabling the exploration of material properties and behaviors under different conditions.
Material Testing Facilities
Material testing facilities rely on them not only to assist in the sectioning of samples for further analysis but also to assist in quality control and to ensure compliance with industry standards.
Semiconductor Manufacturing
The use of metallographic automatic precision cutters is critical for quality control and process optimization in semiconductor manufacturing, where silicon wafers and other semiconductor materials must be sectioned precisely.
Metallurgical Industry
The metallurgical industry uses them extensively for the preparation of metal samples for microscopic examination as well as for the analysis of microstructures and other critical characteristics.
Ceramic Industry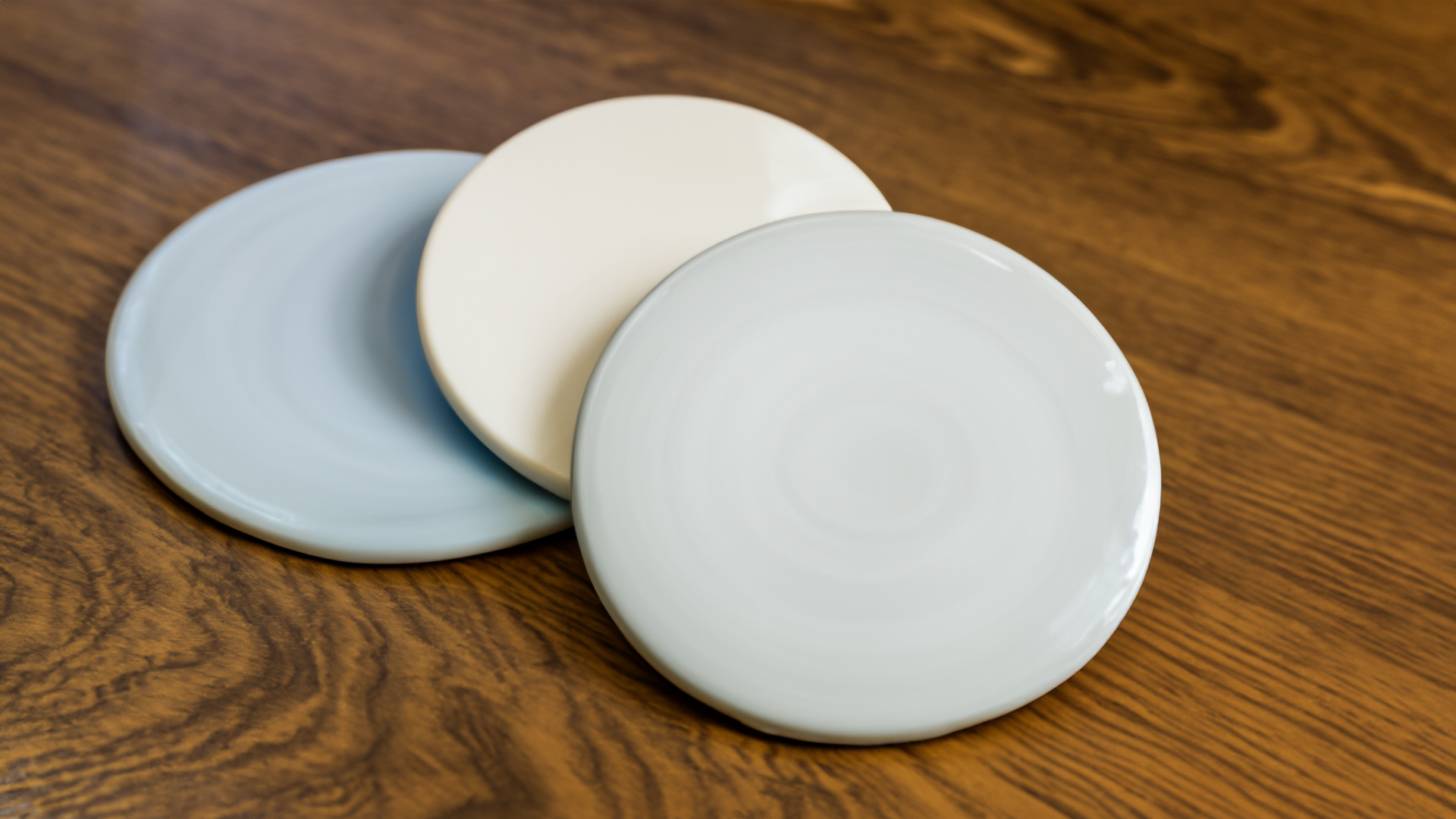 This type of cutters is used by the ceramic industry for the purpose of sectioning ceramics for analysis, which can provide valuable information regarding the properties of the ceramic material.
Composite Materials Manufacturing
Moreover, they are also used in the manufacture of composite materials for the precise cutting of composite materials as well as for facilitating the analysis and quality control of the manufacturing process.
Key Features of Automatic Precision Cutters
A precision metallographic cutter's effectiveness is greatly influenced by the inherent features that enhance its precision and efficiency of operation. The following are a few examples:
Automated Control Systems
In addition to their automated control systems, these cutters feature user-friendly interfaces with touch screens for ease of operation and monitoring of cutting parameters in real-time.
Variable Speed Control
Variable speed control ensures that the cutter is able to be used more precisely and is able to adapt to different materials, ensuring accurate cutting.
Cooling and Lubrication Systems
In order to maintain the quality of the cut surface and prolong the life of the cutting blade, integrated cooling and lubrication systems are crucial.
Safety Measures
The use of safety measures such as blade guards, safety locking systems, and emergency stop mechanisms will ensure that the cutting experience will be as safe as possible.
Vibration Damping
With the vibration-dampening features built into the machine, the vibrations generated during cutting can be reduced to a significant extent, which makes more precise and high-quality cuts.
Data and Insights
The use of automatic metallographic precision cutters for material sectioning results in precise results, allowing for detailed microscopic examinations necessary to analyze the composition, structure, and other characteristics of a particular material. As a result of the high level of precision, the structure of the material is accurately represented, allowing a detailed examination and the development of insightful conclusions to be made. The accuracy of this analysis is crucial not only in metallography but also in many other fields involving precise materials sectioning and analysis. Utilizing automatic metallographic precision cutters, materials can be examined and understood in a more detailed manner, which facilitates innovation and quality assurance in a broad range of industries.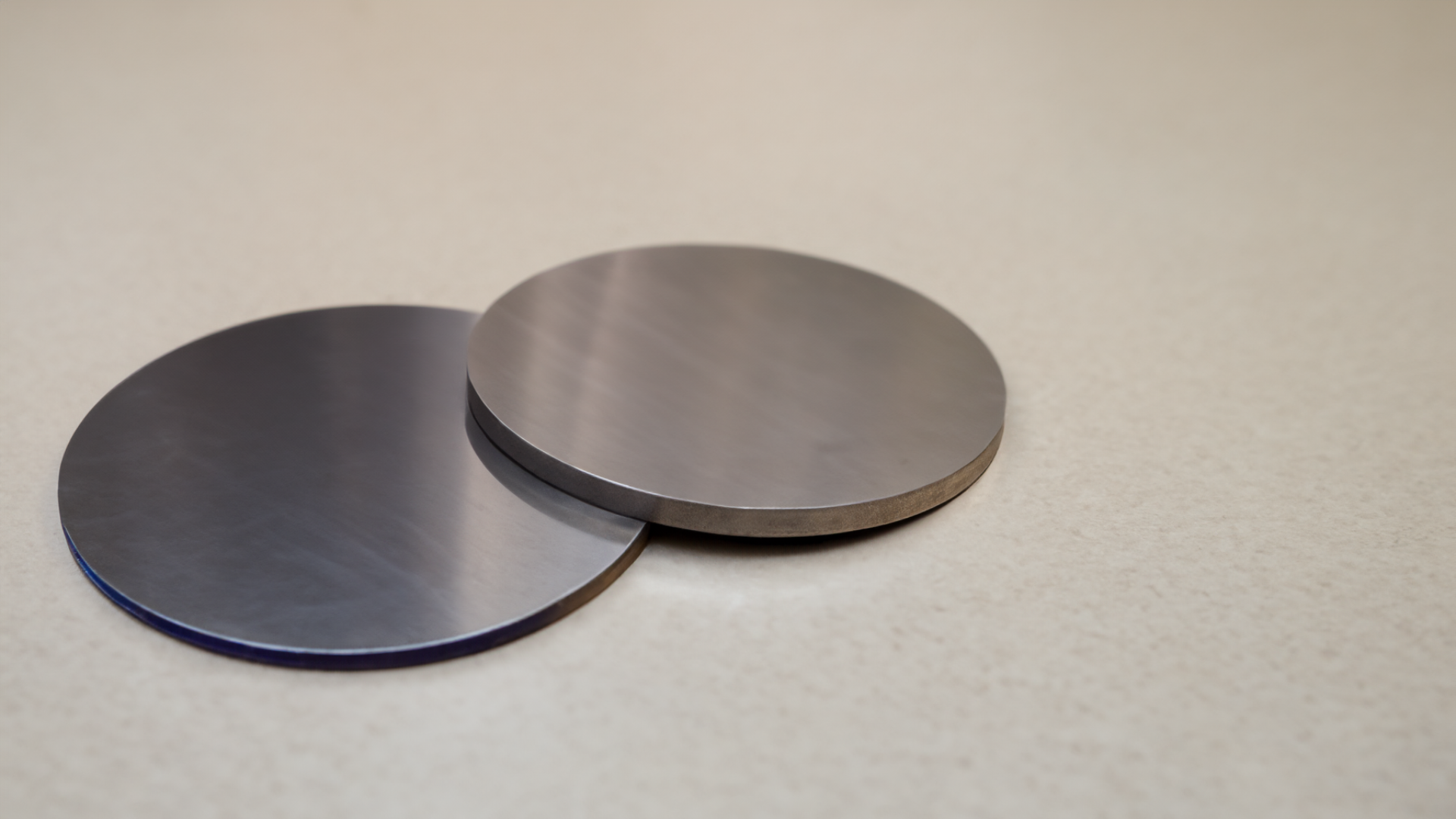 Automatic Precision Metallographic Cutters of GenCut GL Series
Introducing the GenCut GL100E and GenCut GL200E, automatic precision metallographic cutters crafted with great care to meet the rigorous demands of the metallography industry. With these machines, you will be able to integrate advanced automation with precision, optimizing the sample preparation process for a variety of different materials.
The GenCut GL100E is particularly suitable for cutting tiny and delicate specimens, especially when the material structure is heterogeneous. With its diamond saw precision cutter and 4-inch cutting wheel, this model is a versatile choice for various metallographic applications. As a result of its variable speed control ranging from 50 to 1000 rpm in conjunction with an automatic shut-off function at the end of each cutting cycle, the instrument is exceptionally efficient and easy to operate, aligning perfectly with the requirements of preparing meticulous samples.
The GenCut GL200E, on the other hand, is a high-speed precision metallographic cutting machine with a maximum cutting diameter of 60mm. This model is equipped with a user-friendly touch screen and PLC control, which facilitate stable performance and real-time display of cutting parameters. Y-axis automatic feed cutting provides high position accuracy, a wide speed range, and high cutting capacity. For safe observation during the cutting process, the cutting chamber is fully enclosed, and equipped with a transparent protective cover. In addition, the circulating cooling system ensures that the surface of the specimen is bright and flat, free of burns.
GenCut GL100E – Low Speed Precision Automatic Metallographic Cutter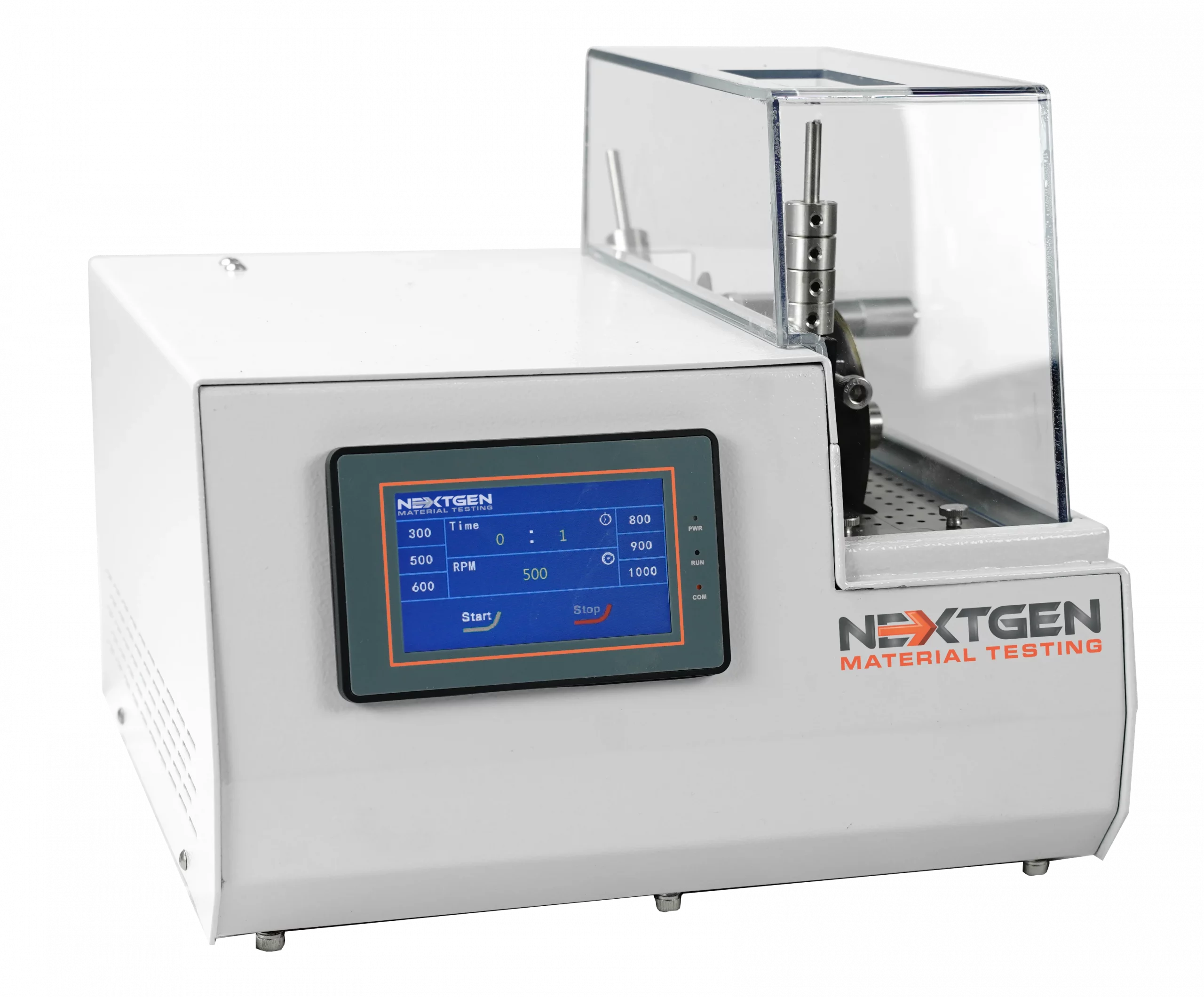 This GenCut GL100E is a metallography-specific cutting tool designed with meticulous attention to detail, as are all the products in the GenCut GL Series. Featuring a user-friendly touchscreen interface and a 25mm cutting diameter, this automatic precision metallographic cutter combines user-centric design with exceptional efficiency. But it is not lacking in features at all. Let us review what functionality remains.
Cutting Proficiency
The GL100E is capable of handling a wide variety of small and delicate samples, demonstrating its proficiency in sectioning, particularly when dealing with non-homogeneous material structures. It is equipped with a cutting wheel of 4 inches that ensures a fine cut through the sample with a maximum cutting depth of 25 millimeters. By adjusting the speed between 50 and 1000 rpm, the user can customize the level of cutting according to the type of material.
Operational Ease
Digital touchscreen control and a programmable menu structure provide an easy-to-use user interface. Precision metallographic cutting is further enhanced by micrometer head control, which ensures that each cut is accurate. Upon completion of each cutting cycle, the machine automatically shuts down, enhancing the safety and efficiency of the operation.
Safety and Maintenance
With the combination of a closed transparent protective cover and a safety switch, the design creates a safe operating environment for the user. A weight-sliding loading system minimizes sample damage, ensuring specimen integrity following cutting. The closed-loop control cutting system prevents motor overload, providing optimal safety and longevity.
Cooling Mechanism
The GL100E is equipped with an automatic cycle cooling of cutting fluid, which is facilitated by the cutting wheel driving the circulation of water in the tank, which is necessary to maintain the integrity of the sample during the cutting process.
Technical Specifications
The following are some of the key technical specifications of the tool:
Model: GenCut GL 100E

Cutting Wheel Dimensions: Ø100xØ12.7×0.3mm

Motor Power: 300W

Variable Speed: 50-1000rpm

Display Panel: Touch Screen Controller

Micrometer Travel Range: 0-15mm

Position Accuracy: 0.01mm

Power Supply: 220V 60Hz

Dimensions & Weight: 13″ x 13″ x 14.5″ 66lbs / 30kg
Standard Configuration
In order to ensure that the GL100E is ready for operation, it is equipped with a comprehensive set of components, including:
Cutting Saw

Single Head Jig

Double Head Jig

Irregular Sample Jig

Flat Clamp

Water Drop Jig

Wrench for Changing Blade

Differential Head

Inset Sample Jig

Power Cord and Operation Manual
Applications
This machine provides excellent results at cutting various types of materials, including metals, composites, plastics, electronic components, biological materials, ceramics, cement, rocks, and minerals. Additionally, it can be used to prepare thin-film samples as well as other materials such as this, making it an essential tool for metallography laboratories.
GenCut GL 200E – Automatic Precision Metallographic Cutter with User-Friendly Touch Screen Interface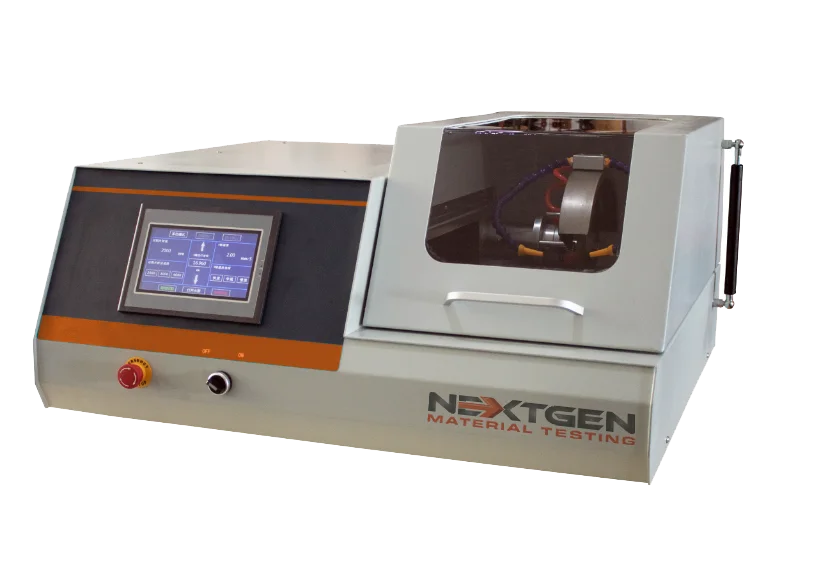 In terms of automatic cutting equipment, the GenCut GL 200E represents the highest level of technology and precision. The cutting machine has a cutting diameter of 60mm, which makes it an indispensable tool for metallography and material testing due to the fact that it offers a very large cutting diameter.
Cutting Proficiency
GenCut GL 200E is capable of executing precision, deformation-free cuts across a variety of materials, including metals, electronics, ceramics, and biological materials. This machine is equipped with an automatic feed Y-axis cutting feature, which ensures high-precision cuts under a variety of operating conditions. With a cutting wheel size of 200 x 1.0 x 32 mm, the GL 200E is designed to meet the highest precision standards.
Operational Ease
A perfect example of user-centered design, the GenCut GL 200E is equipped with a digital touchscreen control and programmable menu structure for an intuitive and streamlined operational experience. As a result of the machine's real-time display of cutting parameters, powered by a PLC control system, the user is able to receive immediate feedback, which enhances control and accuracy during the cutting process. Offering feed speeds ranging from 0-600mm/min and spindle speeds ranging from 500-5000rpm, the GL 200E offers enough flexibility to meet the needs of a range of users.
Safety and Maintenance
The design of the GL 200E places a high priority on safety. For a safe and secure operating environment, the machine incorporates a transparent protective cover and a safety switch. In order to prevent motor overload, a closed-loop control cutting mechanism has been engineered, enhancing both machine operational safety and longevity. After each cutting cycle, an automatic shut-off function is triggered, adding an additional layer of safety and efficiency.
Cooling Mechanism
As part of the GL 200E's design, there is a circulating cooling system that ensures the integrity of the sample during the cutting process. By using this system, the surface of the cut specimen remains smooth, flat, and burn-free, thereby maintaining the sample's integrity but also improving cutting quality and extending the cutting wheel's lifespan.
Technical Specifications
The following specifications demonstrate the cutting-edge performance of the GenCut GL 200E:
Model: GenCut GL 200E

Cutting Method: Automatic spindle Y-feed (automatic return when cutting is complete), manual feed, pulse feed (automatic return when cutting is complete)

Feed Speed: 0-600mm/min (Adjustment steps of 0.01mm)

Cutting Wheel Size: Φ200 x 1.0 x Φ32mm

Spindle Speed: 500-5000rpm

Y-Axis Travel: 260mm

Maximum Cutting Diameter: Φ60mm

Motor Power: 1500W

Input Power: 220V 50/60Hz 1 Phase

Display and Control: Touch Screen

Cutting Platform Dimensions: 225 x 320mm

Cutting Fixture: Quick Clamp

Dimensions & Weight: 33" x 32" x 16" 287lbs / 830 x 820 x 410 mm 130kg

Transverse Clamping Width: 225mm

Longitudinal Clamping Length: 150mm
Standard Configuration
The GenCut GL 200E is equipped with a set of components, including:
GenCut GL200E Cutting Saw

Coolant Chamber

Wrench 13#-15#

Wrench 17#-19#

Internal Hexagonal Wrench 6mm and 8mm

Water Inlet Tube

Drain Pipe

Diamond Cutting Wheel Φ200 x 1.0 x Φ32mm

Operation Manual
The Benefits of GenCut GL100E and GL 200E for Laboratories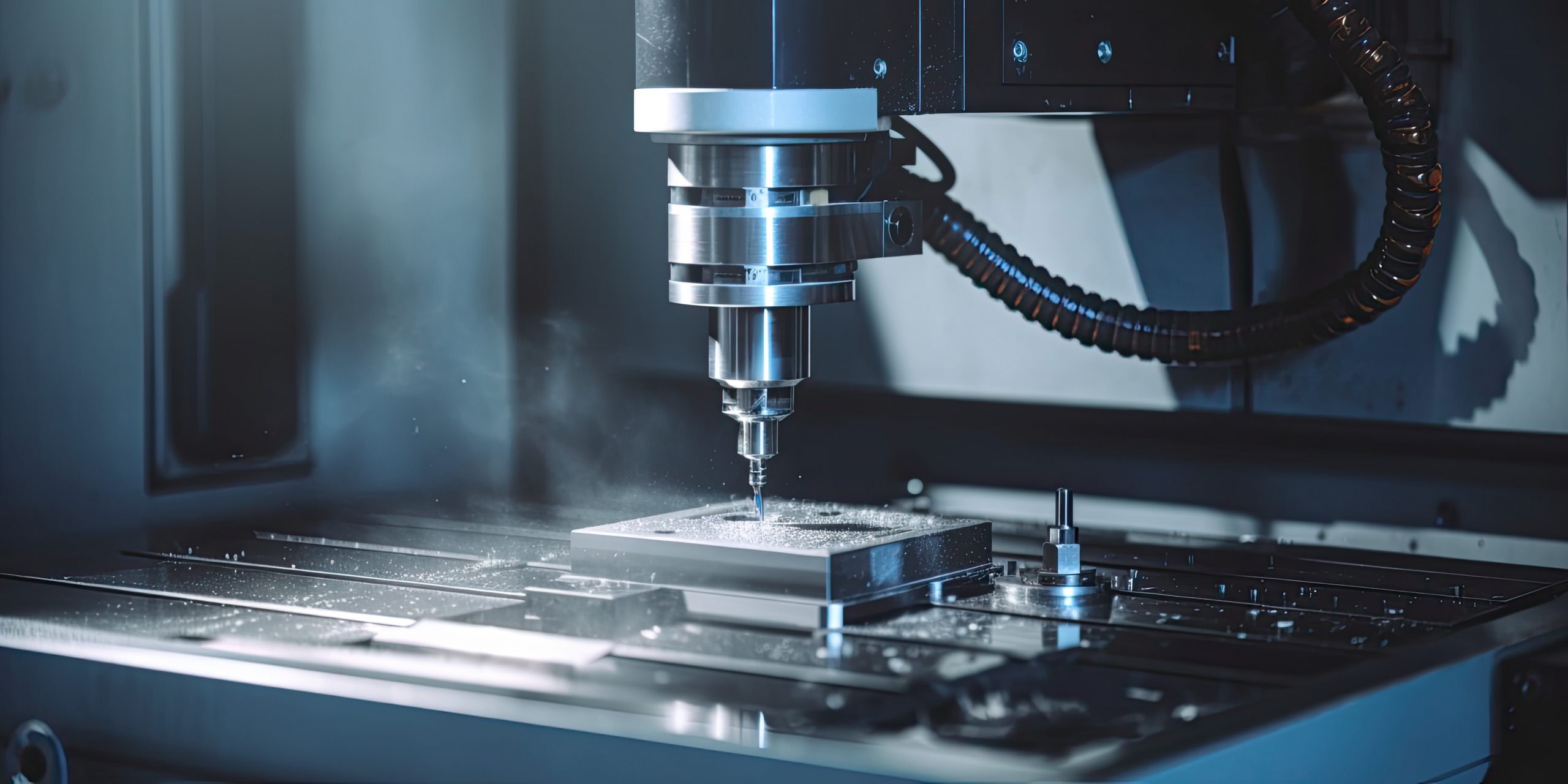 Automated cutters, such as the GenCut GL100E and GL200E from NextGen Material Testing, can greatly enhance the operational workflow and efficiency in laboratories, especially those with limited space. These machines are compact, yet powerful, designed to provide precise cutting and sectioning of a broad range of materials which is critical for accurate metallographic analysis.
According to a study published in the Journal of Materials Processing Technology, automated cutters reduce material preparation time by up to 60% compared to manual methods. As a result, a significant amount of money can be saved in the long run. In terms of precision, the study underscored the exceptional accuracy of automated systems like the GenCut series, which has a deviation precision of less than 0.5%. In addition to ensuring greater reliability in analysis, these systems are also at a higher level of completion relative to their competitors.
The space-saving design of automated cutters is one of their most significant advantages. Despite being designed to fit within small spaces, they do not compromise on functionality or cutting capacity. As an example, the GenCut GL100E and GL200E, as we have already mentioned, despite their compact footprint, are well equipped with features such as variable speed control, automatic shut-off function, and fully enclosed cutting chambers.
Furthermore, a report from the International Metallographic Society reported that the global demand for automated metallographic preparation equipment, including automated cutters, has increased by 15% over the past year. In the scientific and manufacturing communities, their value is becoming increasingly recognized.
There are many other advantages to integrating automated cutters in a lab setting, especially in labs with limited space, not only in terms of increasing efficiency but also in terms of elevating precision in materials preparation and analysis. In this way, they are a valuable asset for laboratories and manufacturing facilities seeking high-precision material analysis and preparation with a compact, user-friendly, and reliable solution.
Achieving Metallographic Cutting Excellence with the GenCut GL Series
The GenCut GL Series of precision metallographic cutters from NextGen Material Testing is designed to meet the demanding needs of different industries related to material analysis and preparation. This GL Series includes a range of durable, precision cutting saws such as the GenCut GL100E and GL200E.
The GenCut GL100E is an automatic precision metallographic cutter that handles sensitive samples particularly well, making it a preferred choice within metallography. In the meantime, the GenCut GL 200E, with its high-speed precision cutting capability and 60mm cutting diameter, serves as an ideal tool for precise, deformation-free cutting of a broad range of materials.
With their versatility and advanced features, the GenCut GL series are invaluable tools for laboratories and manufacturing environments that require precision, reliability, and safety. By integrating user-friendly interfaces and providing an array of cutting capacities, the GenCut GL Series is an excellent choice for engineers seeking the highest performance in material testing and analysis tasks.
GenCut GL100E and GL200E offer many more potential benefits for laboratories and manufacturing companies. As a result of their user-centric designs and robust technical frameworks, they are not simply tools, but rather essential assets for precise materials analysis and preparation. With the GenCut GL Series, new opportunities open up in the material testing field, aligned with operational efficiency and precision.
This is an excellent opportunity that should not be missed! If you would like to know if GenCut GL Series precision metallographic cutters meet your testing requirements or receive an online estimate, please contact us. We are ready to assist you with the details of our systems so that it is customized to meet your exact demands.