NextGen Material Testing carries a product line of affordable Vickers Hardness testing systems. We offer micro and macro testing systems in manual, digital, and digital with CCD optical analysis options to meet the testing needs of all labs. We also offer custom solutions to meet all of our customer's unique needs. Browse our line of Vickers hardness testing systems to find the right equipment for your company.
Micro Vickers/Knoop Hardness Testing System
The Micro Vickers Hardness Testing System supports loads ranging from 1gf to 1000gf. It comes in analogue, digital, and digital with CCD Optical Analysis Software models. These Vickers Hardness Testers feature a large LCD display, built-in printer, and a motorized turret that allows for automated control of objective lenses. The CCD model includes a high-quality CCD camera and our VickSoft Vickers Hardness Test Software, which quickly categorizes and exports testing data.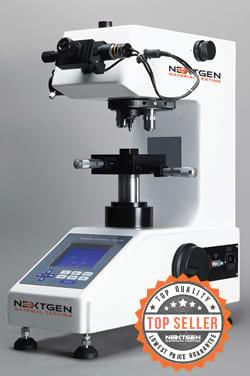 Macro Vickers Hardness Testing System
The Macro Vickers Hardness Testing System accommodates harder materials, supporting loads ranging from 1kg to 100kg. We offer several models, including analogue, digital, and digital with CCD Optical Analysis Software. The NG-5000 series includes a CCD camera and software that eliminate human error. This model connects to computers via USB, allowing for easy data transfer and printing. All units come standard with certified test blocks.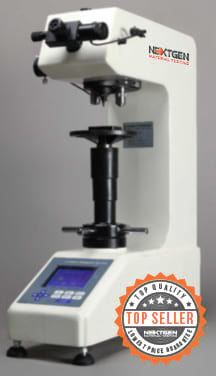 Advanced Automatic Vickers/Knoop/Brinell Hardness Testing System
This testing system features advanced software and the ultimate in precision hardness testing. The closed-loop, load cell design provides the greatest control over precise load requirements. We offer this system in basic, semi, and fully-automatic configurations. Unlike testing systems that employ digital zoom, our system's optical zoom feature provides accurate measurements down to the microscopic level. It is also cost-effective, as it eliminates the need for a variety of objectives.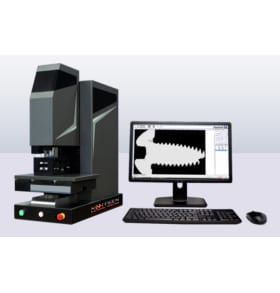 We take great care in our Vickers tester manufacturing, conforming to the latest industry standards to ensure quality for our customers. The robust designs and easy to install, user- friendly interfaces of our Vickers hardness testers provide the greatest value for customers. Ranked as the top hardness tester on the market by a third-party marketing firm, we are committed to quality and customer satisfaction. We are a Micro and Macro Vickers Tester Manufacturer that stands behind our products, offering support that extends to the life of the equipment. Contact us today to request a quote for the Vickers hardness testing system that is right for your company.