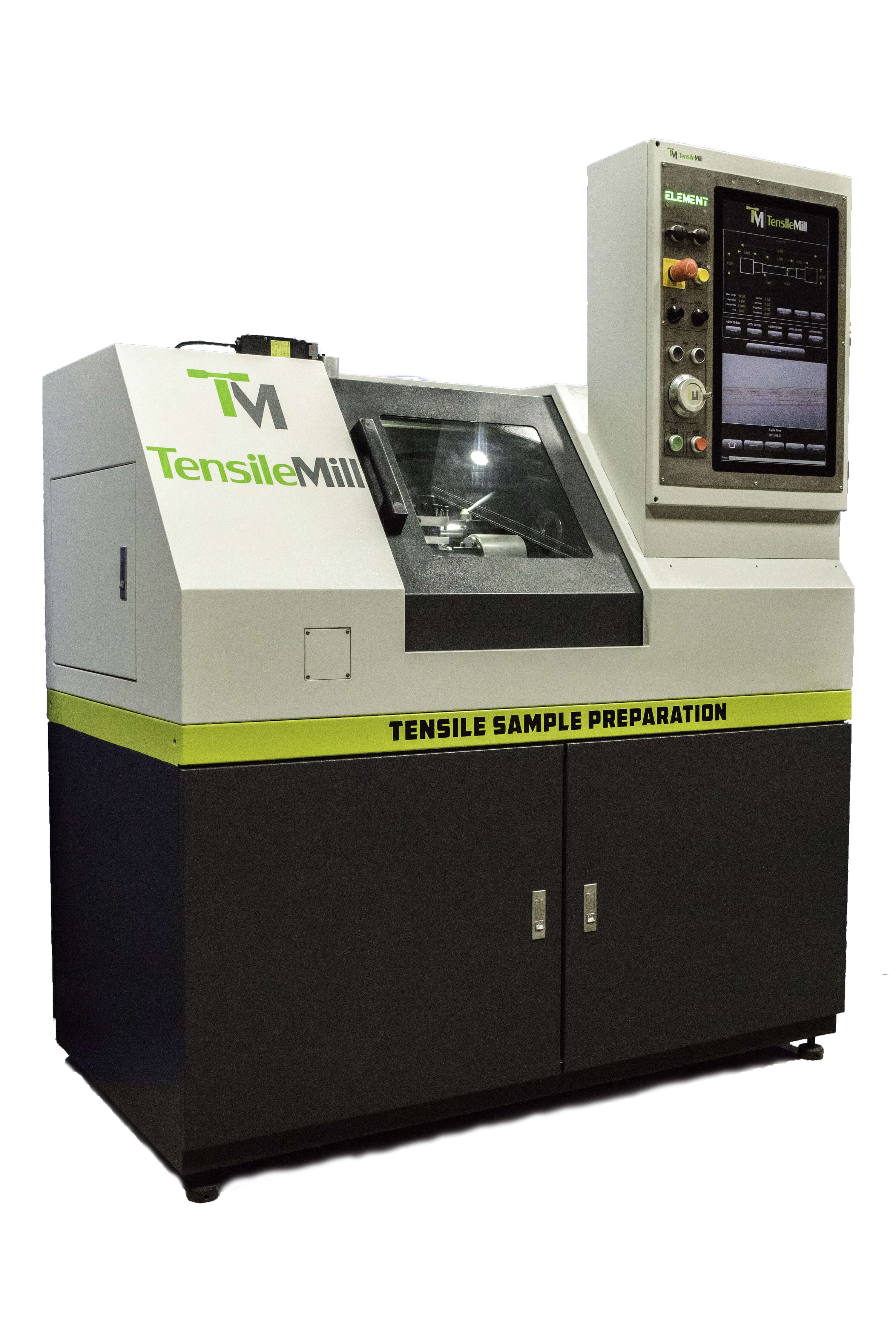 Because of its niche audience, metallographic processes like the tensile test is not very well-known to the public. This is why looking for a reliable tensile sample preparation equipment online can be a handful.
Here's everything you need to know about the tensile test and how it can change the future of chemical quality control for the better.
A Quick Background on Metallography​
Since the tensile test is mainly used in metallography, let's jump to a quick lesson on this topic. By definition, metallography is the study of metals – its properties, uses, and possible effects. It involves a lengthy process of crafting the specimens to perfection. On the other hand, the tensile test is a rather quick process.
CNC Lathe for Tensile Specimens: Dissecting its Key Terms
Since the entire term can look quite overwhelming by itself, let's divide it into the following keywords:
CNC
CNC is an acronym for Computer Numerical Control – a type of machine automation. It works by using embedded software to a microcomputer.
For machines programmed with CNC, they have a customized customer program that contains all the instructions and parameters that the machines must follow.
Lathe
A lathe is a tool that allows the specimen to be rotated for a symmetrical output. This is commonly used in metallographic processes like cutting and sanding.
Tensile
Tensile refers to a material's strength to resist a perpendicularly pulling force. With low tensile, the material will be prone to breakage, fracture, or deformation.
How the Round Tensile Specimen Preparation Works
Since TensileTurn's tensile machines are fully automated, there are only two steps involved in round tensile specimen preparation for ASTM E8. These are explained below:
Step 1: Dimensions
Choose your preferred common tensile size from our library of common standards. Worry not, we have them tailored to fit ISO, ASTM, and DIN standards!
If your preferred size is not on the list, simply enter the dimensions on our touchscreen keypad.
Step 2: Start the test
Our machine supports specimens with up to 1″ diameter and up to 8″ length for the standard system, however can be upgraded to a system with capabilities of up to 6″ diameter and 16″ in length. If your preferred specimen is inputted with the right dimensions, you can proceed with the tensile test right away!
Why Choose TensileTurn's CNC Machine for Round Tensile Specimens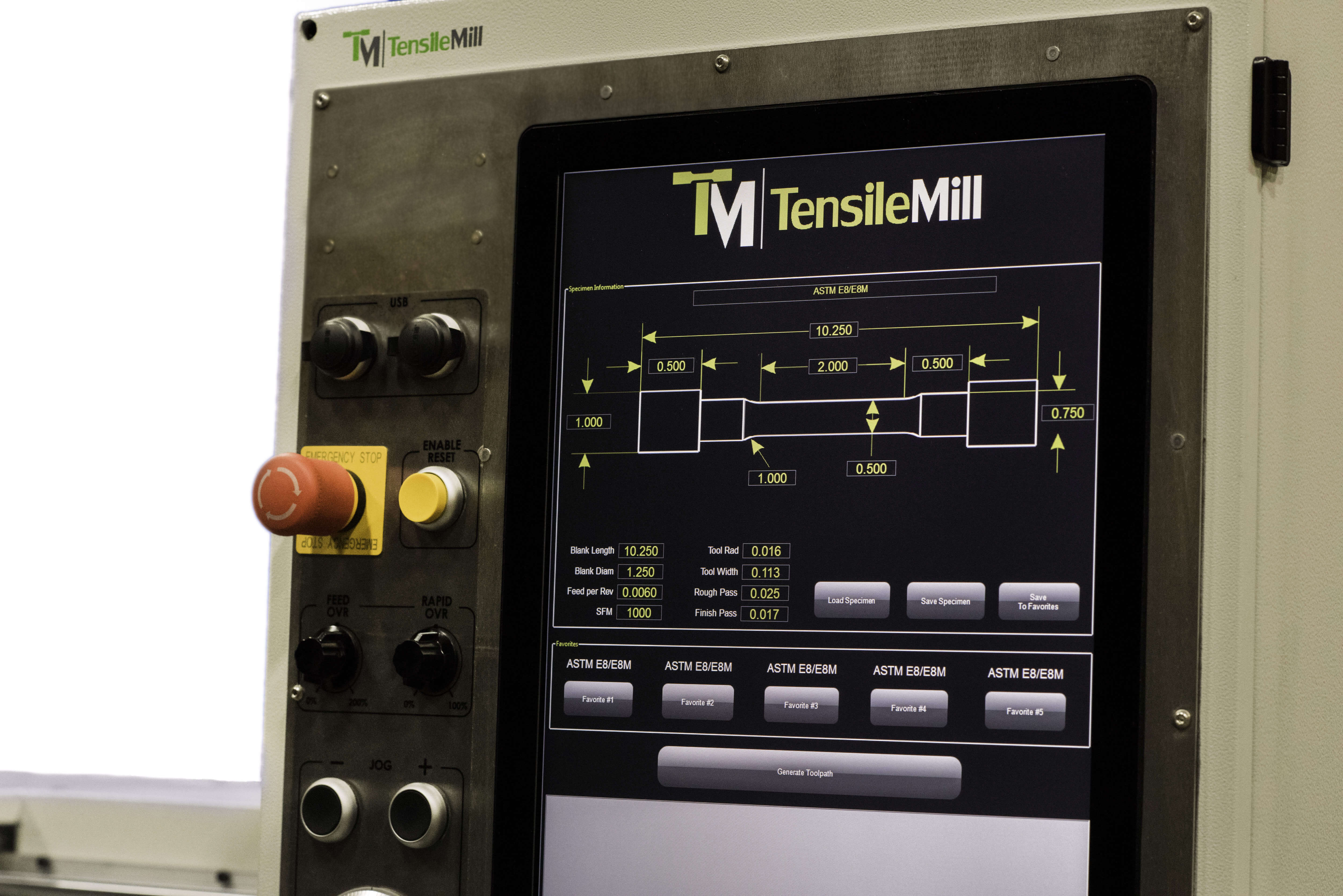 Still skeptical on how automated our tensile machines can get? Below is a more detailed list of features that you can expect upon purchasing this product:
Advanced Features
With TensileTurn, you'll get a compact tensile machine that offers smart functions. The following are the control systems that our machine has:
64 GB of storage space
4 GB of RAM storage
Wi-Fi and Ethernet options
US Ports
Macro B Programming
254 tool offsets
126 work offsets
Helical Interpolation
Drilling Canned Cycles
Scaling
Mirroring
Advanced Trajectory Planning
Cutter Compensation for Cutting Edge Dual Mode
Access to MACH4 Industrial CNC Software
Complete Carbon Software
Although our tensile specimen preparation lathe is designed for an easy round tensile specimen preparation, experienced machine operators and programmers can also experiment with it.
Easy to adapt
For the machine to work, the operator is simply asked to load the machine with either a square, round, or irregular stock.
After the preferred stock is loaded, the machine can now proceed with its basic functions like preparing different types of tensile specimens mentioned below:
Round
Sub-size
Threaded
Fatigue
Other round testing specimens
Touch Screen Tensile Milling
Our user-friendly touch screen controller allows its users to fully navigate the machine without moving a leg.
Multi-purpose
Aside from tensile tests, our machine can be programmed to assist in universal tasks like cutting, drilling, facing, sanding, knurling, and turning.
Why Choose TensileTurn's CNC Machine for Better Quality Control
In terms of mechanics and programming, it is undeniable that TensileTurn is up there. On the other hand, did you know that this can have a huge impact on your business?
Here are the top three reasons why purchasing TensileTurn's CNC Machine can transform you and your business for the better:
Affordable Price for a High-Quality Service
On average, TensileTurn's machine can save you up to $20,000 to $30,000 every year; on specimen preparation alone. Where else would you get such a deal?
Since our machines are easy to operate even for beginners, you don't need to have a lot of machine operators for these to work. In the long run, this will save you a lot of money intended for labor costs.
These two reasons prove that in the world of round tensile specimen preparation manufacturers, we are the most budget-friendly.
Compliant with Manufacturing Standards
Depending on the nature of your business, you might have a unique set of standards for your tensile tests. This is why TensileTurn has an equally unique interface that you can customize to match your standards.
Specifically, TensileTurn can be easily programmed to cater to the industry standards set by JIS, ISO, ASTIM, and DIN.
Tech Support No More
Again, this stems from our machines' fully-automated and easy-to-use interface. With fewer programs and commands to manipulate, gone are the days for your regular tech appointments and costly software updates. TensileTurn is all about doing the job with the least hassle possible.
TensileTurn: The Top Round Tensile Specimen Preparation Supplier
With our user-friendly and high-precision tensile sample preparation machines, round tensile specimen preparation has never been this easy.
If you're looking for a round tensile specimen manufacturer, the search is over for TensileTurn!