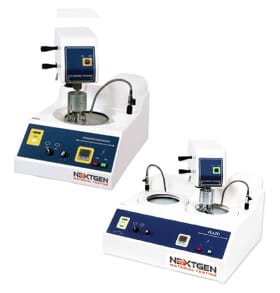 Metallography is the study of the microstructure of different materials. It is an essential part of metallurgical material testing and the study of material science. Metallographic microstructure analysis of materials helps to determine if the material has been properly processed. It additionally establishes the product's reliability and downfalls in an event of product failure.
Metallurgical polishing and grinding equipment helps prepare the sample for surface analysis processes. The GenGrind line of products has the latest in metallographic polishing and metallographic grinding machines.
Grinding and polishing machines with NextGen are based on fundamental principles of easy of use and efficiency. Each bench top or floor standing metallographic polisher and grinder is capable of reaching your desired surface finish on a given material. Although, metallurgy is the study of metals, its principles apply to other materials such as plastics, minerals, ceramics, fossils and others.
The metallography grinding and polishing process generally takes place after a desired section of the material is sectioned by the abrasive or precision saw and further mounted by a mounting press. Metallography grinders and polishers are designed to eliminate the surface damage produced as a result of the cutting process. The metallography polisher and grinding equipment uses a grinding wheel which spins at a precise speed. Both variable and fixed speed metallographic polisher and grinders are available.
No matter the volume of daily metallographic sample preparation needs you have, NextGen has got you covered. The metallography grinders range from manual, semi or a fully automatic polisher and grinder. The availability includes single or double grinding wheels with fixed and variable speeds. The automatic specimen heads can accurately polish 1-6 samples at the same time in order to accommodate any volume of sample preparation.
All of the NextGen GenGrind series grinders and polishers are equipped with a state-of-the-art user friendly interface which allows for a quick and easy operator training.
For further information on our metallographic sample preparation equipment ontact us today.