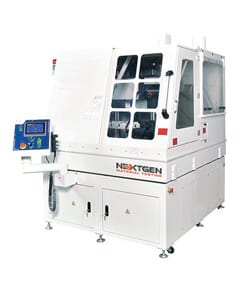 Metallographic cut-off saws are essential tools for cutting hard materials, such as metals, ceramics for sample test preparations. The cut-off saws vary by size and type of the cutting disc depending on the sample preparation requirement and its material composition. These variations of equipment specifications allow the operator to achieve the best cut results for metallography sample preparation purposes. The two common types of cut-off saws include the Abrasive Cut-Off Saw and the Precision Cut-Off Saw.
The Abrasive cut off saws are used for dry or wet cutting of various sizes and various compositions, both regular and irregular, of larger raw samples. The metallographic abrasive cut-off saws are used for the purpose of sectioning the samples into appropriate sample preparation size requirements. Generally, abrasive cutters have a larger cutting diameter range from 8″ (200mm) and larger. The cutting discs can be made from various materials to satisfy the specific requirement of a sample cut. Such materials include aluminum oxide due to its superior hardness. The materials that are cut abrasively are generally over 60 Rockwell Hardness Value (C scale).
With the metallographic abrasive cut machines the dry cutting method is used to cut bars, pipes, concrete, stock, masonry and more. The dry cutting discs are generally flat shaped without any teeth or rigid groves. The wet cutting is most commonly used for stainless steel, metals and exotic alloys. The circulating coolant in the machinery runs steady at 5 Gallons per minute to maintain a cool cut temperature during the procedure. The wet cutting method is used for high quality wet cuts in the metallurgical fields. The metallographic precision cutters are used to section the materials to make them more size-appropriate for sample testing. The precision metallographic cutters are ideal for the user needing to section delicate parts or materials with no deformation. Generally, the low speed precision saws operate with a disc under 8″ (200mm) in diameter using a diamond cutting blade. The built-in recirculating coolant system is designed to prevent the unit from overheating.
The GenCut Series offers a range of affordable metallographic precision cutting equipment to match your specific cutting requirements. The GenCut metallography cut off saws systems are equipped with the highest level of cutting accuracy and have a user friendly interface for ease of operation. A variety of sample sizes can be accommodated with the use of our abrasive and precision cutters.
The low speed precision saws are all equipped with a recirculating coolant system to prevent over-heating. All applicable consumables for the metallography cut-off saws are available at the operator's request.
For further information on our metallographic sample preparation equipment contact us today.