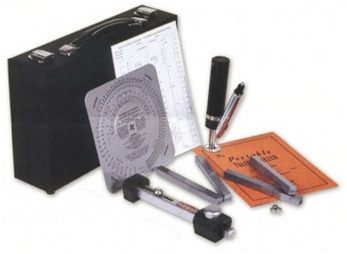 Telebrineller is a portable system designed primarily for measuring Brinell hardness anywhere in the field, the plant or the laboratory. A Telebrineller test bar must be selected with a hardness value plus or minus 15% of the specimen'shardness value.
Standard Telebrineller Test Bars are guaranteed to have a uniform hardness within plus or minus 2% of the BHN etched on the end of the bar. They are made of various alloys of carbon steel and finish ground to 9/16" square. Low value Telebrineller test bars are also available in Aluminum.
The accuracy of any test made with the Telebrineller is dependent upon the relative hardness of the test bar and the test piece. When the Telebrineller is properly used, accuracy of +/- 5% is consistently attainable, provided that the BHN of the test bar does not differ from the BHN of the test piece by more than 15%.
NexGen Material Testing, Inc. is a one stop shop for your Telebrineller testing solutions.  Spare instrument parts as well as all applicable consumables are in stock and available at your request.  
The hardness tester and the spare parts purchased through NextGen Material Testing, Inc. are covered by a 1-year manufacturing warranty and are additionally covered under NextGen's Life-Time Consultation service.  
For further information on our Telebrineller portable Brinell hardness testing solution, please Contact Us now or Request a Quotation through our website. You can read more about our Portable Hardness Testers at: NextGen Portable Metal Hardness Testing Solutions.