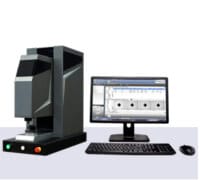 The GenVick NG10 and NG30 – Micro and Macro Automatic Vickers Hardness Testing System has finally been developed and introduced to the product line of NextGen Material Testing. With the introduction of this new product, the industry of Vickers hardness testing now has a great resource when it comes to resolving their testing issues. It is now made easy and accurate when it comes to testing the hardness of different materials for Vickers/Knoop and low load Brinell hardness testing.
The use of the Automatic Micro Vickers hardness testers system has been very important in almost every industry today. While different products and materials require to be tested when it comes to their hardness, the demand for various related products has greatly increased. With a large number of different brands and testers on the market, quality control laboratories have many choices in selecting the most appropriate tester. Good thing, this new product introduced by NextGen Material Testing in its product line offers you the most accurate and dependable solution. The new technology is known as GenVick NG10 and NG30 with optical analysis providing unparalleled testing accuracy for your laboratory's Macro and Micro Vickers Hardness testing system needs.
GenVick NG10 and NG30 is the new technology introduced within the market of Digital Vickers Hardness Testing. It is Vickers hardness tester with a high level of precision and repeatability that supersedes all of its competitors on the market. This tester is equipped with optical zoom functionalities while some other units feature a digital zoom, which is unable to magnify with the same clarity. The provided optical zoom can increase the magnification of the Vickers/Knoop or low load Brinell hardness indentations optically for the maximum of 5000x through the use of the 50x objective.
The GenVick – Micro and Macro Vickers Hardness testing system has a sleek design, optional acro or overview camera, an optional 6 fold motorized turret and various accessories allowing for complete customization towards your application. It can also be configured for fully automatic testing that is capable of performing and reading an infinite number of indentations completely unattended by any operators. Paired with the NG Hardwin XL software, the system provides sample recognition, automatic light control, customized reports, automatic part recognition, sinter testing, customized depot patterns, unique auto focus, CHD or case hardened depth testing and many more. The GenVick also incorporates closed loop load cell technology for electronic control of all testing loads meeting and exceeding ASTM E384 and many other internationally known industry standards. In addition to these features, XL loads are also available to boost the testing load range down to 5gf.
The GenVick, Automatic Vickers/Knoop and low load Brinell hardness tester has been distributed all over the globe and is found in many quality control laboratories.
For further information about the configuration and availability of our GenVick NG10 and NG30 – please contact us now. You can read more at: Advanced Automatic Vickers/Knoop/Brinell Hardness Tester.