The TensileTurn CNC is the industry leading round tensile sample preparation machine on the market. It is equipped with an easy-to-use interface which makes the training of this round tensile specimens CNC device rapid and easy, and its robustly constructed layout guarantees that this high-quality machinery could be turning your samples for many years.
The state of the art contact display screen permits operators of any skill level to turn out round tensile specimens readily. The manipulate structures are top-notch, featuring macro B programming, 64 GB of garage, four GB of RAM, USB ports, and WiFi. This device permits personnel to create samples in moments, putting off lengthy wait times at machining centers and increasing performance in the lab.   
This versatile round tensile sample preparation machine is capable of helical interpolation, scaling and mirroring, drilled canned cycles, dual-mode cutter compensation, drilling canned cycles, and advanced trajectory planning. The TensileTurn generators tensile sample preparation machine is in accordance to ISO and ASTM dimensions, as well as custom pattern sizes. Sub-length specimens, button-head tensile bars, threaded tensile specimens, and fatigue specimens are all viable with the TensileTurn CNC. it can create specimens up to 2" in diameter and 16" in length.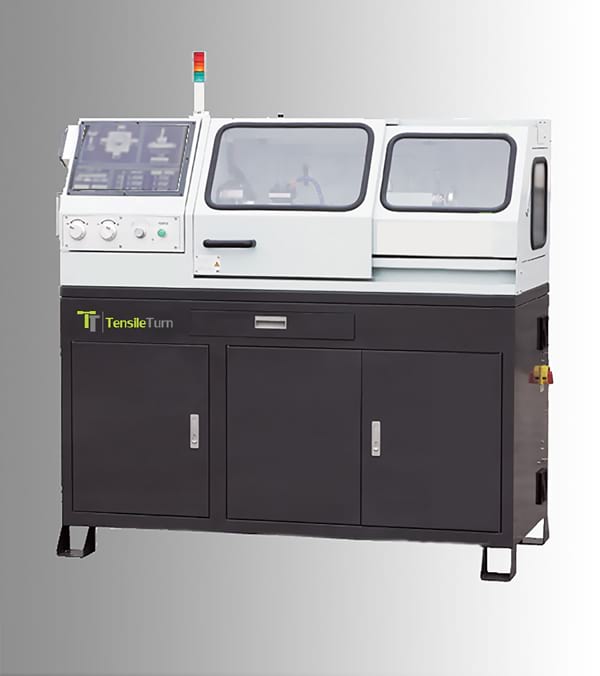 The Carbon software provided standard with the unit, introduces versatility to this round tensile sample preparation device. With Carbon, operators more skilled with programming are able to take complete gain of the device, executing cutting, knurling, going through, facing, sanding, and drilling variations. Carbon makes it possible for the operator to use expert CNC capabilities by using the MACH4 Commercial CNC software. Carbon is updated with new features often, free of fee.
In case your lab requires to test round tensile samples regularly, invest in a TensileTurn CNC.  Contact us for a quote.