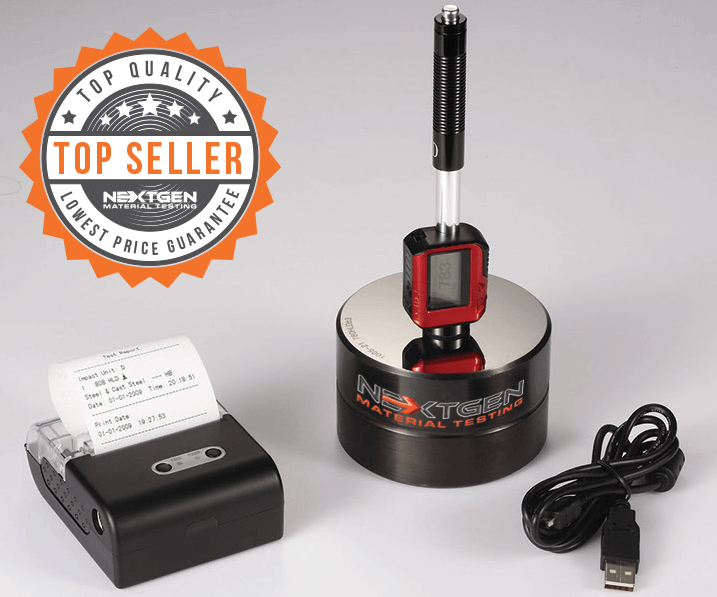 Developed in 1957 the Leeb Rebound Testing method provides a portable solution for metal testing. By offering a Non-Destructive Testing (NDT) advantage, the Leeb Rebound Test stands apart from the traditional laboratory hardness testers.  The Leeb hardness testing scale derives your hardness value by calculating the energy loss of a defined impact body after impacting a metal sample. The Leeb test takes place in a matter of seconds and is a quick, economic solution for hardness testing. A D Impact device is most commonly used as a Universal hardness testing solution. Typical applications for a D Impact device include the testing of Steel and cast steel, cast iron, stainless steel, bronze, cast aluminum alloys, brass, wrought copper alloys and more. Check out the list of available LeebGen 3000 Impact Devices with common applications at: NG – LeebGen 3000 – Leeb Rebound Portable Hardness Tester
The LeebGen 3000 system combines all of the advantages of the Leeb Rebound testing system. The versatility, user-friendliness and size of the Leeb Rebound Tester allow for the most simplified testing process. 
The Leeb Portable Rebound Tester– LeebGen 3000 is designed to replace the traditional stationary metal hardness testers when a laboratory setting is not availible. According to the ASTM A956 industry standard, the LeebGen 3000 is capable of testing a wide range of materials regardless of the direction of the hardness test measurement. This is accomplished with a built-in 360° automatic angle adjustment system. LeebGen 3000 utilizes the latest in advanced micro-electronic technology, and provides you with a fast, convenient and a cost-effective quality testing solution. 
LeebGen 3000 is equipped with state of the art technological features including a high contrast LCD screen with premium image quality, a self-contained Impact device which eliminates the need for cables, and an impact direction sensor.  The Leeb Rebound Tester is available in different scales for Leeb Testing including D, DC, D+15, DL, G and C. This precision portable hardness tester provides a tolerance within +/-4HL in any impact direction with 360° automatic angle adjustment.
Additionally, the unit comes equipped with an internal data storage for dates and times, a wireless BlueTooth mini-printer, a rechargeable battery through the USB port, andaUSB port for ease of data transfer to a PC.  The LeebGen 3000 provides you with your hardness reading in a wide variety of common hardness scales. These hardness scales include Rockwell, Vickers, Knoop, Brinell, Shore and more according to the latest industry standards of hardness conversion (ASTM E140).  
Leeb Rebound Testing System – LeebGen 3000 is designed with the operator in mind.  Ease of calibration, ease-of-use, and intelligent sleep mode are some of the features serving the operator while being an ergonomic, precision testing tool. 
All of our hardness testers are covered by a 1-year manufacturing warranty and are additionally covered under NextGen's Warranty and Benefits advantage.  
For further information on our Leeb Rebound Hardness Testing System – LeebGen 3000 and other portable hardness testers, please Contact Us now. You can read more about our Portable Hardness Testers at: NextGen Portable Metal Hardness Testing Solutions