Brinell Hardness Testing System Introduction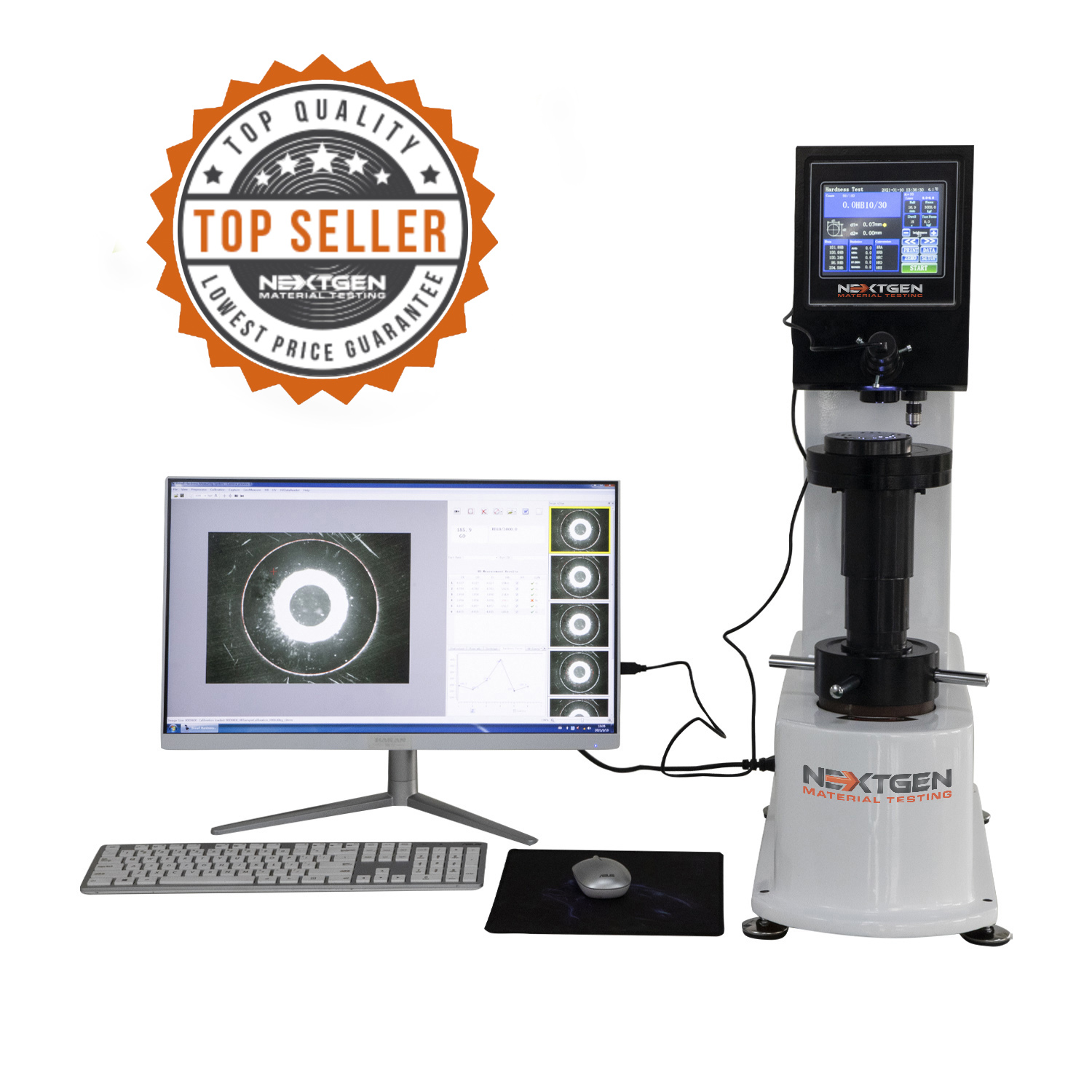 In Brinell Hardness Testing Manufacturing, to test the permanent change in metal materials it is imperative that quality equipment is used to do so. After all, the hardness of a material determines its durability. The Digital Brinell Hardness Test, for instance, measures the resistance of metal using a carbon tungsten ball to indent upon the material. This simulates possible deformation caused by erosion or friction, and ensures quality control when using metal for engineering projects.
According to the ASTM E-10 industry standard, Digital Brinell Hardness testing system can be used on surfaces of materials (such as castings or forgings) too rough to be tested by any other method. Its test load ranges from 62.5kgf to 3000kfg and comes equipped with a closed loop system. This provides the operator with the absolute highest accuracy in regards to load control. It guarantees the precise control of test force application.
The Brinell Hardness Tester are standalone units, which makes it an easily adaptable piece of equipment as well. The systems can be upgraded to include the Brinell Digital Scope with Automatic Measuring Software. The combination of the scope and the software with auto-indentation capture function allows for the most accurate (error-free) results.
NextGen's BrinGen Brinell Hardness Testing System comes with the Automatic Brinell Scope and BrinGen Software. These are housed in a durable carrying case with the scope, software protection key and CD user guide with it.
The BrinGen Brinell Scope is available with either a manual or an automatic measuring scope. Each scope is made from stainless steel and manufactured following an ergonomic design, and has up to 20x pre-focused lenses that can read indentations anywhere from 2.5 – 10 millimeters.
The Automatic optical Brinell scopes can also work on any metal surface and comes with a plug-and-play feature. All the user needs to do is insert the scope in any computer's USB port and start working.
Advantages of the Optical Brinell Scope and Automatic Software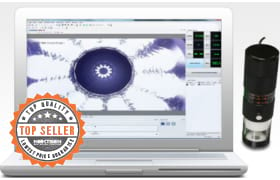 The Optical Brinell Scope with Automatic Software system is advantageous since it can provide the highest level of precision, as well as the highest quality and optical reliability. With a bit more investment, you would be able to eliminate the risk of human errors and get consistently accurate results each use.
Automatic Brinell Scope can be easily set-up and calibrated. The calibration can be easily done by measuring a test block's indentation. You also have the option of either inputting the hardness value or that of a known diameter into the software. Each product comes with a User Guide CD which contains instructional videos to help you properly set-up and calibrate the equipment. It also guides you for proper usage.
The Brinell Testing System can be complimented with a CCD Scope that automatically updates itself with the newest version upgrades and advancements. This ensures that your equipment is up-to-date and always performs optimally.
The Automatic Brinell Scope is paired with and powered by the Brinell Hardness Tester digital load cell which has a strong signal strength, and is capable of faster data sampling and loading. This means that your digital load cells can precisely record a multitude of measurements in mere seconds.
The CCD scope not only provides reliable test data, it can provide it in real-time. Manual or digital measurement is also supported.
The results table is easy to read and completely customizable so that you can get only the data you actually need. Columns (Diameter, HBS or HBW, load, and more) can be added or removed at the user's discretion. A useful histogram allows you to view hardness values in a visual, intuitive way.
Various types of reports can be generated using the user-friendly Software, including documents with data for multiple types of inspection results. Reports can also be customized with user-defined parameters.
Additionally Brinell CCD Scope has multi-language support, making it an excellent choice for diverse or multinational working environments.
Features: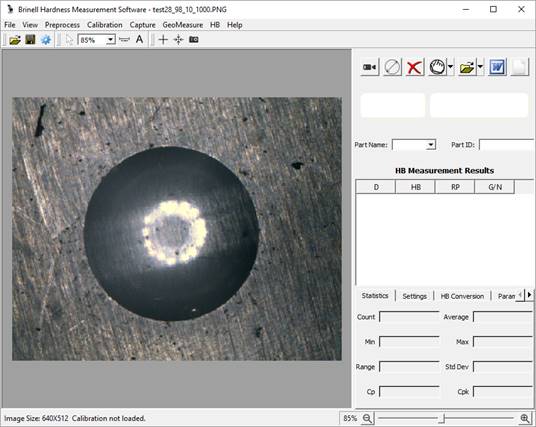 The automatic Brinell Testing system comes with easy to use features. It has an automatic and a manual setting that you can switch to whenever needed. It also has different data input selections that would identify ball diameter, test force and measuring units.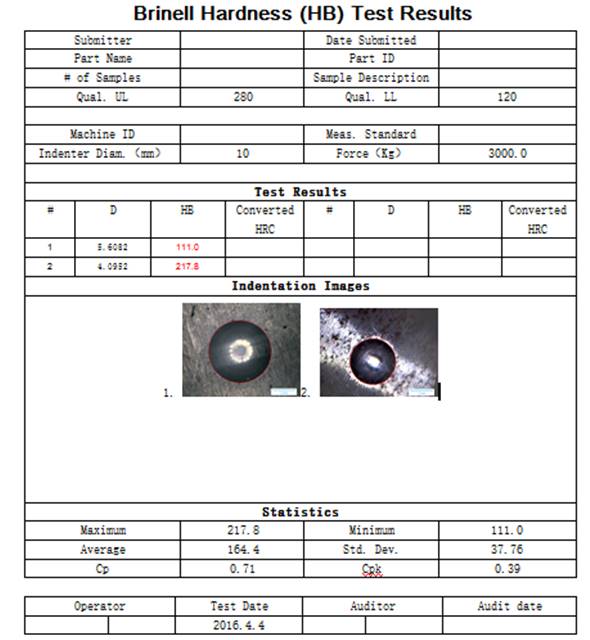 This Brinell scope automatically measures hardness with only a push of a button and provides real-time results on the screen. After an indentation has been made by the hardness tester, an indent image is captured which is then measured by the BrinGen analysis software.
It only takes seconds for the real-time display to show the following metrics: diameter (DIAM), ball size, load size, Rockwell hardness of C scale (HRC) and tolerance measures. The display can be configured to show different hardness values using the ASTM-E140 scale conversion table. You can also convert your Brinell results into other hardness measurements such as Rockwell and Vickers.
Users would be able to easily view the data in various formals, including: a simple data table, historical statistical results and a histogram. The histogram is displayed graphically with customizable graph settings. Display settings also offer customizable table formatting that allows one to add or remove data fields as you require.
Real-time testing results, including indentation image, measurements and descriptive data, can be store into files for future reference. The BrinGen Brinell Scope can also generate reports using these stored data. Users would also be able to select reporting fields and customize their report content to suit the need. Reports can be created with both data tables and images. Created reports can be easily exported to MS Office Word or Excel documents.
Customer Support:
Aside from providing clients with quality products, NextGen takes things a step further by also offering excellent customer service and support. Get in touch with them through a toll-free (888) number, and you'll be able to speak with knowledgeable staff about the Brinell scope; they can handle anything from post-sales to technical support needs.
Some of the issues that you may encounter will have to do with surface finishes that may prevent your from reaching the optimal measuring results. Our qualified consultants will be more than happy to offer their best solutions for the following:
There's no question that the BrinGen Brinell Hardness Testing System boasts more than fast and accurate Brinell readings. Using the BrinGen automated optical scope and testing system also allows for a smoother, more efficient and effective materials indentation testing practices. And in any industry, this is important as it can greatly improve their productivity.
With more speed and accuracy, the capability of your Brinell program improves dramatically. It empowers one to not only implement better quality control measures for defects, but to also add control functionality to predict potential problems. This will, in the long run, allow you to make the necessary adjustments to create better results.
NextGen's BrinGen Digital Brinell Hardness Testing System with scope and software is then the best choice. It is the brand that will guarantee an exceptional product and with it the peace of mind to go about your dealings.
Product Background
To better understand the features and functionality of the Automatic Brinell Optical Scope – here's a quick background on hardness testing and Brinell hardness testing.
What is the Brinell Hardness Test and What is it for?


A materials hardness test is a commonly employed mechanical test to check a material's resistance to distortion, penetration, indentation and scratching. These tests provide valuable insight into the durability, stability and flexibility of materials which are used to produce goods. Conducting this step is vital for engineers. It also allows them to measure a material's resistance to deterioration brought on by various elements and conditions, such as friction and erosion.

There are different types of materials hardness tests. They vary on the methodology used and the results measured. It can range from scratching surfaces using a diamond to measuring indentation by using a ball under a force.

The latter is called the Brinell Hardness test. It is a method of measuring the hardness of a material which is done by pressing a steel or carbide ball against the smooth material surface under specific test conditions.

It is performed by applying a constant load or force, between 500 – 3,000 kilogram-force (Kgf) for about 10 to 30 seconds using steel or carbide balls about 5 – 10 millimeters big. These balls are forced into the material and the resulting round impression it makes is measured using a manual Brinell Microscope or an Automatic Brinell Scope.

What is the Brinell CCD Scope?

Optical CCD Camera and Analytical Software Kit

A Brinell CCD (charge-coupled device) scope is an instrument that has a measuring eyepiece that provides accurate Brinell measurements. It is universally used as a measurement tool for any surface.

A CCD camera uses a platform where each pixel captured is transferred to an output node and converted to an electric signal. It is usually used for outdoor situations that require image capture in low light settings. An example is a CCTV camera that have quality images and night vision capabilities.

How easy is it to calibrate the system?

The software is equipped with an easy calibration functions for the camera and the software. The two major calibration methods include the indirect calibration with the help of a NIST certified test block or with the Optical Ruler method. The instructions for both are provided in the system manual for your ease of reference.

Brinell CCD Scope Calibration

What are some additional requirements to for Brinell Testing System and CCD Optical System?

The optical analysis software required Windows 7, Windows 8 32bit or 64bit. The test reports can be exported to or based on your preference.

Additional consumables and spare parts such as certified hardness test blocks, ball penetrators, and indenters important for your long-term operational needs. These can be sourced with a quality supplier like NextGen Material Testing. Request your price Consumables Catalogue today by calling or submitting a quotation request.

Full scope of NIST certified consumables

Who is NextGen?

NextGen specializes in providing high quality and modern technology-based equipment with advanced testing features which also complies with the industry's latest quality standards. NextGen is capable of providing this and more, by working with a group of dedicated individuals that provides superior service from start to end.

They work with the credo that the company should be "large enough to serve and small enough to care." Consistent accurate results and customer satisfaction are two of the main values that the company instills with everyone who becomes part of it. For them, it is all about the customer and custom fitting offered services to suit their every need.

To ensure accurate results and that the best services are delivered, NextGen offers an extended warranty coverage and a strong after sales support team readily available for any inquiry you might have. They ensure that these individuals are well equipped to guide you every step of the way.

NextGen has been working this delicate balance of delivering quality material testing equipment with effective customer support for over 5 years and they commit to continue providing this to their current and potential clients.