The integrity and quality of plastic or rubber manufactured products depends on the hardness of the materials used. As such, it's in the best interests of manufacturers in industries like aerospace and automotive to take the guesswork out of their shore/IRHD hardness tests. Thankfully, NextGen's Digi-Test does the job exceptionally well, delivering the most accurate and reliable hardness test results possible, free of human error.
Why Does the Choice of Hardness Testing Equipment Matter?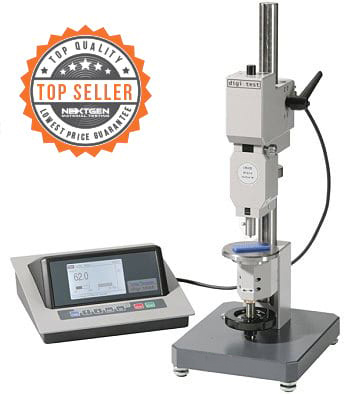 Using the wrong hardness testing equipment can mean getting inaccurate results seeing as not every device is built for the complexities of the various test applications and procedures. Different types of materials may be involved, from soft rubber and elastomers to thermoplastics and silicone, and getting each measurement right requires the use of user-friendly equipment with capacity for a broad Shore hardness range or scale.
To be sure that your material won't indent, no matter the industrial application, consider testing its hardness using a trusted brand— the Digi-Test Durometer Tester. The equipment boasts outstanding features, such as automation, user-friendliness, and modular operation, all of which make easy work of hardness measuring for a broad spectrum of industrial materials.
Here are the top features/attributes of the Digi-Test Durometer Tester:
Observing the Industry's Best Practices and International Standards
The instrument you use to carry out material hardness tests determines whether or not you're complying with international standards like ASTM D 2240, NF EN ISO 868, or DIN EN ISO 868. Depending on the substances you use in the manufacturing process, you have to adhere to relevant industry standards for measuring the indentation resistance of materials categorized as cellular, vulcanized rubber, or thermoplastic elastomers, among others.
The Digi-Test Durometer Tester complies with all relevant hardness testing standards, and by using it, you demonstrate your commitment to safety management and product quality.
Intuitive and Simple to Operate
The Digi-Test makes for simple operation, thanks to its electronic unit. The control component powers an easy-to-read display to help the user track measurement methods, devices, and time, navigate the entire system, and select features/functions.
A Complete System With 4 Main Components
The Digi-Test is a complete system that inherently supports all your hardness testing needs. On top of the electronic unit and product certificates, the equipment comes standard with a test stand; a pickup bracket that can accommodates various test head specifications; and an interchangeable measuring component that allows you to work with a range of measuring devices depending on your needs. The package includes a Shore D testing tool and extra loading weights.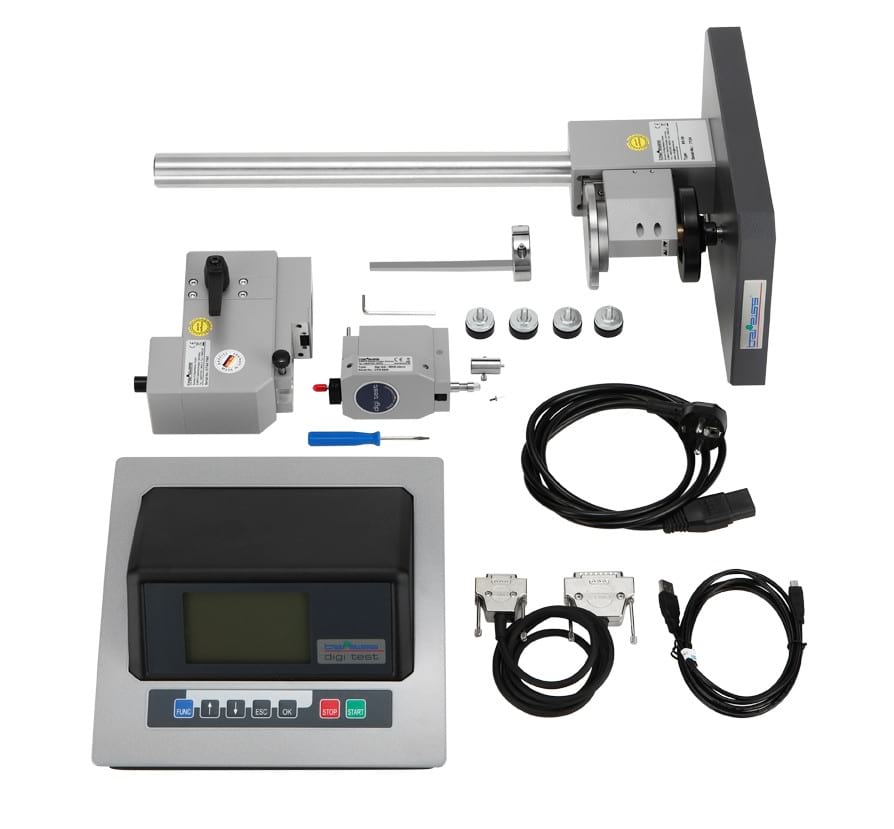 High-Precision Hardness Testing
With the digital measuring system, the Digi-Test guarantees the highest precision and repeatability of hardness test readings possible for a broad spectrum of flexible mold rubbers. Whether testing hard rubber, soft elastic material, or anything in between, you can count on the automation of the various durometer/Shore scales to eliminate human error in the testing process. The tool can accurately measure anything from 1mm- to 6mm-thick, qualifying it for both light and heavy-duty hardness-testing applications.
Automatic Surface Detection Technology
Traditional durometers have a critical engineering and functional flaw—they can't accurately measure molded parts with uneven or complex shapes. In contrast, the Digi-Test boasts superior surface detection technology for testing hardness on all surface forms, including flat, convex, and concave.
The tester can work out the measuring range automatically for all IRHD and Shore scales. Additionally, you may extend the tool's customizable indenter length to any point on a piece you're testing.
Multi-Industry Hardness-Testing Applications
The Digi-Test's hardness-testing capabilities have diverse manufacturing industry applications, including aviation, medical, automotive, and pharmaceutical. It's also an ideal option for food, chemical, and polymer processing industries.
Versatility
It's costly and inconveniencing for manufacturers to acquire and maintain different hardness testers for every different soft or hard material they're handling. The Digi-Test makes all that unnecessary, thanks to its suitability for testing an extensive array of elements, including acrylic glass, acetate, PVC, polyester, cellular rubber, and silicone.
You may accessorize the Digi-Test in different ways for hardness testing on numerous scales, including Shore, IRHD, and VLRH. Supported Shore scales include A, A0, 0, C, D0, and micro Shore A. While the equipment comes with standard sample positioning devices, custom holders for tubes and O-Rings (such as Centrofix and Barofix) are also available.
Excellent Manufacturer Support
The team at NextGen remains on call to help with Digi-Test calibration, testing, set up, and training to get you started right away without major technical hiccups. A comprehensive warranty package and ongoing preventive maintenance are also critical aspects of the superior customer experience that the top durometer maker offers.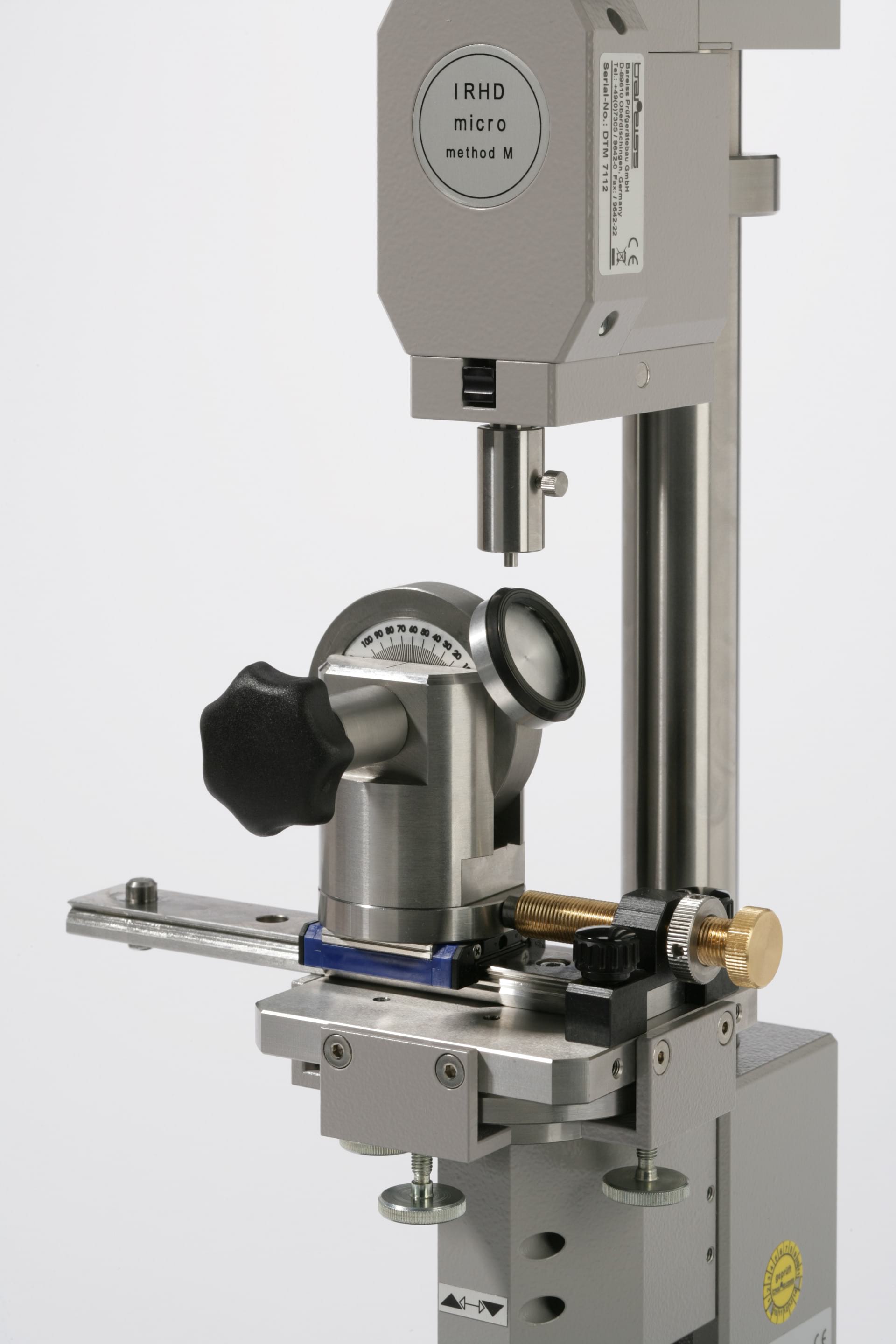 Made in the Germany to the Highest Standards of Quality
The Digi-Test will meet (if not exceed) your expectations of quality because it's an outcome of advanced engineering and consistently stringent quality controls. Though manufactured in Germany, the equipment's US-based provider, NextGen, is committed to the highest standards of professionalism, which is what the company has been doing for over 15 years to satisfy the hardness testing requirements of its local and overseas customers. A quality-conscious team of technicians at NextGen provide customer service at the highest level possible.
A Superior Product, Competitive Pricing
NextGen offers the Digi-Test at a competitive price despite its many unique functional perks, including unparalleled test results precision, versatility, superior design, and ease-of-use. Customers can pay for the product by cash, credit card, or wire transfer. Also, NextGen may accept purchase orders subject to specific credit qualifications.
You can buy the rubber hardness tester in person at a brick and mortar store near you, or you can have it shipped to your location or country. Both US-based and overseas customers may reach out to NextGen for assistance with any shipping or importation complications. The company is happy to help out!
In a Nutshell
No matter your industry or country, the Digi-Test boasts advanced engineering and unrivaled versatility to deliver accurate and consistent hardness test results. At NextGen, we take pride in offering exceptionally high service levels to keep our local and overseas customers happy. Would you like to learn more about leveraging the Digi-Test for the specific digital measuring requirements of your organization? Contact us right away to speak to one our experienced and competent technicians!