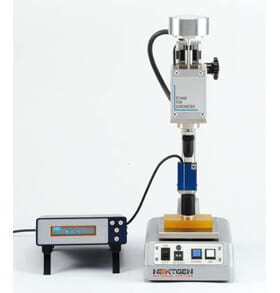 The automatic NX-01 shore durometer measuring system is the most precise for Shore A and Shore D hardness testing. Itis designed to measure the material's resistance to permanent indentation and is primarily used in the plastic and rubber industries. NextGen offers a complete line of durometers including the more basic analog handheld instruments leading up to our most advanced automatic durometers.
Our NX-01 equipment tests the most common Shore A and D scales andis in accordance with ASTM D2240, ISO 7619, ISO 868, DIN 53 505, JIS K 6253 and JIS K 7215.  The Shore A scales are utilized for softer types of plastics and rubbers. The Shore D scale, which uses a heavier load, is used for harder types of plastics.
The NX-01 features a separate digital control box which allows you toenter your testing parameters and allow the Automated Shore Measuring system to take over. The NX-01 series consists of an automatic measurement stand (NX-610), a durometer sensor (NX-719 or NX-720) and counter (NX-C01). The durometer sensor can be easily exchanged for Shore A and Shore D testing. The NX-01 includes the 1kgf weight for standard Shore A testing. The 4kgf optional weight can be purchased additionally for Shore D testing.
All of NextGen durometers are covered by a 1-year manufacturing warranty and are additionally covered with NextGen's Life-Time Consultation benefit.
For further information on our NextGen durometers, please Contact Us now. You can read more about our Plastic and Rubber Durometers at: Shore Hardness Measuring Systems