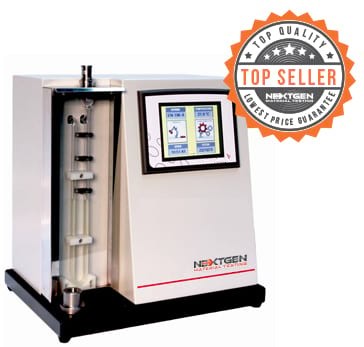 Blaine apparatus is used to determine the air permeability of a specific surface of a powder material. The test measures the fineness of the powder by determining the resistance of the air flow through the porous bed of the powder. Blaine apparatus is commonly used in the cement industry as a measuring tool of the product's fineness to identify characteristics such as the setting time speed and the rate of strength development. The Blaine method is the most commonly used method for air permeability measurement due to its maintenance ease and the procedure simplicity. The test is performed according to the ASTM C204 and EN196-6 standards.
BlaineGen Plus – Automated
Blaine Apparatus is ranked industry's most precise and easy-to-operate air permeability testing quality control equipment. The operation of the Automated Blaine Apparatus is automatic in the following ways:
As concerns to calibration with calculation of the K constant of the equipment according to EN and/or ASTM
Automatic Blaine test performing: fluid aspiration, timing of the fall and detecting pass between the glass tube marks
Calculations made and the results show on the 5.7″ LCD screen
Automatic storage of all test data results
The Automated Blaine Apparatus follows the required automatic method procedure described in the 12th Chapter of the ASTM C 204-07 standard. The accuracy and the precision of the BlaineGen Plus – Automated Blaine Apparatus method are higher than the one of a manual method due to lower measurement time. The Blaine Apparatus can be calibrated using a cement surface standard reference. An example of such material is a standard reference material NIST 114q. A room with controlled temperature is necessary to carry out the optimum results during the testing procedure.
NextGen Material Testing carries all of your necessary Blaine testing needs. Both manual and automatic options are available to meet all of your specific technical requirements according to the latest industry standards.
All the main instruments and the spare parts are covered by a 1-year manufacturing warranty and are additionally equipment with NextGen's Life-Time Consultation benefit.
For further information on our metallographic sample preparation equipment, please Contact Us now. You can read more about our BlaineGen Plus – Automated Blaine Apparatus